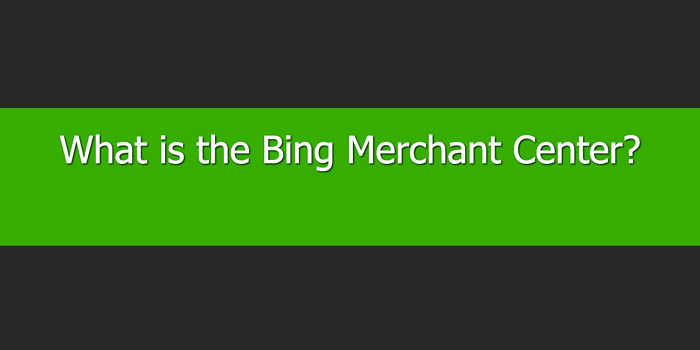 Bing Merchant Center is the tool you use to set up and manage product ads on the Bing search engine. In other words, it is very similar to the Google Merchant Center.
There are four main things you use Bing Merchant Center for:
Verify your URL

Set up a store

Create and manage a catalog

Create and manage Bing product ads
Verify Your URL
This is a one-off process that involves going through steps to prove to Bing that you own your website.
It is a fairly standard process you will probably have been through before to verify your domain with Google or other third-party applications and tools.
Setup a Store
For many retailers, this is also a one-off process but you can have multiple stores if it makes sense for your business. Once created, you can upload your products to your store in Bing Merchant Center.
There are some things you should remember when creating a store in Bing Merchant Center:
Make sure you get the name of your store right. This is important as the name appears on your product ads and you can't change it.

You can upload multiple data feeds to a store but they must each be unique. In other words, different data feeds can't contain the same products.

While you can have multiple stores in Bing Merchant Center, you can't sell the same products in each store. All your stores must have unique product lists.
The process of setting up a store in Bing Merchant Center can take up to five days. This is because Bing manually reviews some stores. Other stores, however, are either auto-approved or auto-rejected.
Create and Manage a Catalog
Catalogs are what Bing calls data feeds. As with all data feeds, Bing has its own feed specification. A data feed management tool can help ensure your feed is both compatible and optimized for Bing.
Bing uses the catalogs you create to populate your ads with the products you sell. Therefore, the accuracy and quality of your data feeds have a direct impact on the performance of your product ads.
One thing you must remember with catalogs in Bing is that you can't include products that are out of stock. Make sure these products are removed from your data feed before you upload it.
Create and Manage Bing Product Ads
Bing displays Product Ads on its search results pages making them a good way of reaching new customers. The information that Bing takes from your data feed to display in your product ads includes an image, promotional text, your store's name, and the product price.
If you already use Google product listing ads, you can import your Google campaigns into Bing. This will save you time when setting up new ad campaigns. However, it is important to note that the specification for data feeds in Bing is different to Google. While you can import your AdWords campaigns, you will still need to optimize your feed for Bing.
If you are familiar with running Google Shopping campaigns, uploading your data feeds to Google, and managing your account, Bing Merchant Center will be familiar. The processes are not exactly the same, but there are a lot of similarities.