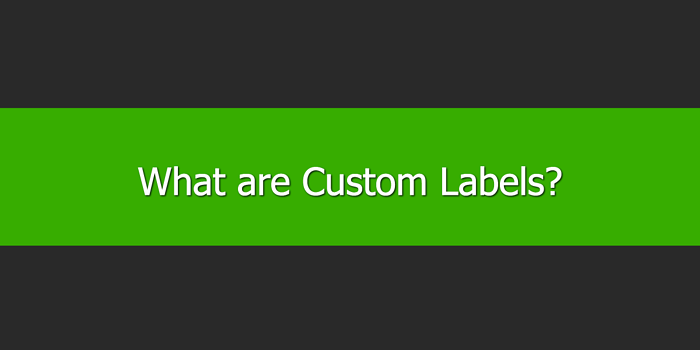 Custom labels are simply another attribute within the product feed. These can be used in your shopping campaign, which allows you to identify, group, filter and structure products in order to apply your product listing ad strategies.
For example, you may want use a different bid strategy for some items. Also, if you wanted to bid less for the items in clearance, you could create a custom label for these.
Custom Labels Examples
A few examples of custom labels are:
Brand
Release year
Best Sellers
Margin
Season
Special Shipping
Attributes of the item including: colour, size, etc.
You can create up to five custom labels, numbered from 0 to 4, with up to 1,000 different values for each label.
Without custom labels, you can still identify and group your products using their categories and other attributes. However, labels can be a better and more accurate way of doing this.
Advantages of Custom Labels
Some advantages of custom labels are:
Reporting insight
Using a Google AdWords dimensions report, including the custom label, can help you see the specific performance of each label and its values. Having visibility of this allows you to amend your strategy for this set of products based on how well they are selling.
For example, if you choose to create a custom label based on seasonality (Custom Label 0 – Season – Winter, Spring, Summer, Autumn) you can use a dimension's report to split out each custom label value to see which seasonality is performing best. You will be able to assess the revenue, ROI, and many other metrics.
Bidding strategy
Using custom labels allows the advertiser to make bid changes and adjustments quickly and effectively.
This is without having to scour through reams of products and their data to draw conclusions and amend the bidding strategy.
For example, having ad groups based on the custom labels allows the advertiser to have complete control over bids with each category.
Such as labeling products as 'bestsellers' or 'clearance'. Product groups that require further optimization, or more bid adjustments, can be dealt with in an isolated environment.
This will save you time and from having to withdraw the item from the campaigns altogether.
Ultimately, custom labels allow you to work on improving campaign performance by prioritizing items and realigning your bidding strategies.
It also allows you to simply reach new insights on your products allowing you to develop further strategies.