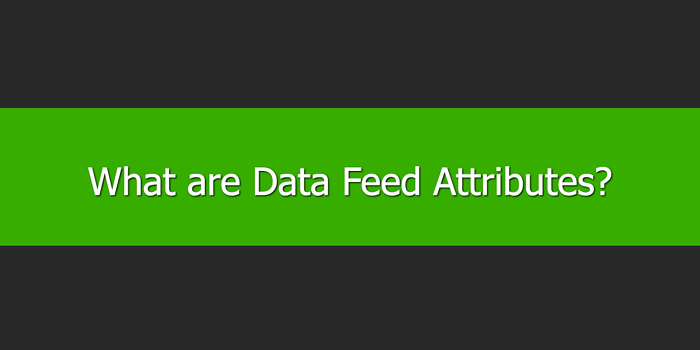 Data feed attributes are elements within a product feed that define the product. Within every data feed, you have a list of products.
Each product will have attributes listed with them. Such attributes can include 'colour', 'EAN' and 'availability'. When creating a feed, accurately describing your products using attributes is paramount for potential customers to find your products when searching.
Required Data Feed Attributes
Across most channels requiring a feed – including Google Shopping and Bing Shopping – there are typically two required attributes. These are essential for getting a feed approved and running within a campaign. The attributes are:
Item ID [itemid]: This is the identifier for each individual product. This is unique across all businesses and it cannot be duplicated or used twice across feeds of the same type. It also cannot be edited once it is submitted.
Title [title]: Unsurprisingly, the other requirement for your feed is the name of your item. Although some platforms such as Google will occasionally use your product title from your online item or catalogues data, it is still essential to fill this part of the feed.
It is also a best practice to use top-line descriptive definitions, such as color or brand.

Specific attributes
Depending on what you are selling, you will find some product categories have 'specific' attributes that are useful to your type of product.
Or, not particularly useful as the case may be. If you are a bookstore and you would like to run a feed of books, it is well worth making use of the ISBN attribute.
Other stores may not find this as useful – a clothing store for example. However, there are plenty of attributes a clothing store would find useful including, gender, size, age group, etc.
Other Attributes
While the Title and the Item ID are the two essential data feed attributes, there is a vast number of other attributes that can be used.
Utilizing all the applicable attributes as accurately as possible is a best practice for leveraging your online sales. Doing this via Google Shopping helps to bring up your products when a user makes a similar search.
It is also worth noting that products that are not 'mapped' to a product feed are required to enter the following attributes:
Google product category

Brand

Condition

Description

Image link (URL)
Those with mapped product feeds do not need to assign these attributes. However, it is recommended.
For a further level of description, there are many other attributes that can be used. Such attributes include:
Price

Webitemid (used for matching local and online ID)

Color

Size

Availability
Local Product Feed Attributes
Lastly, there are specific product feed attributes for local product feeds. While these still benefit from the attributes listed above, which are a best practice to use, there are also local-specific attributes. These include:
Pickup SLA: This is the timeframe in which a customer can collect their item. For example, 'same day' or 'next day' – in relation to when the item was or will be purchased.
Pickup method: Choose from 'buy', 'reserve' or 'not supported', which refers to whether or not click and collect is available (supported).
There are a wide range of attributes that can be utilized within a data feed. The best thing to do is make it as relevant as possible and help your customers find your product.
A full list of attributes can be found here.