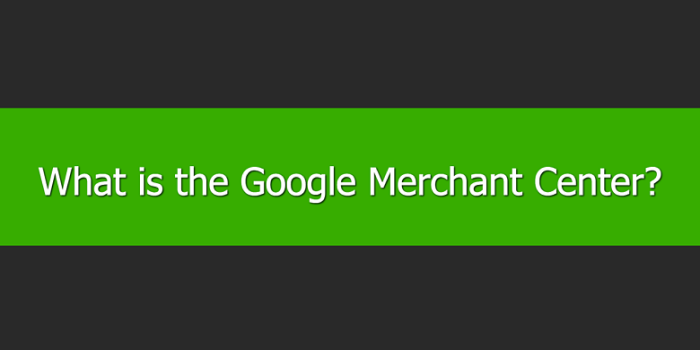 Google Merchant Center is a digital platform where online retailers upload product data that fuels Google Shopping Ads (formerly Product Listing Ads). Within the Merchant Center, you also provide information about your eCommerce store, shipping, or taxes.

All the products you see when you do a Google Shopping search have been uploaded using the Google Merchant Center.


The Merchant Center also serves as a source of information for the unpaid, organic product listings Google recently introduced in the Google Shopping Tab.

Google Merchant Center Account Walk-through:




How Google Merchant Center Works
1. You will need a Google Account in order to set up a Merchant Center Account.
If you already have an account (such as a Gmail account or a Google My Business account) you can use it.


2. The next step is to provide Google with your online shop information.
This includes business name, physical address, customer service contact, your shop domain and a couple more basic information.

3. Then, provide your product information in a format that meets Google's feed requirements.
Some of the attributes you must include for each product in your data feed are a unique product ID, title, a link to the product on your website, the price, a link to an image for the product, and a description.

Once you have your feed set up, you can submit it to Google Merchant Center. DataFeedWatch can help you optimize this process.

To maintain the 'Active' status for your products and run ads continuously you have to submit your product data every 30 days. Although, you should do it more often if the data in your feed changes.This includes when you add new products, remove old products, items go out of stock, prices change, a special sale kicks in etc.

You can update your feed as often as four times a day.
4. To run Shopping Ads, you will need to link your Google Merchant Center account to your Google Ads account.
---



Is Google Merchant Center account free?




Google Merchant Center (GMC) account is free to set-up and use. While advertisers may choose to utilize it exclusively for free product listings on the Google Shopping Tab, the primary reason for having a GMC account is usually to run Shopping Ads - a paid form of product advertisement.
If you run Google Shopping Ads, you will be billed via your Google Ads account.
---



Benefits of Google Merchant Center




The Merchant Center account entails one major benefit: it is a gateway to advertising your products with Google Shopping. It allows you to store essential product information needed to generate and serve your product ads to potential customers.
Without Google Merchant Center (GMC), your products will not appear on Google Shopping. Also, you cannot create Product Ads unless you add sufficient product information to your GMC account.
If you sell products directly to consumers, Google Merchant Center is one of the tools you need. It should be an integral part of your overall digital marketing strategy.
---



How to add products to Google Merchant Center?
There are a few methods you can use to upload your products to the Merchant Center:
• Importing an XML. or txt. feed file or a Google Spreadsheet with your entire product catalog
• Manual upload (adding products one by one)
• Via Content API or using FTP / SFTP
We will focus on the first 2 methods that are the most popular among online retailers.
Steps to upload your products to Merchant Center via a feed file:

1) In your Merchant Center account, navigate to 'Products', then 'Feeds'


2) Click the blue plus button to import your data feed

3) Name your feed and select the import method.
Utilizing 'Scheduled fetch' allows you to add a link to a data feed file that will be automatically checked for updates by Google on a daily basis. That way you can ensure your data is always fresh and relevant. To create a feed file under a live URL and optimize it easily you can use a feed management solution such as DataFeedWatch.
4) Provide a link to your data feed and choose the best time for the daily updates
(or upload a static file from your computer if you chose the 'Upload' method)
It's a recommended practice to schedule your daily updates shortly after your data feed is being refreshed. For the DataFeedWatch users that would be right after your scheduled daily shop update.


5) Provide other necessary info such as target country, destinations etc.

6) Save
Once saved, your product data will be processed and you will shortly see a product data health report in the Diagnostics section.


Steps to add your products to the Merchant Center manually, one by one:
1) In your Merchant Center account, navigate to 'Products', then 'All products'

2) Click the blue plus button to add a product.

3) Provide all the required product information, and save.

A downside to the manual method is that it gets very time consuming if you have more than several products in your shop. Additionally, it requires constant manual updates. If you forget about refreshing your data regularly, it can result in data errors and Google disapproving your products or even suspending your Merchant Center account.
---



How to create a data feed for Google Merchant Center?
To advertise your products with Google Shopping, or through Surfaces across Google (free product listings) you need a product feed that follows Google's Product Data Specification.
There are a few options for online merchants to generate a product feed for Google Merchant Center.


1) Automating data feed creation and optimization




Using a feed management software you can easily create a tailored product feed within minutes. This method generally offers the most flexibility and room to scale your campaigns.



2) Direct API connection




Some eCommerce platforms (Shopify being one of them) have a direct API connection with Google Merchant Center. With this method, your product data will be automatically sent to GMC and updated on a regular basis. It's quick & easy.

The downside is that the exact product data configurations you have in store are passed to Google. In other words, the product data you're sending to GMC is not necessarily tailored to its recommended practices and algorithms.




3) Data export from your store

Many shopping carts offer an option to export your product information to a feed file. Either on a single-data-export basis or to export the data under a live URL that constantly gets updated.
Just as previously, the product data in the feed reflects the shop set-up 1-to-1 which may not be the most advantageous configuration for your Shopping Ads.


---



How to connect Google Merchant Center (GMC) with Google Ads account?





Ok, the Merchant Center Account is set-up, the feed is uploaded. Now what?
> To promote your products via Shopping Ads, you need to connect your Merchant Account with your Google Ads account.

The linking process needs to be initiated in your GMC account. There are 2 steps involved:

Step 1: Request connection to Google Ads account from your Merchant Center Interface

Settings > Linked Accounts > Your Google Ads account > Select the right Customer ID > Click 'Link'

Step 2: Accept the connection request from Google Ads Interface

Proceed to the Tools icon > Setup > Linked accounts > Google Merchant Center > Details > Approve

You can find detailed instructions for each step here.
---



How to select a country of sale in the Merchant Center?
In the process of adding your products to your Merchant Center account, whether it's manually or via a data feed, you will be prompted to select your target country.

You can also visit your feed settings and add another country of sale if you wish to list your products on Google Shopping in multiple countries.

Step 1: Go to Products, then Feeds.
Step 2: Click on the name of your Product Feed
Step 3: Proceed to Settings
Step 4: Click on 3 vertically aligned dots in the top right corner to reveal the option to add more countries



---



What is Google Shopping?

Google Shopping is an eCommerce platform that lets online consumers search and compare products. It also shows users where they can buy products and for what price.
In other words, it is a custom search engine, which is distinguishable from Google's main search pages.

This means it has its own domains, such as:
• https://www.google.com/shopping
• https://www.google.co.uk/shopping
• https://www.google.ca/shopping
That said, it is connected to Google's main search pages. When a user searches for a product-related keyword, they will see Shopping Ads.
This is in addition to textual ads (Google Search Ads) and organic results.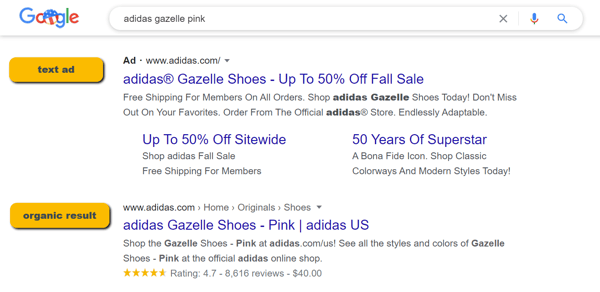 By using Google Merchant Center and Google Shopping, you can increase sales by attracting potential buyers to your website.

Where is Google Shopping available?
Currently, Google Shopping is available and fully rolled-out in the 58 countries: Argentina, Australia, Austria, Bahrain, Belarus, Belarusian, Belgium, Brazil, Canada, Chile, Colombia, Czechia, Denmark, Ecuador, Egypt, Finland, France, Georgia, Germany, Greece, Hong Kong, Hungary, India, Indonesia, Ireland, Israel, Italy, Japan, Jordan, Kazakhstan, Kuwait, Lebanon, Malaysia, Mexico, Netherlands, New Zealand, Norway, Oman, Paraguay, Peru, Philippines, Poland, Portugal, Romania, Russia, Singapore, Slovakia, South Africa, Spain, Sweden, Switzerland, Taiwan, Turkey, United Arab Emirates, United Kingdom, United States, Uruguay, Uzbekistan.
There are also multiple countries of sale that are currently in BETA.

See the full list of countries and currencies here.


---



What Are Google Product Ads?




Google Product Ads (Shopping Ads) work in a similar way to PPC (Pay-Per-Click) ads on Google's main search pages. They give you an opportunity to increase the visibility of your products.
You pay for them to appear in more prominent positions on a Google Shopping or Search Results Page. For example, at the top of the page.
When your products are more visible, you get more clicks from potential buyers. Which generally results in increased sales.



Benefits of Google Shopping and Product Ads




1) Spotlight for your products and brand, coming from a trusted source (Google)




Having your products on Google's eCommerce properties will not only help you get noticed by a wider group of shoppers. It will also create more trust among your potential customers as a result of the association with Google's name.


2) Attract more qualified traffic to your website




A click to a shopping ad implies a high purchase intent. Visitors that come to your website through your Shopping Ads are much more likely to buy than organic visitors. Precisely 50% more likely.
3) Shopping Ads perform better for eCommerce than text-based ads
It all boils down to a visual. When shopping for a specific product, whether it's a shoe, umbrella, or an electric razor, it's much easier to picture ourselves using a product that we can actually see, rather than a product we can read about.
4) Build brand credibility with product ratings and merchant ratings




Build trust with potential buyers by adding seller and product ratings to your Google Shopping listings.

Numbers say that nowadays 90% of consumers read online reviews before visiting a business. And 88% of consumers trust online reviews as much as they trust personal recommendations.

5) More insights about your Customers




Data is power, as they say. Fortunately, Google Ads offers lots of useful reports about your conversions that can help you improve both your paid listings and your marketing strategy as a whole.


6) Increased local visibility




You can integrate your Merchant Center with Google My Business to increase your visibility in local search results. If you provide inventory data for your locations, you can serve local inventory ads for consumers shopping nearby.