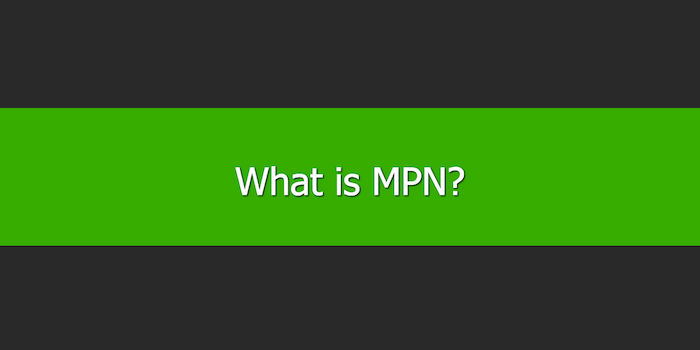 When uploading products to a comparison shopping engine or marketplace you will come across MPN. You might even use MPN when making purchases of certain types of products.
MPN stands for Manufacturer Part Number. It is a unique number that is issued by manufacturers to identify individual products. Normally, the MPN of a product is a series of numbers and letters.You can see examples of MPNs on the barcodes of products as manufacturers print MPNs and the barcode.
You can also find MPNs in manufacturer catalogs, on manufacturer websites, and in online databases.
Including databases managed by comparison shopping engines and marketplaces.
---
Why Are MPNs Important?
MPNs have always been important in a number of industries. Examples include the aftermarket parts industry for vehicles, machinery, or computer equipment.
For example, an oil filter for one model of car may not fit another model, even though the same manufacturer makes both car models. The MPN differentiates the oil filter for each type of car.
The internet, comparison shopping engines, online marketplaces, and other online eCommerce tools have made the use of MPNs more widespread.
MPNs are important as they:
Allow search engines to match products with search queries

Make product comparisons more accurate

Enable online platforms, like Facebook or Instagram, to display ads for relevant products based on a user's internet browsing behavior

On some platforms, MPNs help ensure accurate details in product listings – when you enter an MPN for a listing on eBay, for example, information on the product, such as technical specifications, will auto-populate

With some types of products (such as vehicle replacement parts), MPNs still help customers ensure they buy the right item
---
How MPNs

are Used
Many vendors, as well as manufacturers, list MPNs on their websites. This helps customers find what they are looking for, and helps search engines get a better understanding of what is on the page.
As already mentioned, MPNs are also used when uploading products to marketplaces like eBay as well as comparison shopping engines. In the latter, you often have to include the MPN of each product in your product data feed.
It is important to note that MPNs are different from SKU numbers. SKU stands for Stock Keeping Unit. This is an internal product categorization and identification system used by some vendors.
For example, a vendor may assign its own internal SKU number to a product from a manufacturer that also has an MPN.
The SKU is for internal purposes only. Although, they often to help with inventory management. For example, comparison shopping engines and product marketplaces don't use SKUs and they are rarely used by customers.
You might use SKU numbers for internal purposes, but when creating a product feed for online marketing and advertising, you should include the MPN for each product.
---
Alternatives to MPN
GTIN is a unique number for products derived from the product's barcode. It stands for Global Trade Item Number and is a system that brings together several product identification systems, ensuring they all have the same format.
There are a number of different types of GTIN. They include:
GTIN-14 - Global Trade Item Number

ISBN - International Standard Book Number

UPC - Universal Product Code

EAN - European Article Number

JAN - Japanese Article Number
Some comparison shopping engines, like Google Shopping, prefer GTINs to MPNs in product data feeds. In this situation, MPNs are sometimes optional.
The exception to this is when the product does not have a GTIN. For this type of product, you will usually need to include an MPN and the brand of the product in your data feed.
In addition, Amazon has its own product identification system called ASIN – Amazon Standard Identification Numbers. However, when uploading data feeds to Amazon you should still use the product's GTIN.
---
The Use of MPNs
Despite the increasing prevalence of GTINs, MPNs are still important to help accurately identify products. You should use them in your product feeds.