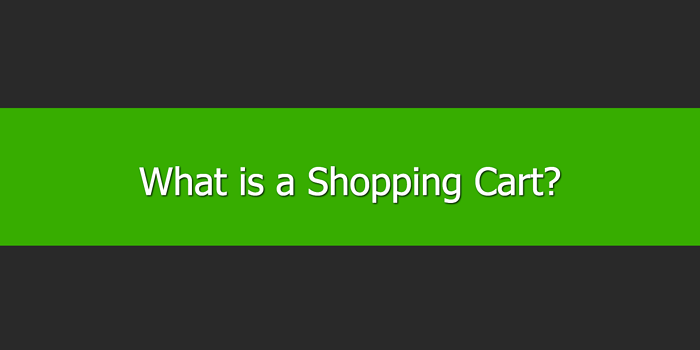 In a brick-and-mortar store, a shopping cart is one small part of a much bigger system that enables you to make purchases.
For online stores, a shopping cart is the whole system. In other words, a shopping cart is software that facilitates online purchases.
A more descriptive term for shopping carts would be shopping cart software or shopping cart platform.
However, the term shopping cart is now widely used to refer to any software that enables a retailer to display products online, manage their online store, and sell to customers.
So, every online store you use to make purchases uses shopping cart software. This includes everything from a small business selling one or two products, to a business with thousands of products in its catalog.
Of course, the type of shopping cart software used in both examples is likely to be very different. Nonetheless, they are both shopping carts.
Types of Shopping Carts
There are many types of shopping carts. Some types are:
Full shopping cart platforms
These shopping cart solutions provide all the features and functionality you need to run an online store.
This includes features that are not directly related to processing sales, such as store templates, static pages, and blogging functionality.
Examples include Magento, Shopify, and BigCommerce.
Add-on shopping cart platforms
Add-on shopping carts let you add full online store functionality to an existing website.
This includes order management, stock management, product display, customer checkout, plus a range of other features. An example is WooCommerce.
It is a plugin that gives WordPress websites online store functionality.
Simple shopping cart integrations
Businesses that only sell a handful of products typically use simple shopping carts.
They normally don't include all the back-end features that more comprehensive shopping carts include, such as inventory control or product pages.
Instead, they simply let users click a buy now or add to cart button plus they process the payment.
An example is PayPal's free shopping cart.
Hosted shopping carts
These are shopping cart solutions hosted by a third-party provider. Thus, the third-party provider looks after server management, server backups, server security, and platform updates.
This means you don't need much - or any - technical expertise to setup an online store with a hosted shopping cart.
The main downside is there is limited flexibility to change the functionality or get additional features. Shopify and BigCommerce are examples of hosted shopping carts.
Licensed shopping carts
This is where you acquire the shopping cart to host on your own server. Free and open source options are available as well as premium solutions.
You have greater flexibility with this option, but it requires more technical expertise including website development and server management skills.
Examples of licensed shopping carts are Magento, OpenCart, and WooCommerce.
Features of a Shopping Cart
The most common feature of a shopping is to enable customers to select products and then make a payment. Other features that are often part of shopping cart solutions include:
A storefront, i.e. the homepage, product pages, category pages, and search pages that customers use to browse and select items to buy

Inventory management tools

Order management tools

Shipping option tools

Currency, sales tax, and accounting tools

Marketing and promotional tools

Third-party integrations
In reality, shopping cart features vary from provider to provider. For example, the PayPal shopping cart has very limited features while Shopify and Magento are packed with features.
Choosing the right one depends on the size of your online store, what you want to achieve, whether you currently have a website, your budget, and your technical expertise.