Amazon FBA vs FBM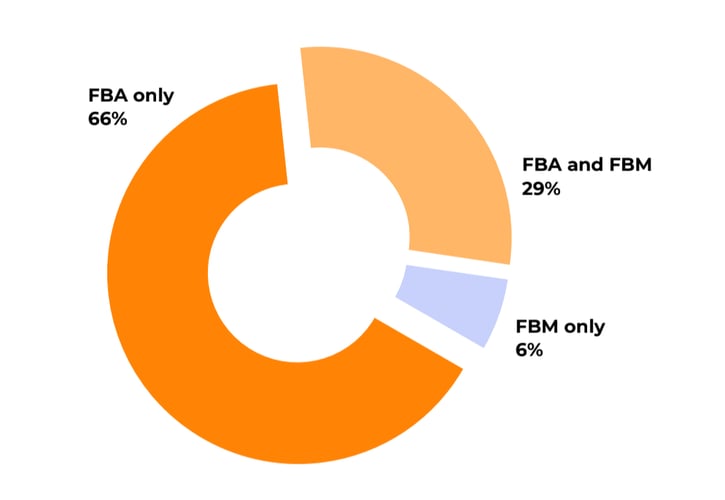 FBA (Fullfilled by Amazon) is Amazon's warehousing and fulfillment service that allows sellers to send inventory to an Amazon warehouse and have their orders shipped by Amazon. FBM (Fulfilled by Merchant) is a fulfillment method in which the seller takes full responsibility for storing inventory and shipping orders.
When you use FBA, Amazon charges a fulfillment fee and a monthly inventory storage fee. With FBM, you can store and ship items yourself or outsource fulfillment to a 3rd-party (that isn't Amazon).


Deciding which method to choose can be difficult if you don't understand the pros and cons of each program. In this article, we'll do our best to explain and demystify FBA and FBM so you can pick the fulfillment option that is best for your business.
---
Pros & Cons of Amazon FBA
With Amazon FBA, Sellers send inventory to an Amazon warehouse and when an order is placed for their item on Amazon, the order is automatically fulfilled by Amazon. Amazon will also cover customer service and returns related to that order.
When you use FBA, Amazon charges a fulfillment fee and a monthly inventory storage fee.
The fulfillment fee covers costs related to picking, packing, shipping, and providing customer service.
The monthly inventory storage fee covers the cost of storing items in Amazon's fulfillment centers.
These costs are in addition to any referral fees (Amazon's commission for sales on its marketplace).
---
Pros of FBA
Prime Shipping
Items fulfilled through FBA are eligible for Prime shipping. This means that customers with an Amazon Prime subscription can receive your item with 2-days shipping at no additional cost (even 1-day shipping in some areas). This increases the sales potential of your items because Prime subscribers are eager to take advantage of fo rapid delivery times.
To put the opportunity into perspective, there are more than 110 million Prime subscribers in the US alone. They are much more likely to purchase an item that has the Prime badge than an item with standard shipping.
Examples of Prime badges which indicate an item is eligible for Prime shipping.

Winning the Buy Box
When you compete with other sellers who offer the same item on Amazon, getting your offer into the Buy Box is essential.
The Buy Box is where the "Add to Cart" and "Buy Now" buttons are located on a product page. At any given time, a sale made through the Buy Box is awarded to only one seller. 85% of all sales are awarded through the Buy Box.
Fulfillment is one of the most important variables that Amazon considers when deciding which seller wins the Buy Box. Basically the faster, cheaper, more convenient, and more reliable your shipping and delivery are for the customer - the better.
Amazon considers FBA to have essentially perfect metrics across these variables. This means using FBA can greatly increase your odds of winning the Buy Box when competing against FBM sellers.
If you want to learn more about strategies for winning the Buy Box, then see our in-depth article on the subject here.
Focus on Selling, Not Fulfilling
Hiring, training, keeping track of inventory, negotiating carrier rates, buying shipping materials, shipping on time, shipping the right items… when it comes to managing your own fulfillment, the list of responsibilities is long.
Managing a well-oiled shipping and warehousing operation is hard. Amazon already has a state-of-the-art fulfillment infrastructure set up to process and ship your orders on time. Also, the FBA program allows sellers to scale easily since they don't need to add staff or warehouse capacity as order volume changes.
Many Amazon sellers prefer to focus on sourcing, developing great products, marketing, and selling. They are more than happy to let Amazon manage the day-to-day fulfillment operations for them.
Amazon SEO
Amazon is tight-lipped on exactly how their A9 search algorithm works.
While Amazon won't publicly state this, it's generally agreed that FBA is a ranking factor that plays into the search algorithm. In search, FBA offers likely have an advantage over FBM offers, all else being equal.
Customer Service
As we already mentioned, when you use FBA, Amazon covers all the customer service and returns processing for that order.
While you will miss out on opportunities to speak to your customers directly, it does ease the support overhead that online merchants face.
Multi-Channel Fulfillment (MCF):
The MCF program is an added bonus for multi-channel merchants. MCF works similarly to FBA, except Amazon will fulfill orders from any sales channel, not just the Amazon marketplace.
You can utilize Amazon's fulfillment centers to ship orders from your own website or another marketplace. Inventory in Amazon's fulfillment centers can serve both Amazon customers and your customers on other channels.
But be prepared to pay. The fees for MCF are higher than FBA.
MCF can also be used as a standalone service, for those merchants who don't want to participate in the Amazon marketplace.
---
Cons of FBA
Costs
This could be a pro or a con depending on the types of items you sell and on your business' competence in fulfillment.
Small, light, and fast-selling items are more cost-effective in the FBA program than heavy, bulky, and slow-moving items. In addition, storage fees are seasonal and rise between October and
December.
Fees for standard-size non-apparel and apparel items
Monthly inventory storage fees

Also, while Amazon is very efficient at warehousing and fulfillment operations, there are many merchants out there who are very good at this too.
Merchants with a high level of expertise in logistics may find that they can do it cheaper than Amazon. For these merchants, the benefits of FBA need to be weighed against the extra cost of using FBA.
If you already have an Amazon Seller Central account, you can use Amazon's free FBA Revenue Calculator to compare FBA with your own fulfillment costs.
Loss of Control
With FBA, you can't walk down to the warehouse floor and inspect your own products. And it's very unlikely Amazon will let you go to their facilities for your own inspection. You have to trust that Amazon won't break or mishandle your inventory.
When you use FBA, be prepared to do things Amazon's way. If you're a seller that wants to be very hands-on with your own inventory and the fulfillment process, then FBA may not be for you.
Packaging and Labeling Requirements
Amazon has strict requirements on packaging and labeling of inventory before they'll accept items into their warehouses.
If you don't properly prepare your inventory to meet these requirements, you risk Amazon rejecting an inbound shipment. Then you'll be spending time and money retrieving and re-prepping your inventory.
There is a whole industry for FBA inspection and preparation services that act as a middleman between Amazon and your supplier. The time and cost of preparing your items for FBA should be considered when evaluating the program.
Return to top of page or
---
What is FBM? Pros & Cons of Amazon FBM
With Fulfilled by Merchant model (previously referred to as MFN or the Merchant Fulfilled Network), you can store and ship items yourself or outsource fulfillment to a 3rd-party (that isn't Amazon). Either way, the seller is responsible for meeting Amazon's service levels related to shipping and orders. In addition, the seller must provide customer service and returns processing for FBM orders.
Seller Fulfilled Prime (SFP)
The SFP program is a variation of FBM that allows sellers to participate in Prime shipping without using FBA.
In order to show the Prime badge on your offers, you must commit to fulfilling orders with 2-day delivery at no additional cost for Prime subscribers. Seller performance standards are higher than FBA and only high performing sellers are eligible for the program.
Sellers must pass a trial period that lasts between 5 and 90 days to prove they can maintain the performance standards described below.
SFP requirements:
Ship over 99% of orders on time
Same-day handling for orders placed before order cut-off time
Have an order cancellation rate of less than 0.5%
Use Amazon Buy Shipping Services for at least 99% of orders
Sellers must agree to the Amazon Returns Policy
Allow for all customer service inquiries to be dealt with by Amazon
Seller Fulfilled Prime provides some of the same benefits as FBA, such as increased sales potential from Prime subscribers and advantages over standard FBM in the Buy Box.
---
Pros of FBM
More control over inventory and fulfillment
FBA gives you control over your inventory and fulfillment processes.
For example, merchants have more flexibility when it comes to replenishment schedules and inspecting their stock. Also, Amazon had been known to change FBA processes and policies which can be disruptive for sellers.
For other merchants, owning the entire customer experience is important. Using branded packaging and dropping marketing inserts into packages is only possible with FBM.
Less Amazon fees
Companies for whom logistics is a core competency can increase their margins by using FBM if their fulfillment costs are lower than FBA's fees.
There are also a few fees we haven't mentioned yet like 'returns processing fee' that applies to some categories, 'long-term storage fee' for stock that remains unsold for longer than six months, and the 'stock removal fee' for pulling inventory out of Amazon's warehouses.
---
Cons of FBM
Less Buy Box power
All other factors being equal, FBA offers will beat standard FBM offers for the Buy Box.
FBM sellers can improve their odds of winning the Buy Box by offering Seller Fulfilled Prime. Just note that FBA will still have a slight edge over SFP when it comes to the Buy Box, but SFP is much better than standard FBM.
If Buy Box competition for your products is hyper-competitive than FBA might be the better route.
No SEO Perks
FBA offers a slight boost in search compared with FBM offers. FBA isn't a magic bullet that will make keyword ranking and SEO efforts obsolete, but it does help.
Customer service and returns responsibilities
With FBM, the merchant handles customer service and returns which takes time. But this is not always a bad thing.
FBM sellers can get a better understanding of customers' needs and pain points when they interact directly with them. This can lead to valuable insights and ideas for their business.
Return to top of page or
---
FBA vs
FBM - what to choose?
To sum it up, there are clear benefits to both programs.
FBA offers perks for SEO and the Buy Box while making items automatically Prime eligible. Merchants, especially Amazon-only sellers, may prefer a hands-off approach to fulfillment and customer service that allows them to focus on selling. For an additional fee, Amazon will fulfill orders from other sales channels through the MCF program.
With FBA, the perks are great but come with a host of fees.
FBA vs FBM comparison chart

FBM gives merchants greater control and predictability over their inventory and fulfillment operations. Sellers with expertise in logistics and efficient operations can improve their overall margins. Sellers also have greater control over the customer experience when it comes to customer service. SFP lets merchants participate in Prime which increases the sales potential of their items.
While FBM sellers lose some SEO and Buy Box perks comparted to FBA, it grants more control to merchants who are ready to take on the added responsibility.


Through the Eyes of Fellow Experts
Here's a piece of advice contributed by Ethan McAfee, Founder and CEO at Amify, a company that specializes in maximizing Amazon profit:
''In 99% of situations, FBA is the better solution for brands selling on Amazon. Customer satisfaction, cost efficiency and customer service are the top reasons sellers should be choosing FBA.
For example, selling on FBA allows products to be Amazon Prime eligible which many customers demand - as a matter of fact, there were 112 million Amazon Prime members as of 2019. Another benefit for customers is that brands selling on FBA ensure that products are shipped in 1-2 days as opposed to about 5 days for FBA merchants.
As far as cost efficiency, it's significantly cheaper (in most situations) than using FBM because Amazon has the best freight rates in the country and passes them on to the seller. Lastly, the customer service benefits - Amazon handles the returns and customer service included in the price.
Now here's the 1% of times where FBM is the best decision for sellers. FBM is the right choice for you if you are selling larger or heavy products like furniture because FBA is not made for most larger products. Another reason to use would be if you run out of FBA inventory and need to use FBM as a backup plan.''
Other Amazon-related articles you may find useful:
---