Google has released an additional element to their search results that store owners will be happy about called Price drop. When used, it should help attract more customers and increase click rates.
At this time, Google hasn't officially made an announcement, but an observant eye familiar with the Google Search Central product page might have noticed the addition. While this ability to add price drops has been available on Shopping ads (more on that later) for quite some time now, it's the first time we're hearing about it with rich search results on the SERP.

Important side note: This feature is only available for English search results in the United States
---
Price Drop on Google SERP: What is it?
Price Drop allows shoppers to see when the price of a specific product you sell falls below the average price you've listed in the past. This is done through the use of rich results on the SERP.
If you're not familiar, rich results include all the extra information on the SERP that aren't the blue hyperlinks. We see them all the time when we conduct a Google search and they're one of the main elements that has made Google so popular.

The terminology is a little unclear, but Ahrefs has done a deep dive on rich snippets (which might be a more familiar phrase to you), rich results, and SERP results.
Rich results include:
Images
FAQs
Reviews
Carousels
Logos (and knowledge panels)

You can find the whole list with examples here.
How Price Drop is used
This is how Google describes it:

If you change the price of a product (not by putting on sale), Google will show the current price and then the typical price in parentheses. It looks like this: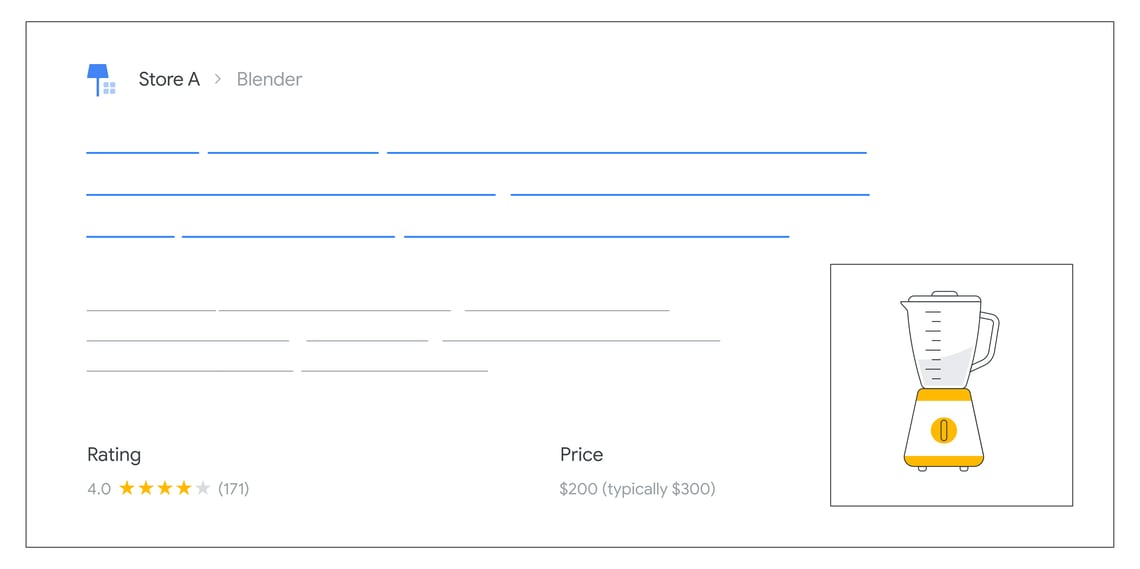 In this example, the blender's current price is $200, but shoppers can see that the merchant usually prices it at $300. Below is an example posted to twitter by Brodie Clark:
Nice example of the new/automatic "price drop" product enhancement in action. Currently only available in the US, but visible on mobile & desktop. To become eligible, need to add 'Offer' to your Product structured data + not use price ranges. More details: https://t.co/HUYFMwFHC9 pic.twitter.com/gFXxHojb2L

— Brodie Clark (@brodieseo) January 23, 2021
How can Price Drop help your business?
The biggest benefit of implementing price drop for your ads is that it really showcases to shoppers that if they buy your product now, they're getting a good deal.

It makes sense for merchants that change the price of their products occasionally.
While there isn't any data yet for this new feature, it's clear from similar features that it will prove to be beneficial.
For example, studies about rich snippets have shown that they're able to increase click-through rates by a massive 677%.

And this Google 'Success Story' showed that this company increased their store visits by 108% after providing more information through Local Inventory ads.
Features like these also help establish instant trust between you and your shopper because they can clearly see all important details, and ratings, in one glance.


---
How to enable Price Drop
Price Drop appears in organic search results. So how can you make sure it's happening for your products?
As seen in the screenshot above, Google automatically keeps a running historical average of your prices and computes what the drop in price is.
It comes down to structured data and schemas. Let's take a look at what they are:
Schema: They are "a set of 'types', each associated with a set of properties." as defined by Schema.org. Some common types include Movie, Organization, and Person.
Let's take a look at the one you'll be using for Price Drop as an example:

Structured data: Structured data uses predefined schemas to organize and classify information on a webpage. It allows information on search engines to be categorized into specific groups, and in our case, be used to highlight information in rich results.
Okay, so now that we've established those terms, there is a schema titled "Offer" (not to be confused with AggregateOffer). You need to add this schema to your structured data.



Tip: You might need to employ the help of a programmer, or feel semi-comfortable with code. Google also has a really helpful article about how structured data works.

Adding structured data step-by-step:
Add Offers, which is the required property in this case. You can check out Google's video on where to put the data on your page:



Make sure you're following the guidelines which can be found here.


Now you'll want to run a Rich Results test to make sure the code in your page is validated. Google has a page dedicated to testing.


Now you can run it on a couple of your pages and test how Google views your page.


The last step is requesting that Google recrawls your URLs.
---
Price Drop and Google Shopping
Like we mentioned before, it's already possible to indicate a lower price for your Shopping ads. The original base price is struck out and the new sale price appears next to it.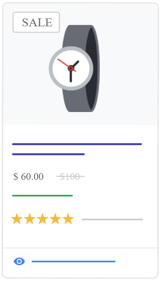 By using the required price attribute and the optional sale_price attribute, you can achieve this for your products which is a valuable part of any discount strategy. Be sure to keep these requirements in mind:
The sale price needs to be lower than the base price.
The difference needs to be higher than 5% and less than 90%
You need to have a valid base price
The product's base price needs to have been active for at least 30 days in the last 200 days (doesn't need to be in a row)
---
Final thoughts
This new change aligns with Google's previously stated goal of helping shoppers find the latest and greatest deals while searching for products.

For shoppers to feel satisfied after a purchase, they want to know they're picking the absolute best product and for a good price. That's why implementing Promotions with your Shopping listings work so well.

We're looking forward to what Google has to say about Price Drop and seeing more real-life examples and data.
Take advantage of other Shopping ad extensions and read this article next: Ad Extensions Checklist for Google Shopping
---