Increase Your Facebook Product Sales with DataFeedWatch
Maximize Your
ROAS
Modify catalogs to best fit your campaign goals. Improve titles, merge variants, test images & a lot more. Optimize budget spending thanks to a unique Analytics module with product controls.
Boost User Engagement
Take advantage of your data feed to generate highly-tailored, visually appealing ads that will make prospects stop scrolling and take action. Choose products they are most likely to engage with.
Manage Your Catalog Easily
Connect your inventory to FB Product Catalogs by providing a ready-made feed link. Control ad content and active product sets on Facebook & Instagram from one place.
Reliable
Integration
Avoid downtime and ensure the accuracy of your product ads thanks to ongoing automated updates. Backed by a team of experts available 24/7 and feed tactics proven by 7,000+ optimized FB feeds.
137% Increase in Purchase Conversion Rate
Northern Commerce, a digital agency, wanted to automate the way they run their Facebook ads. Their goal was to keep all their campaigns fresh and use lifestyle images without the need for constant upkeep and manual work. Find out how they did it.
Better Facebook Ads in 3 Steps
Connect

Upload your product catalog to DataFeedWatch via data export or integrating with your eCommerce CMS.

Enhance

Use automated rules, data enrichment, and pre-made templates to transform product feeds. Get expert support every step of the way.

Achieve

Send your optimized feeds over to Facebook. Build your social media presence, reach your target audience, and surpass performance goals.
Why Facebook Dynamic Ads?
Deliver super personalized ads to the people most likely to convert. Facebook Dynamic Ads can appear on Facebook, Instagram, and Audience Network in the form of single image ads, carousel posts, stories, and collection ads.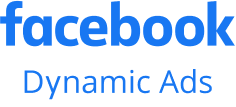 Try DataFeedWatch for FREE
Explore the 15 days free trial. No risks and full assistance provided.
Get Started Now
Frequently asked questions,
answered.
What other integrations are available for me to use?

We're compatible with over 2k channels, including the most popular like Google Shopping, Amazon Marketplace, Bing, Criteo, Pinterest, eBay, and more. We can even create custom channels tailored to your needs.

How can I connect my store to DataFeedWatch?

We support feed integration through major shopping cart software like Shopify, Magento, Woocommerce, BigCommerce, and many more.You can also upload your feed using .CSV/.TXT, Google Sheets, JSON, or .XML. files.

How can I upload my feed to my Facebook Business Account from DataFeedWatch?

Grab your ready-made link from DataFeedWatch and paste it as a feed source in your Facebook Commerce Manager. Then you'll be all set!

How will DataFeedWatch help me grow?

Gone are the days of manually maintaining and updating your feeds. With DataFeedWatch you'll be able to use premade feed templates and robust data transformation to shape your data into campaigns that convert. Centralize the management of your feeds - edit fields in bulk, set daily feed updates to keep up with your changing inventory, and use product-level analytics to act on your results, all in one place.

How can I merge my products and why is it beneficial for me?

While advertising on Facebook, you may decide you only want to show parent products rather than all of the variants. If that's the case, head to the final panel of the Facebook mapping page. Simply choose how you want the variants to merge and our system will take care of the rest.
2000+

shopping channels,and more...