B2B / Account-Based Marketing Specialist
Apply Now
10 000 - 15 000 PLN Net (B2B)
10 000 - 15 000 PLN Gross (Employment contract)
About Us
We Help Merchants Grow. DataFeedWatch is a fast growing tech start-up with roots in Silicon Valley and offices in Krakow, Amsterdam, and Prague. Since March 2022 we are part of Cart.com which brings us numerous new opportunities to grow our business and ourselves.

We are a market leader in Feed Marketing Solutions and enable 20,000 online shops on 6 continents to advertise and be successful on shopping channels like Google, Facebook, and Amazon.
If you join us, you will be part of a team of nearly 100 people that includes 15 different nationalities. We're a diverse bunch that enjoys a perfect work-life balance. We don't just work together, we have lunch together and hang out outside work hours. Most importantly, we like people who make their own decisions and want to grow the company and themselves.
Read More About DataFeedWatch
About the Job
The Account Based Marketing Specialist will take ownership by planning, organizing, and executing account-based marketing campaigns to create and advance opportunities for the SDRs within a target account list and specific contacts.
This role will be critical in helping the Account Based Marketing team achieve its revenue targets.
We are looking for A-Players that are proactive and have strong project management skills, adaptability, and creativity.
Resposibilities:
Planning and execution of Lead Generating marketing campaigns (both online and offline) to reach predefined KPIs,
Selecting and proposing the right mix of marketing tools and activities to achieve the goal,
Planning and coordinating the execution of selected activities for the campaigns incl.:
Coordinating production process of content and promo assets for the campaigns,
Monitoring and optimizing the campaigns' performance vs predefined KPIs,
Active research of new ways and tools to reach prospects,
Planning and execution of ABM campaigns,
Data analysis and reporting results,
Cooperation with internal team agencies (Sales team, graphic designers, copywriters) and external agencies (digital, SEO, SEM).
About You
What are we looking for:
3+ years of experience in running Lead Generating/ B2B campaigns,

Very good command of English, C1 Level (written and spoken),
Strong project management experience,
Analytical thinking,
Ability to run several projects simultaneously,
Taking responsibility for the undertaken tasks,
Ability to work autonomously.


It is nice if you have:
IT industry experience,
Previous experience in running ABM campaigns.
Sales-oriented approach when executing marketing campaigns,
The general command of LinkedIn and Sales Navigator,
General understanding of running Marketing automation and PPC campaigns,
Marketing Analytics and e-commerce Industry experience,
Knowledge of HubSpot and Sales engagement tools (ex. Apollo).
What's in it for You?
Salary: between 8 000 and 13 000 PLN per month on an Employment contract/B2B contract.
We also offer free lunch, remote work, health insurance, and other awesome perks!
What's more, you'll be working with a team of people that enjoy each other's company. You'll work, learn, and grow in an environment where freedom and initiative are appreciated.
Check Perks for You
8 000 - 13 000 PLN Net (B2B)
8 000 - 13 000 PLN Gross (Employment contract)
Any questions?
Talk to
Oksana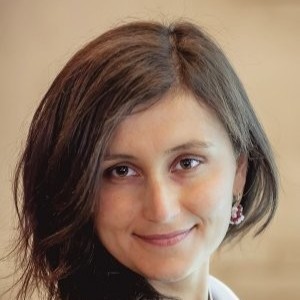 Oksana Tretiak
Senior IT Talent Acquisition Specialist

Join my network!