Growth Marketing Manager/T-Shaped Marketing Expert
Apply Now
8 000 - 11 500 PLN Net (B2B)
8 000 - 11 500 PLN Gross (Employment contract)
About Us
We Help Merchants Grow. DataFeedWatch is a fast growing tech start-up with roots in Silicon Valley and offices in Krakow, Amsterdam, and Prague. Since March 2022 we are part of Cart.com which brings us numerous new opportunities to grow our business and ourselves.

We are a market leader in Feed Marketing Solutions and enable 20,000 online shops on 6 continents to advertise and be successful on shopping channels like Google, Facebook, and Amazon.
If you join us, you will be part of a team of nearly 100 people that includes 15 different nationalities. We're a diverse bunch that enjoys a perfect work-life balance. We don't just work together, we have lunch together and hang out outside work hours. Most importantly, we like people who make their own decisions and want to grow the company and themselves.
Read More About DataFeedWatch
About the Job
Are you a dynamic T-Shaped marketer with a passion for e-commerce, a flair for paid advertising, a knack for SEO and creating SEO-friendly content, and a love for conversion optimization? If so, we have an exciting opportunity for you!
At DataFeedWatch, we are on a mission to revolutionize the e-commerce industry. Our cutting-edge solution is making waves in the world of Shopping Cart marketplaces like Shopify App Store, Magento, WooCommerce, and more. As a T-Shaped Marketing Expert in our Shopping Carts team, you'll play a crucial role in improving our App's visibility and driving growth.

If you are passionate about marketing, learning new tools and want to gain experience in the e-Commerce SaaS environment, this is an ideal opportunity for you to develop.
Resposibilities:

Conversion optimization: Create, manage, and optimize listings and customer journeys to increase visibility and attract more customers from shopping carts. Implement A/B testing strategies to optimize conversion rates across various platforms. Continuously analyse user behaviour and data to identify opportunities for improvement and implement data-driven changes.
Campaign Excellence: Develop detailed campaign project plans, including goals, messaging, calls to action, distribution channels, and success metrics. Monitor campaign performance and adjust strategies to maximize ROI.
Analytics: Utilize analytics tools to gather insights and make informed decisions. Develop and maintain reports to track key performance indicators and provide regular updates to the team.
Partnership Growth: Identify and establish strategic partnerships to expand our reach and customer base. Collaborate with partners to create mutually beneficial marketing initiatives.
Content Production: Develop engaging and conversion-focused content, including landing pages, email campaigns, and ad copy. Ensure content is aligned with our brand and resonates with our target audience.
Cross-functional Collaboration: Work closely with cross-functional teams, including marketing, product, and design, to align strategies and achieve common goals. Foster a collaborative work environment and share insights and best practices.
Strategic Planning: Develop joint marketing plans based on market trends and customer needs. Identify long-term growth opportunities and create actionable plans to achieve them.
Innovation: Troubleshoot inefficient workflows, brainstorm solutions, and stay updated on e-commerce industry trends.
About You
What are we looking for:
Expertise: Minimum of 5 years of relevant experience in a similar position, with a proven track record of driving conversion and growth.
E-commerce: Practical knowledge of the e-commerce landscape, including industry trends and best practices.
Digital Advertising: Proficiency in Google Ads and other relevant advertising platforms.
Conversion Optimization: Strong expertise in A/B testing and optimization techniques to improve conversion rates.
Growth Mindset: Experience in growth-hacking strategies to drive rapid and sustainable business growth.
Communication: Excellent written and verbal communication skills in English, with the ability to articulate ideas and strategies effectively.
Collaborative: Ability to work seamlessly within a team and collaborate effectively with cross-functional teams to achieve shared goals.
Organization: Highly organized, detail-oriented, and capable of planning and executing projects without missing a beat.
Creativity: Possess a dynamic, creative, and entrepreneurial mindset to develop innovative marketing strategies.
Curiosity: A strong desire to learn and stay up-to-date with the latest industry trends and technologies.
Experience in Partnership Marketing or B2B SaaS product promotion is a plus.

What's in it for You?
Salary: between 8 000 and 11 500 PLN per month on an Employment contract/B2B contract.
We also offer free lunch, remote work, health insurance, and other awesome perks!
What's more, you'll be working with a team of people that enjoy each other's company. You'll work, learn, and grow in an environment where freedom and initiative are appreciated.
Check Perks for You
8 000 - 11 500 PLN Net (B2B)
8 000 - 11 500 PLN Gross (Employment contract)
Any questions?
Talk to
Oksana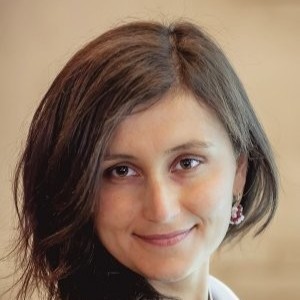 Oksana Tretiak
Senior IT Talent Acquisition Specialist

Join my network!