Junior Sales Development Representative
Apply Now
6 500 - 10 000 PLN Net (B2B)
6 500 - 10 000 PLN Gross (Employment contract)
About Us
We Help Merchants Grow. DataFeedWatch is a fast growing tech start-up with roots in Silicon Valley and offices in Krakow, Amsterdam, and Prague. Since March 2022 we are part of Cart.com which brings us numerous new opportunities to grow our business and ourselves.

We are a market leader in Feed Marketing Solutions and enable 20,000 online shops on 6 continents to advertise and be successful on shopping channels like Google, Facebook, and Amazon.
If you join us, you will be part of a team of nearly 100 people that includes 15 different nationalities. We're a diverse bunch that enjoys a perfect work-life balance. We don't just work together, we have lunch together and hang out outside work hours. Most importantly, we like people who make their own decisions and want to grow the company and themselves.
Read More About DataFeedWatch
About the Job
We are looking for a sales-oriented and task focused person who wants to develop their career in Sales in the IT sector. You will be a part of the commercial team (comprising Marketing and Sales roles) focusing on Account-Based Marketing strategies to obtain new clients.
As an SDR you will be actively reaching out to prospects and leads via various channels such as email, phone, and Skype in order to make the first contact, qualify them and pass them to the Sales Team. You will also be responsible for LinkedIn research and coordinating day-to-day activities with our Sales and Marketing Team.
This is an ideal opportunity for a person passionate about sales, looking to unveil their potential by learning modern sales techniques and tools in the SAAS e-commerce environment.
Resposibilities:
Research of potential clients,
Verify leads and identifying prospects through multiple channels (phone, email, Skype) in order to pass the fitting ones to the Sales Team,
Create, maintain and update the database of prospective customers with complete information and emails,
Reporting directly to the Team Lead. Providing daily reports regarding sales activity (e.g. number of calls/emails),
Undertaking first/second level of research toward successful call results (LinkedIn, Apollo),
Calling prospects and engaging them for a demo call,
Reporting directly to the Team Lead. Providing daily reports regarding sales activity (e.g. number of calls/emails),
Following up on leads and conducting research to identify potential prospects,
Categorizing and prioritizing the prospective leads and passing them on to the Sales Team.
About You
What are we looking for:
Keen interest in sales and desire to grow in this field (experience in sales is not required),
Excellent communication skills,
Fluency in English,
Ability to identify and develop new sales opportunities,
Ability to quickly research a prospect's company,
A can-do attitude, openness, and the ability to talk to different kinds of people from different countries.


It is nice if you have:
Knowledge of HubSpot and Sales engagement tools (ex. Apollo, QuickMail),
Understanding of performance marketing.
What's in it for You?
We offer free lunch, remote work, health insurance, and other awesome perks!
What's more, you'll be working with a team of people that enjoy each other's company. You'll work, learn, and grow in an environment where freedom and initiative are appreciated.
Check Perks for You
Any questions?
Talk to
Oksana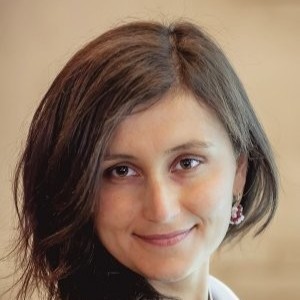 Oksana Tretiak
Senior IT Talent Acquisition Specialist

Join my network!