15 000 - 19 000PLN Net (B2B)
15 000 - 19 000 PLN Gross (Employment contract)
About Us
We Help Merchants Grow. DataFeedWatch is a fast growing tech start-up with roots in Silicon Valley and office in Krakow. Since March 2022 we are part of Cart.com which brings us numerous new opportunities to grow our business and ourselves.

We are a market leader in Feed Marketing Solutions and enable 20,000 online shops on 6 continents to advertise and be successful on shopping channels like Google, Facebook, and Amazon.

If you join us, you will be part of a team of nearly 100 people that includes 15 different nationalities. We're a diverse bunch that enjoys a perfect work-life balance. We don't just work together, we have lunch together and hang out outside work hours. Most importantly, we like people who make their own decisions and want to grow the company and themselves.
Read More About DataFeedWatch
About the Job
We are looking for a full-time senior specialist who will join the HR Team and support us within the human-centric dimension of HR. We are looking for a person who already has strong experience in this HR field. A well-organized, feedback-oriented team player who is not afraid of challenges and will make things happen. A person who wants to play a crucial role in creating and executing HR strategy and culture. If this is you - read along.
Your main responsibilities:
You will report directly to the Head of HR and Finance and closely work with the Management Team.
Lead strategic HR projects and initiatives that are human-centric.
Foster a growth mindset and feedback culture that motivates and inspires individuals.
Will have the autonomy and responsibility to develop and execute HR Strategy in cooperation with HR Team, Management Team and Leadership Coach.
Influencing the corporate culture and enhancing collaboration among departments.
Coordinating and supporting internal and external communication.
Providing comprehensive HR processes such as onboarding, performance appraisal, career development, and offboarding (including conducting exit interviews).
Preparing and maintaining reports and analyses like employee surveys, 360 feedback sessions.
Building relationships with employees and supporting their lifecycle.
Coordination and organization of the company's training process.
Offering counselling services to employees.
In charge of tracking and reporting HR data that provides a high level of insights on a monthly, quarterly, and yearly basis.
Strong collaboration with US parent company to unify process between the US and Poland.
Depending on your experience, you will manage other HR sub-departments (like recruitment, etc.).
You will be a part of middle management.
About You
You are a skilled, adaptable professional known for building trust and credibility while handling sensitive information. You excel in organization, proactivity, and data-driven decision-making. You are a team player who enjoys working with people who are as eager (just as you) to take the initiative. If you enjoy working under the hood but have an impact on the success of the company, our team is a place for you.


We also value the following experience and characteristics:
Over 7 years of experience in a similar position
Very good knowledge of English - minimum B2+ and fluent Polish
Proven expertise in a variety of HR functional areas, especially organization development, change management, process improvement, and employee relations
Experience in creating and/or maintaining HR Strategy
A feedback-oriented person with the ability to learn from mistakes
Flexibility and ability to work in line with the company's priorities
Demonstrated ability to establish credibility, trust, and partnership with a focus on protecting sensitive information, at all levels of the organization
High level of organizational skill and proactivity
Ability to conduct presentations, workshops and/or meetings in the scope of responsibilities
Proficiency in self-time management and utilizing contemporary communication tools
Effective communication, consistency, and accountability to achieve a positive outcome
A data-driven approach capable of transforming information and data into executive-ready presentations that provide solutions for promoting growth and implementing change
Working knowledge of MS Office suite (Excel, PowerPoint, Outlook, etc.)


What's in it for You?
Salary: between 15 000 - 19 000 PLN per month on an Employment contract/B2B contract.
We also offer free lunch, remote work, health insurance, and other awesome perks!
What's more, you'll be working with a team of people that enjoy each other's company. You'll work, learn, and grow in an environment where freedom and initiative are appreciated.
Check Perks for You
15 000-19 000 PLN Net (B2B)
15 000-19 000 PLN Gross (Employment contract)
Any questions?
Talk to
Oksana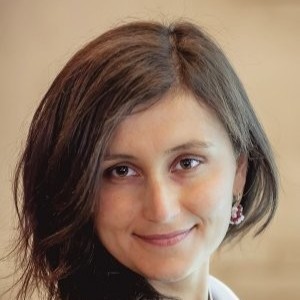 Oksana Tretiak
Senior IT Talent Acquisition Specialist

Join my network!