Senior Sales Development Representative for Account-Based Marketing Team
Apply Now
12 000 - 18 000 PLN Net (B2B)
12 000 - 18 000 PLN Gross (Employment contract)
About Us
We Help Merchants Grow. DataFeedWatch is a fast growing tech start-up with roots in Silicon Valley and office in Krakow. Since March 2022 we are part of Cart.com which brings us numerous new opportunities to grow our business and ourselves.

We are a market leader in Feed Marketing Solutions and enable 20,000 online shops on 6 continents to advertise and be successful on shopping channels like Google, Facebook, and Amazon.
If you join us, you will be part of a team of nearly 100 people that includes 15 different nationalities. We're a diverse bunch that enjoys a perfect work-life balance. We don't just work together, we have lunch together and hang out outside work hours. Most importantly, we like people who make their own decisions and want to grow the company and themselves.
Read More About DataFeedWatch
About the Job
🚀 Accelerate Your Career with DataFeedWatch!
Elevate Merchants Globally at DataFeedWatch, an agile tech start-up that's been thriving since laying its roots in Silicon Valley and establishing a vibrant office in Krakow. Acquired by Cart.com in March 2022, we're seizing a wealth of new opportunities to expand our horizons—and yours.

🌐 Navigating Global E-Commerce Success
As a leader in Feed Marketing Solutions, we're enabling over 20,000 online shops across six continents to carve out their success on vital platforms like Google, Facebook, and Amazon.
Inclusively Diverse, Uniquely United
Join a robust team of nearly 100 professionals, embodying 15 distinct nationalities. Our culture is one that values work-life balance, and our relationships extend beyond mere work collaborations. We dine, celebrate, and innovate together, appreciating those who take the initiative to learn and grow.

🎯 Your Mission: Drive Strategic ABM Success
As our Senior SDR for the ABM Team, your pivotal role is not merely regional but extends to closing carefully targeted, high-value accounts, where your expertise will forge new paths in customer acquisition.

🔍 Key Responsibilities:

Strategic Lead Generation: Identify, research, and curate potential new clients for our SaaS offerings within strategically targeted accounts.

Sales Pipeline Management: Sustain and optimize a solid pipeline of potential sales leads and opportunities.

Insightful Market Research: Keep a finger on the pulse of industry trends, competitor actions, and provide actionable insights to the sales and product teams.

Relationship Building: Cultivate and nurture relationships with potential clients, existing customers, and industry connections, crafting a network that facilitates future sales.

Sales Goals Achievement: Relentlessly meet and exceed set targets for lead generation, SQLs, and other pivotal KPIs.
About You
🌟 We Envision Our Ideal Candidate to Have:
Hunter's mindset:

1. Proactivity: you don't wait for leads to come in; you actively seek new opportunities.

2. Relentless Persistence: you don't get easily discouraged by rejection or hurdles. You maintain a positive and determined attitude even in the face of setbacks.

3. Strategic Aggression: you courageously approach high-value prospects without hesitation.
You're competitive. You always seek to outperform competitors AND peers.

4. Status Selling: You know how to control a frame of the sales interaction, and have an upper hand over the prospect. You're comfortable with saying NO to the prospect, disqualifying them and asking hard questions.

Sales Experience: At least 5 years combined experience in B2B Sales either in Sales development or Account Executive position, ideally within a SaaS environment. Solid track record in hitting and exceeding your quota.

Language Proficiency: Exceptional command over English, ideally native speaker. Any additional languages would be a welcomed asset.
What's in it for You?
Salary: between 12 000 and 18 000 PLN per month on an Employment contract/B2B contract.
We also offer free lunch, remote work, health insurance, and other awesome perks!
What's more, you'll be working with a team of people that enjoy each other's company. You'll work, learn, and grow in an environment where freedom and initiative are appreciated.
Check Perks for You
12 000 - 18 000 PLN Net (B2B)
12 000 - 18 000 PLN Gross (Employment contract)
Any questions?
Talk to
Oksana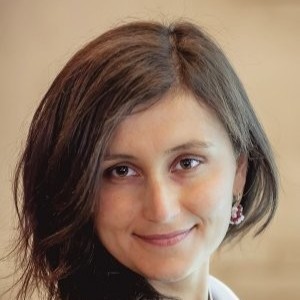 Oksana Tretiak
Senior IT Talent Acquisition Specialist

Join my network!