Pricing
DataFeedWatch
starting at $59 for 1,000 SKUs

$154 for 30,000 SKUs

unlimited Shops start at $239

Order Management complimentary
---
Channable
starting at $39 for 500 SKUs

$179 for 30,000 SKUs

unlimited Shops start at $599

Order Management paid extra (59$)
Ease of Use
DataFeedWatch
create a data feed in 3 steps

easy and intuitive rule-mapping

pre-loaded channel templates
---
Channable
create a feed in several steps

complicated rule mapping system

user-friendly inteface layout
Support
DataFeedWatch
available round the clock

live chat, email and phone

10 languages
(EN, ES, DE, FR, NL, DK, SE, IT, PT, PL)

Capterra Customer Service score: 4.8
---
Channable
available 9 - 6 CET, Mon-Fri

email and phone

5 languages (EN, ES, DE, FR, NL)

Capterra Customer Service score: 4.5
Cart Integrations
DataFeedWatch
direct integrations: 11

unique to us: Volusion, Opencart, 3dcart, Versacommerce

alternative: Google Sheets, XML, CSV, TXT or JSON
---
Channable
direct integrations: 12

unique to them: CCVShop, Mijnwebwinkel, Divide.now, InRiver

alternative: XML, CSV or TXT
Additional Functionalities
DataFeedWatch
feed-based text ads

analytics with cost data (cpc, cpa)

competitive price monitoring
---
Channable
feed based text-ads

analytics without cost data
(cpc, cpa)
Free Trial
DataFeedWatch
15-day trial (extension possible)

full functionality and support

45-day trial for feed-based text ads
---
Channable
free trial for an unlimited time

limited functionality (cannot upload feeds to the channels)

no free trial for feed-based text ads
---
Ease of Use
DataFeedWatch offers a more intuitive way to map your feeds. You can create a feed with 3 simple steps. In Channable you need to double the number of steps to get your feed ready.

Feed-Driven Text Ads are also way faster to set up, and offer a possibility to create keywords via tag combination and product title truncation.

Service Quality
Our Team of Feed Marketing Ninjas is around 24/7, reachable via live chat, email or even online session. Channable is limited to office hours and offers no live chat.

On an independent review platform - Capterra, DataFeedWatch support received a score of 4.8, while Channable's support is graded 4.5.
Global Reach
DataFeedWatch operates on over 2000 shopping channels, in 50 countries and in 10 languages.
Channable is primarily focused on its home market, The Netherlands, and is expanding into neighbouring countries.

DataFeedWatch is trusted by global brands like adidas, Decathlon, Kenzo and many local Dutch companies such as Blokker, Whello or Happy Idiots.
Why merchants & agencies choose DataFeedWatch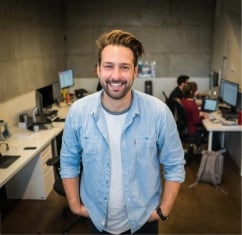 "Consistent, Quality Service!"
"It has been about 3 - 4 years since I began using their service. They have been consistent in offering a robust solution and I couldn't be happier! DataFeedWatch is constantly adding improvements and making sure their customers are taken care of. In fact, their customer service is SUPERB."