Set your online store up for success

and integrate with BigCommerce
Why integrate BigCommerce and DataFeedWatch
Integrate with ease


You're just a few clicks away from connecting your BigCommerce store. After that, seamlessly bridge BigCommerce and DataFeedWatch
Fresh feed with daily updates
Have peace of mind knowing that your feeds are always up to date and your products are synced across platforms.
Avoid product and channel disapprovals
When setting up your product feeds with DataFeedWatch, all the required fields for the particular channel you're using will already be listed.
Map your first feed with our experts
Create, map and optimize your feeds with ease and if you do ever run into a dilemma, our team of feed optimization experts are always happy to help!
DataFeedWatch's most popular channels for integration
Google

Amazon

Facebook

Instagram

Ebay

Pintrest

Criteo

Kelkoo

Awin

Fruugo

Bing

ShareSale
And many many more...
Why online merchants and agencies love DataFeedWatch:
Amazing Tool
I tried Data Feed Watch, after using different feed tools that were too complicated. Data Feed Watch is easy to use and to understand. Providing a very good quality of feed and with a lot of options to personalize it. The support from them is very qualitative, they are always available!
Feed creation and optimization

Create your feeds with ease and copy mapping cross channels.

Feed quality review

Have a clear view of your feed health and pinpoint any errors to avoid ad disapprovals or low performance.

Feed-Based Google Text Ads

Watch your ROI increase by using automated text ads.

2000+ channels reach

Sell your products on a wide variety of channels including advertising platforms, search engines and more.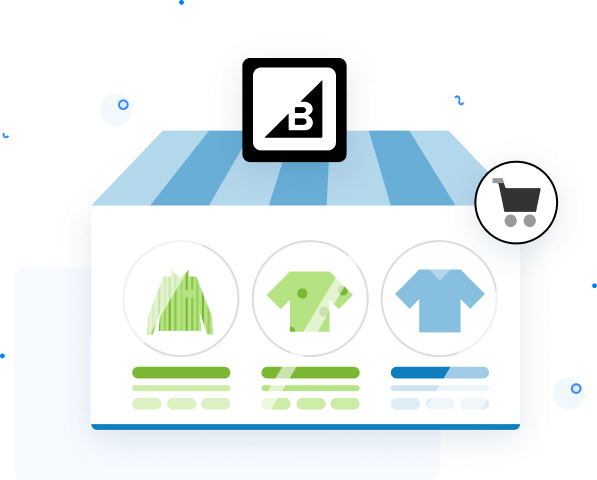 BigCommerce is a shopping cart provider that answers all your eCommerce store needs. They provide you with a full system to handle your online store from displaying your products and prices to checkout and shipping.

When integrated with DataFeedWatch you can optimize your product feed and confidently sell across channels.
Ready to get started? Here's what to do:
Integrating BigCommerce and DataFeedWatch just takes a few steps.
01
Log into your BigCommerce account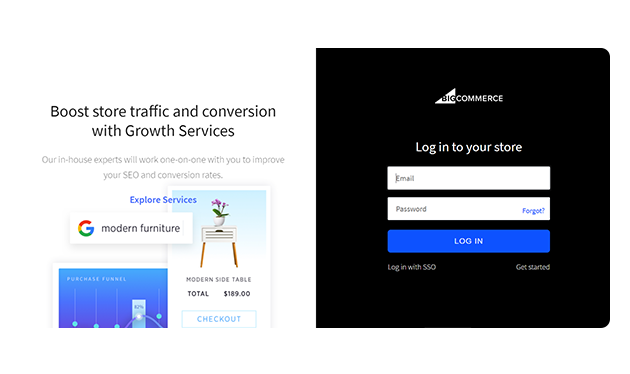 02
Head over to the app store and search for DataFeedWatch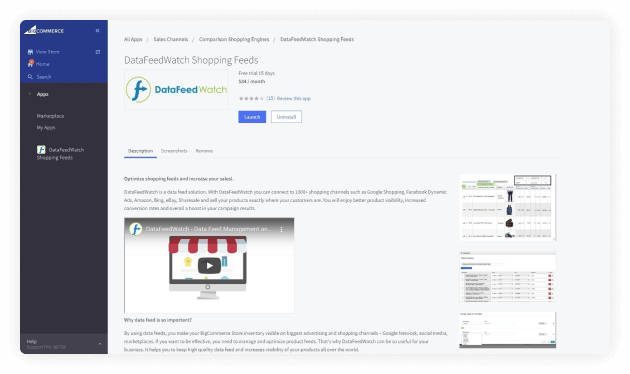 03
Click on 'Get this app'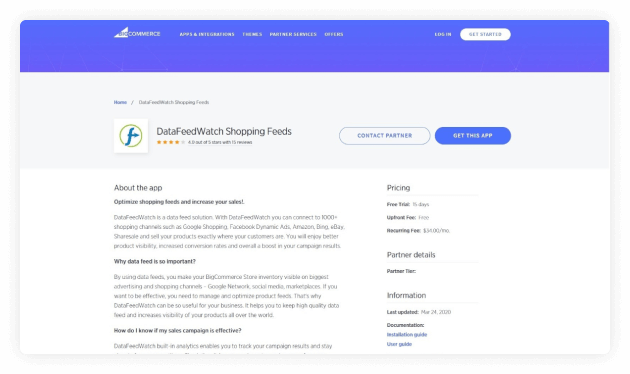 04
Create new DataFeedWatch account or log in to existing one