Monica Axinte
Google Shopping
Optimizing campaigns
Data Feeds
Tips & Tricks
GTIN
Manufacturer Center is like Google Merchant Center, but as its name implies, it is a place where product manufacturers submit authoritative product data to Google.
Having the right GTINs assigned to all your products is extremely important. GTINs will be used by Google to match the products listed by manufacturers in the Manufacturer Center to the retailer's products in the Merchant Center.
GTINs are mandatory in many countries since mid-May 2016, and by now most retailers have added them. If you still haven't added them just read more about how to find GTINs for your products.
---
What's in it for the Manufacturer?
The tool was created having the brand owner's needs in mind. So if you're a manufacturer and you're selling your products in the US, there are countless reasons why you should be on Google Manufacturer Center:
Regain control on how your brand appears on the Internet.
By uploading your product data to Manufacturer Center you ensure that all data is consistent and accurate across Google services.
You influence the way retailers showcase their products in Google by providing the most appropriate images, descriptions, and details.
Standardized product data.
By sharing all this data with Google you make sure that your products have consistent and complete feature details when listed by Google in search ads.
The info that Google will display about your products will be consistent on all its services. Even if a retailer, when advertising for your products, has incomplete, or worse, inaccurate, details about your products Google will make sure that users get exhaustive information related to their search queries.
Drive More Traffic.
Enriching and monitoring the product data improves the online shopping experience.
The high quality images and detailed information that you upload to the product data repository will help Google improve ad relevance for product queries.
This will trigger the ads for your products more often and earn clicks and traffic for your products.
Increase Conversion Rates.
Correct product information will transform the product search and exploration into a more rewarding experience. Offering shoppers exhaustive information will cut the unnecessary hassle for them and will attract more qualified buyers.
Performance Insights.
With the analytics tool, manufacturers get product level insights allowing them to see how their products are performing across Google.
Insights such as the how many clicks your products get in comparison to those of the competition, how many times your product ads are triggered as a result of a search query in Google Shopping will allow you to identify the best performing products.
Based on the analytics you can decide how to improve your product data.
---
How does it work?
Currently, Manufacturer Center is open to a limited number of manufactures for the US market. If you're not US based or you produce your goods internationally you can still use it, but only for the products sold in the US.
If you want to have your products listed on Manufacturer Center you need to fill in this form, and if you meet the requirements Google will contact you.
If you get accepted you first need to claim ownership of your brands, wait for Google to review them, and, once you get the green light, proceed with submitting the product data to Manufacturer Center.
---
How to upload your product data to Manufacturer Center?
Create the feed
Before submitting your product information you need to prepare a data feed with all of the required fields.
In DataFeedWatch you can effortlessly create your Manufacturer Feed from your source feed. Just go to Add Channel list and add it to your list of channels.

Adapt and Optimize the feed
The Manufacturer Feed has only five required fields: ID, Brand, Title, GTIN and MPN. Still, it's important not to limit yourself to the required fields, because the more information you provide the more likely users searches will be matched to your products.
Be as specific as you can and include details such as: description, images, features, and more.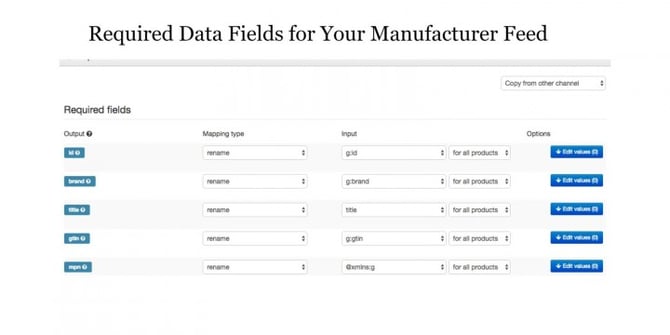 When the Manufacturer feed is ready you need to set up the connection between DataFeedWatch and the Manufacturer Center in order for your feed to be submitted.
You can always go back and regularly adapt your feed based on the insights you get from your manufacturer analytics.
With Google Manufacturer Center everyone in the shopping chain wins: the manufacturer, the retailer, the buyer and, of course, Google.