What is Google Merchant Center Next?
Merchant Center Next is a redesigned version of Google Merchant Center. It is a simplified version of the existing platform, providing those that use it with a cleaner user experience and new features.

The major upgrade is that Merchant Center Next will automatically detect product data - such as product title, description, size, price, and product image - from your website and pull this data into Merchant Center Next automatically. It was designed to ensure there's less technicality in building and maintaining a feed compared to the previous Merchant Center version. And with that, fewer errors coming from a poorly configured feed.
Google Merchant Center Next Rolled Out by 2024
It's currently being rolled out to existing and newly created accounts and Google is aiming for this rollout to be complete by 2024.
The switch itself is being managed by Google entirely. This means there's no way to make the switch manually to the new version. However, if you are already using Google Center Next, you can switch back to the regular Google Merchant Center.
Note, that there is no switching back once you choose to stay on the old instance – at least not until Google replaces the regular Google Merchant Center for all advertisers.
What this means for advertisers and e-commerce managers is that change is coming. For now, it's important to understand what's changing and to be prepared for it by being adaptable and agile.
---
How to import products to the Google Merchant Center Next?
There are 5 ways you can import your products to the Merchant Center Next:
How to import products automatically from the website?
Once you add the URL of your website, Google will crawl through your website to check all the product information on your online store and sync the most recent data with the Merchant Center.
To make sure Google is able to crawl your domain, ensure you have a sitemap added to your website and structured data in your HTML's store (it's a representation of your product data on your site that Google can read).

Once you choose the automatic product import, it may take up to 3 days for products to appear on the panel. And since the connection is dynamic, each product update on your website will be reflected in the Google Merchant Center Next account.
---
Google Merchant Center Next vs Google Merchant Center
The big questions that are on everyone's minds are what's going to change apart from the automatic product import? How will this impact me? And what exactly is the difference between Google Merchant Center and Merchant Center Next?
At the moment the full impact of Merchant Center Next is unclear because not all advertisers have access to it nor have the full set of features been rolled out. There is a slight level of uncertainty and patience will go a long way at present. However, what we do know is that there are some key differences compared to regular Google Merchant Center, in terms of user interface and what's available.
Here's a run-through of Merchant Center Next, what it looks like and how it compares to Google Merchant Center.
Cleaner interface
Merchant Center Next looks cleaner and better organized in comparison to the existing Google Merchant Center. It's been upgraded similarly to Google Ads interface upgrades over the years. In general, user interface upgrades end up being beneficial, once you've learnt how to navigate the platform.
Slimmed down product diagnostics
The product diagnostics overview only shows the current situation, in terms of what's approved, under review, limited and not approved. Whereas previously, there was a timeline showing historic product diagnostics and how they had changed over time.
Product diagnostics in Google Merchant Center (screenshot):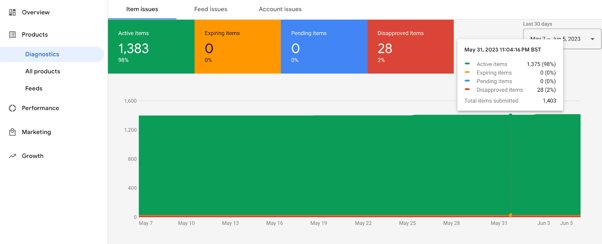 Product diagnostics in Merchant Center Next: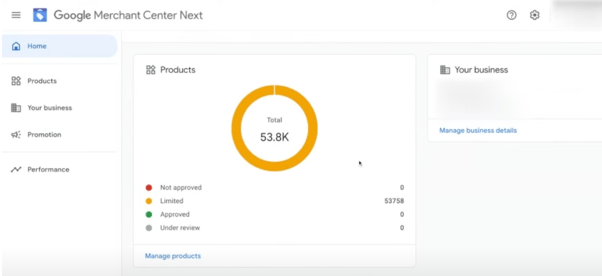 Editable products
It's now possible to edit product details directly in Google Merchant Center by clicking on a product. Click on the 'Edit product' button and then make changes to the attributes directly, for example, product title, description, brand, final URL, etc. This is quite a big change in comparison to the existing Google Merchant Center whereby you were only able to upload products or delete products.
Apart from that, The Products tab looks very much the same as the existing Google Merchant Center, only there are now fewer filters available
All products view in Google Merchant Center Next: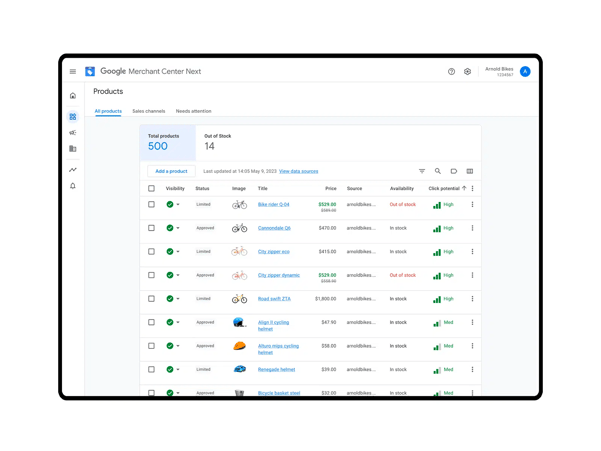 Source: Search Engine Land
Edit a product directly in Google Merchant Center Next after clicking on an individual product from the 'All products' section: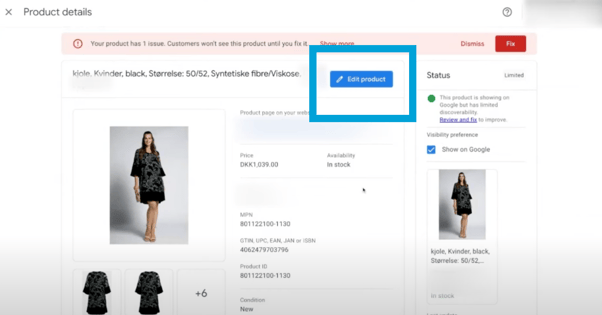 Source: "SMEC channel", YouTube
No view of the product feed
At present, there's no way to see your product feed or raw feed data in Merchant Center Next, as the Feeds tab that's found in the existing Google Merchant Center is not currently in Merchant Center Next. If you want to check solely the source you're currently connected to go to Products > select All Products > click the item Title and on the lower right corner you'll see Source.
New metric 'Click Potential'
A new metric is available in Merchant Center Next called 'Click Potential', which uses historic data to calculate how much potential there is for users to click on your product listing ads. This is calculated by comparing the performance of your products to other products in your Merchant Center Next account and it can be used to optimize low-click potential products.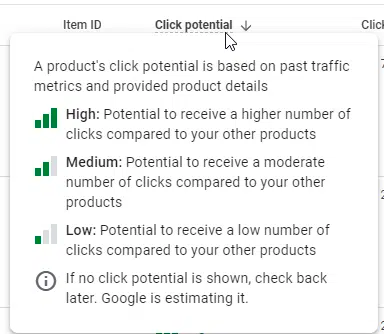 Tab movements
With a new layout several tabs changed their place or were completely left out for the time being.
The Growth tab from Google Merchant Center is currently missing from Merchant Center Next. The Growth tab features opportunities to improve both the feed and campaigns, to essentially drive more traffic and improve delivery. This also means the price competitiveness report, best sellers report and 'manage programs' features are all missing. It's unclear if this is yet to be rolled out or if it has been retired for good.
Business details have been moved from the main settings in the top panel to the left-hand side of the screen. This is now where advertisers can edit business details and online store details.
Business details have moved to the left panel: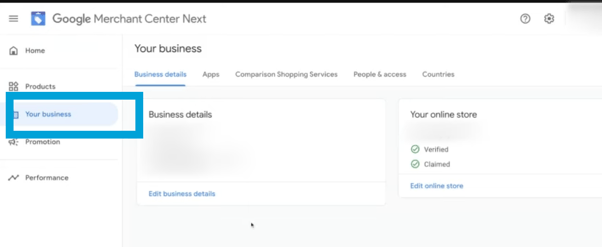 The 'Performance' and 'Promotion' features from the regular Google Merchant Center have been carried over. The only difference here is you cannot amend the date range when viewing product performance like you can in the existing Google Merchant Center.
There's always going to be an initial learning and readjustment phase when adopting a new or updated platform. It's happening right now with Google Analytics 4. The benefits of getting on board with updated platforms generally outweigh the tricky transition period, so here's hoping that this is the case for Google Merchant Center Next.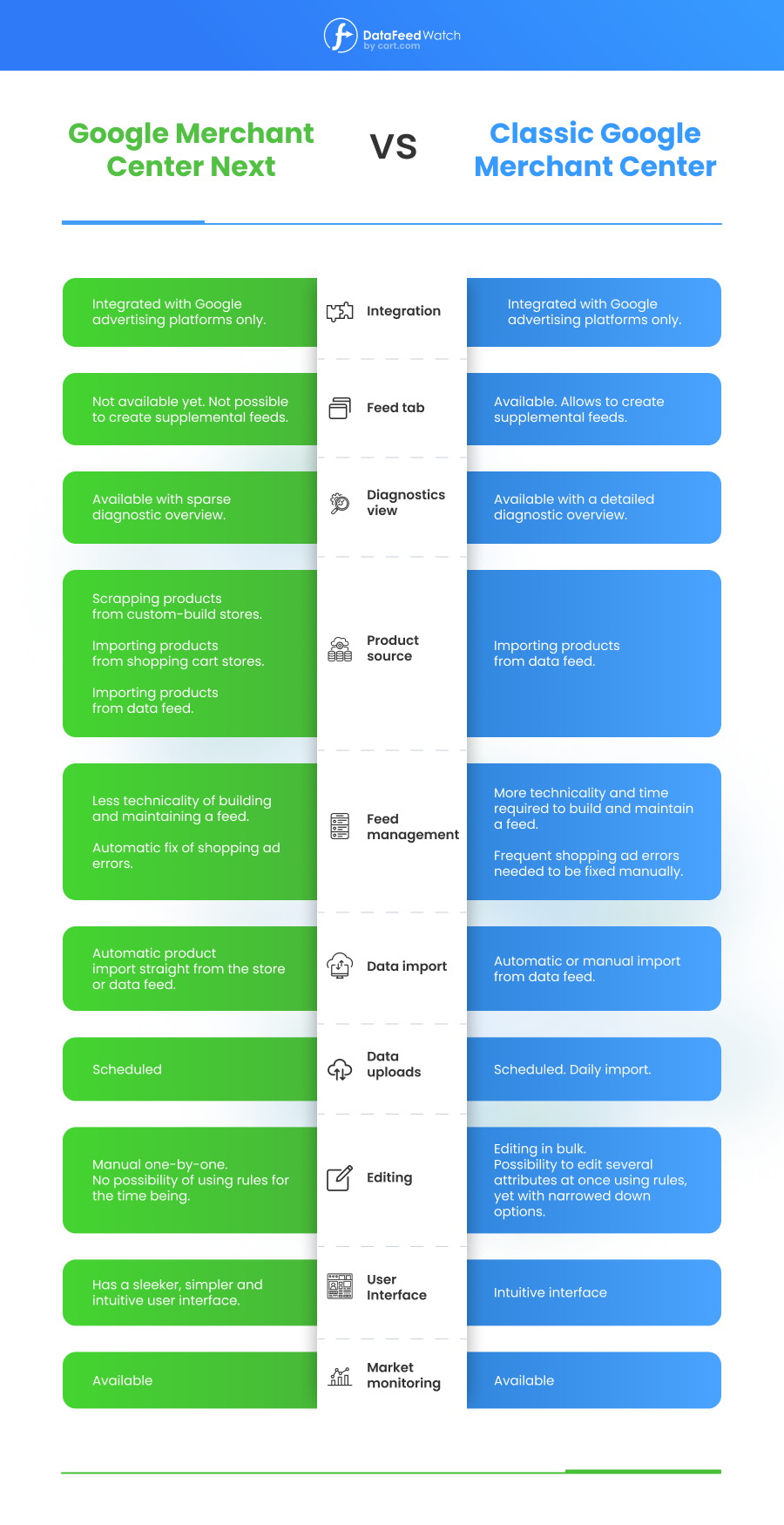 ---
Limitations to Google Merchant Center Next
While Google Merchant Center Next generally looks cleaner and more simplified, there are some limitations to be mindful of.
Here's a run-through of the limitations of Merchant Center Next, however, it's important to note that these limitations are subject to change.
1. Solely Focused on Google Products
Google Merchant Center Next is solely focused on Google products, similar to how the existing Google Merchant Center is. Although it's been updated and simplified and contains new features, it's still limited for advertisers who use their product feed on other platforms, such as social media and marketplace listings.
2. Lacks The Ability To Optimize
Advertisers are limited in their ability to use Merchant Center Next as a feed optimization tool. We've discovered that it is now possible to edit product data directly in Merchant Center Next, however, this is only possible on a product-by-product basis. Optimizing in this way is manual, slow and mostly suited to minor product changes and updates.
For businesses with a lot of inventory and who are managing extremely large data feeds, this isn't a realistic way to optimize. A third-party feed optimization tool is necessary to generate a well-optimized shopping feed.
Using DataFeedWatch as an example – it automates feed-work to increase conversion rates and ROAS with the ability to edit and update products in bulk, each of their attributes and even uses performance data to optimize the feed.
Discover 9 data feed optimization tactics to improve performance and increase your profits.
3. Missing Features in Merchant Center Next
As highlighted in the previous section, there are several missing features in Google Merchant Center Next compared to the existing Google Merchant Center. Meaning there will be a period of adjusting to life without these features unless they are soon to be added to Merchant Center Next in the coming months.
Here's a recap of some key features that are missing from Merchant Center Next:
Growth tab
Merchant Center Programs
Feed tab
Ability to create supplementary feeds
Product diagnostics timeline
Product performance date range
4. Sparse Diagnostics
The diagnostics feature in Merchant Center Next is more simplified, which in this case is a limitation compared to Google Merchant Center.
In the existing Google Merchant Center, diagnostics offers issue reporting across your account, feeds and items. It displays product eligibility issues and product data warnings and provides insight into account setup, data quality and policy violations. Meaning it's pretty comprehensive at the moment.
Now advertisers will need to visit the 'Needs attention' section and it does appear to be slimmed down compared to what's available in the existing Diagnostics section.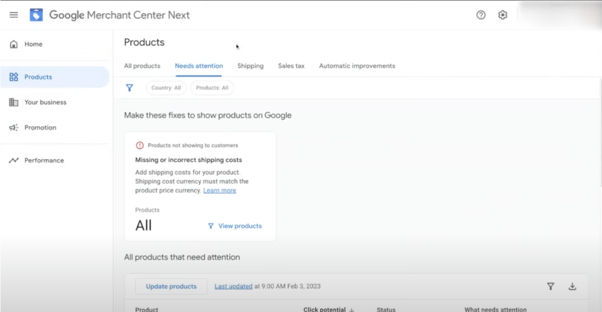 ---
How DataFeedWatch Supercharges Merchant Center Next

Source: Google Support
Using Merchant Center Next is inevitable when it comes to running product listing ads on Google whether that's Shopping, Performance Max, YouTube, Discover or Gmail. This is where your data feed is stored and having a Merchant Center Next account is a requirement to build campaigns.
Using a third-party software such as DataFeedWatch isn't a requirement, however, it is a way to supercharge your product feed and streamline the entire process of feed optimization and ad creation.
Here are some of the ways DataFeedWatch can be used to complement Merchant Center Next to drive more conversions and increase ROI.
Run Campaigns Across Multiple Advertising Channels
While Merchant Center Next is limited to running ads on Google, DataFeedWatch can integrate with more than 2,000 channels, including the likes of Google, ShareASale, PriceRunner, Bazaarvoice, Fruugo, and of course the more common Bing, Criteo, Meta and Pinterest. It's a powerful solution for easily managing ads across multiple channels simultaneously.
As well as that, the feeds can be customized for each channel and specific business requirements and also optimized with over a hundred optimization mapping features.
Save Time With Bulk Edits
Another way DataFeedWatch complements Merchant Center Next is with the ability to edit products in bulk. As we've discovered, Merchant Center Next does allow advertisers to click into products and edit data, however, this process is manual and you can only edit one product at a time. For advertisers with thousands of products, this method of editing data is unrealistic.
Advanced Data Improvements Increasing Sales
Making bulk edits of products and their attributes using DataFeedWatch is fast, accurate and a lot more advanced. It's all achieved thanks to the advanced rule features, which allow marketers to perform complex data transformation options without developer's help.
Here are just some of the data tweaking possibilities:
Building titles out of attributes combination – automates title creation without the need to rewrite individual titles manually
Shortening or lengthening strings – keeps titles, descriptions of other attributes within required length constraint

Creating custom labels

– allows to group products by their margin, price or any other attribute you find useful for shopping ads

Filtering and excluding products

– makes it possible to sort products in large quantities based on any chosen attribute, as opposed to sorting only a few in Merchant Center Next
Supplementing missing data using extractions – allows to add product information missing in the data feed or your website without having to alter the primary data source
Excluding products out-of-stock based on their quantity – allows to rule out products in bulk from ads if their availability drops to a chosen number (for example if availability is <4)
Check out more expert level tips for Google Shopping optimization.
Dedicated Support Team and Useful Resources
DataFeedWatch specializes in all areas of feed management and optimization. Not only is the feed set-up free, you then have access to technical support via email, phone or live chat depending on the plan. Using Live Chat you can get in touch with an expert in less than 30 seconds, almost around the clock. This ensures instant problem solving and advice on how to optimize your products data for better RoI.
Google does offer support options, however contacting Google support can be a slow process that's much less tailored to individual scenarios are shopping needs.
With DataFeedWatch, there's the option of getting a dedicated account manager who's on hand to help with all feed-related queries. There's also DataFeedWatch Academy, with numerous resources to develop your knowledge and skills around feed management and optimization.
---
Is DataFeedWatch Right For Me?
There are several ways that DataFeedWatch can supercharge using Merchant Center Next, as well as provide you with the opportunity to open up your shopping feed to more channels. Although Google Merchant Center Next might be handy for shops with small product catalogs, DataFeedWatch can handle and optimize your product offering no matter the size.
Whether you're an online store or an agency, going local or worldwide, have a small offering or robust catalogs of products, this solution will be a tailored feed optimization software just for you. We offer plans for:
small shops selling up to 1K products,
midsize merchants,
agencies handling a few stores at a time
worldwide enterprises with catalogues of over 100K products.

Conclusion
Google Merchant Center Next is without a doubt easier and more intuitive to use than the standard Google Merchant Center. However, it will come as a welcomed upgrade for merchants with small product catalogs that want to run their Performance Max campaigns without the feed optimization and as little effort as possible. For those retailers who care about maximizing their ad results, feed optimization will still remain the primary mean of achieving the best possible outcomes.
Only time will tell what the full impact of Merchant Center Next will be, as we wait for all of the features to be rolled out. Since Merchant Center Next is expected to arrive by 2024, we shouldn't have to wait very long.