Monica Axinte
Google Shopping
Optimizing campaigns
Comparison Shopping Engines
Data Feeds
Identify your Most Profitable Products
In Google Shopping
You want to identify a limited number of 'Winners', because you will need to spend time managing each bid. It is better to optimize a small number of products really well, than sub-optimize many products.
Don't set a bid for each product with more than (e.g.) 5 conversions if that means you end up having 150 product groups. Instead, find out which products bring you the most revenue or gross margin.
Click the Dimensions tab in your Shopping campaign and set your View to Shopping > Item ID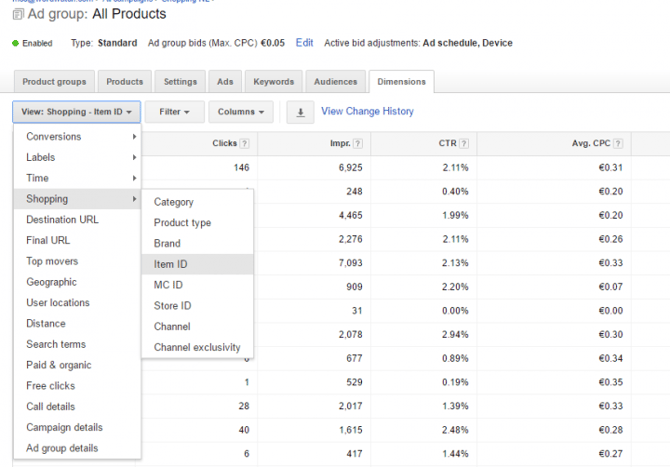 Create a filter to find products with a lot of conversions and a great CPA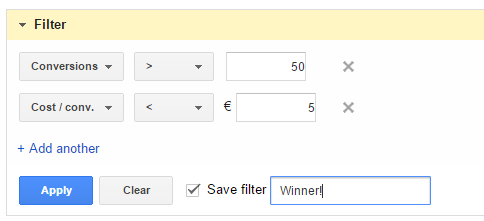 And/or just sort the products on Total Conversion Value:
In DataFeedWatch
Most sophisticated data feed tools are able to track the performance of each individual product on each channel. It enables you to filter in a similar way but,
You get the same list of products in a more comprehensible way (ID, Title, Color, even a picture)
You can review performance data for parent products instead of only on variant level
Now you can see which of your products are the most profitable: Write 'em down or just download the entire report and go to the next step in Google Shopping.
Create Separate Bids for the Most Profitable Products in Google Shopping
The only way to set a separate bid for an individual product is to create a separate Product group for each product.
Creating those separate Product groups in the existing adgroup is possible but cumbersome: Having your 'Winners' in a separate ad group is easier to implement and provides for better focus.
So create a new adgroup and call it 'Winners' or something like that.
Go to the Product targets in this adgroup and divide the products by ID. Now you can simply paste the IDs of your Winners in a bulk upload: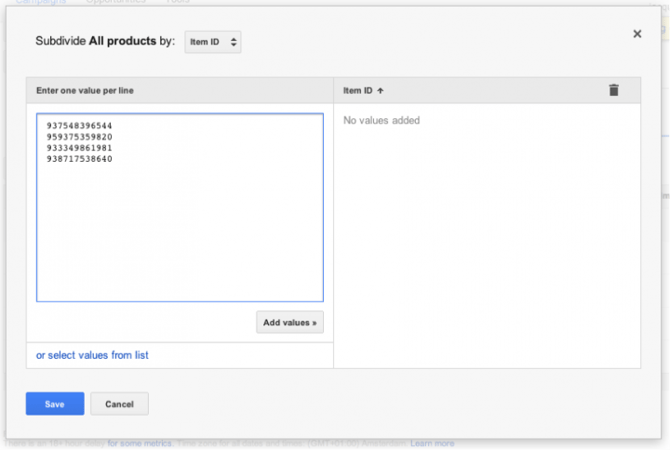 Now that you have created Product groups for your winners, set a bid for each and start increasing your sales. Those bids must of course be higher than the bids in the original adgroup.
Or if you want to be really thorough, you should even exclude the winners from the original adgroup, to make sure that your new adgroup will 'prevail'.
There is a lot of potential for increasing your ROI and your revenue with your best selling products, so they should get more attention compared to the rest of the products.

Check out also: Improve your ROI with Google Shopping CSS [save up to 20% on clicks]