What are Google Merchant Feed Rules?
The Feed Rules functionality offers online retailers the possibility of performing basic edits and optimizations to their product feeds for Google Shopping. In short, the new feature takes a product feed and transforms it into supported data for Google Shopping.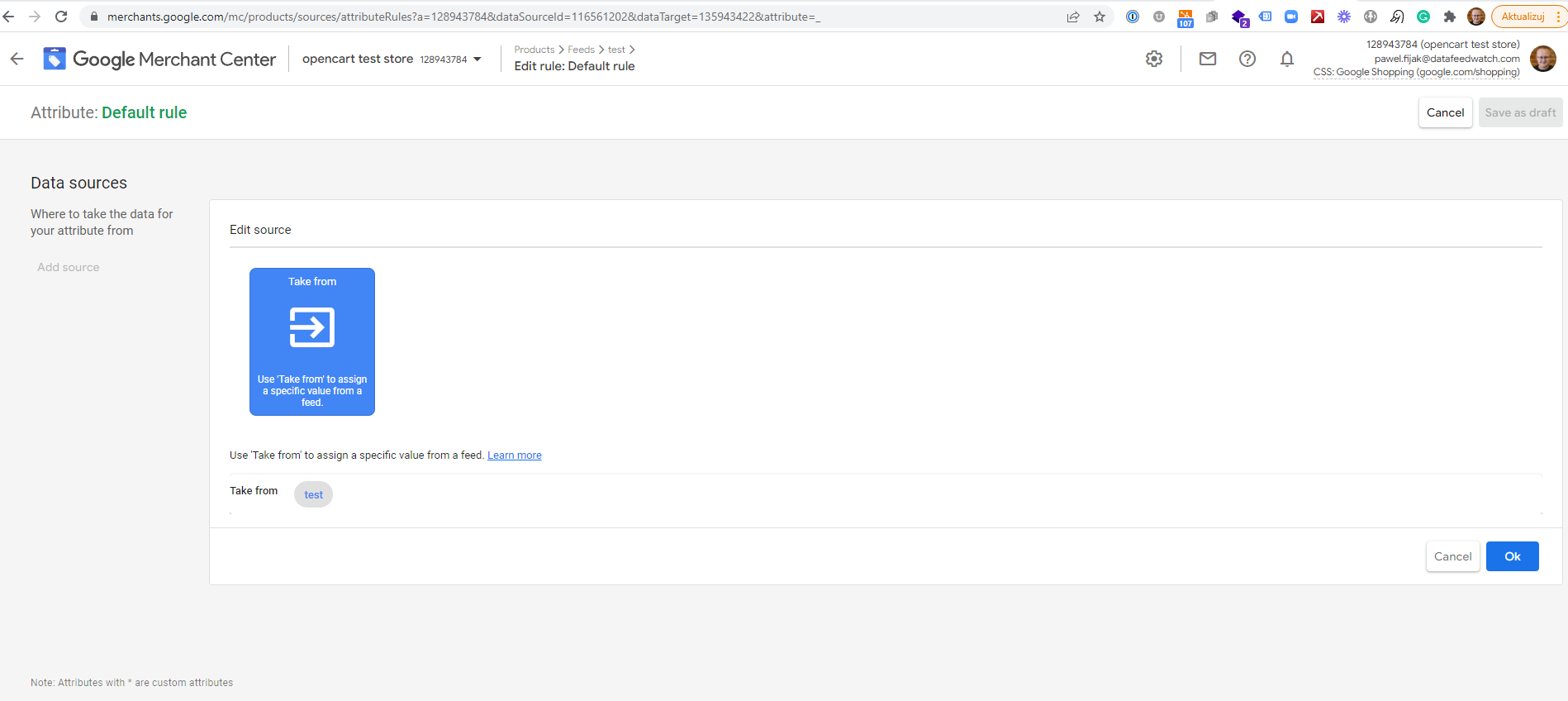 According to Google Merchant Center help section, the main feed optimizations merchants can make using Google's feed rules are:
1. Replace field names to supported attribute names from the Google Shopping Products Feed Specification.
For example, if in the feed exported from your shopping cart system your column header is called ''variant_id'' you'll be able to setup a rule to rename it to the supported attribute ''id'' as Google requires it.
2. Replace the values in your feed with values compliant with Google Shopping Products Feed Specification.
Let's say you're selling running shoes for both men and women and you need to submit the gender specification for your products. If in your source feed the gender attributes are called ''men'' and ''women'' you need to transform them to the accepted predefined values for gender: ''male'' and ''female''.
3. Fill in missing attributes with a static value, or with different static values based on conditions.
One of the mandatory fields in your Google Shopping feed is ''condition''. If you're only selling new products this field is probably empty.
If you don't map it, then your products will be disapproved. To solve this problem, you can create a rule that automatically attributes the condition ''new'' to all products.
4. Add additional words and phrases to the beginning or the end of an attribute
In order to improve or streamline your product data (or search terms) you can modify particular phrases in your data feed by adding additional words to them.
5. Remove the value for any attribute
For example, if you happen to have text like "n/a" in some descriptions or product titles in your feed, you can now easily remove using the the Feed Rules (Clear option).
Double your Amazon Sales with our 9 proven startegies
---
Feed Rules or DataFeedWatch?
For very small merchants managing limited feeds for Google Shopping only, this tool will turn out to be a time and money saver.
Still, there are plenty of reasons why merchants, especially medium-sized and large ones as well as agencies, will still need to use a data feed management and optimization tool for their shopping campaigns.
Multi-channel eCommerce strategy - copying existing rules
Having all your eggs in one basket is never a good strategy and today more than ever it's very important to be wherever your clients are.
That means that you should consider all available channels for your products: shopping channels, marketplaces, comparison shopping engines and affiliate networks in all countries where you have a presence.
If you want to adapt and optimize your data feed for all these channels in a quick and easy way, you'll need to use a feed management solution such as DataFeedWatch.
For example if you want the same data feed optimization for a couple of your channels, you can create a feed for one channel, by simply copying the mapping of another channel (that you've already created before).

It's very useful if you use complicated rules like mapping color from description, product type from Title, excluding products from 10 different categories or creating categories for 50 different product types. That saves a lot of time.
Available category mapping
One of the most important fields in the Google feed is the product category, which ensures that the products show up for the right search queries.
Google wants retailers to use Google's own taxonomy and to match their products to the most specific Google sub-sub-category.
Unfortunately, considering how important the category field is in the feed performance, Google Merchant feed rules doesn't support online reatailers with syncing their products to their mandatory taxonomy.
This means that they need to prepare the categories manually, which is a tremendous hassle.
With DataFeedWatch things are much easier. We have integrated the category mapping, meaning that we are providing merchants with a system that makes a very tedious job workable.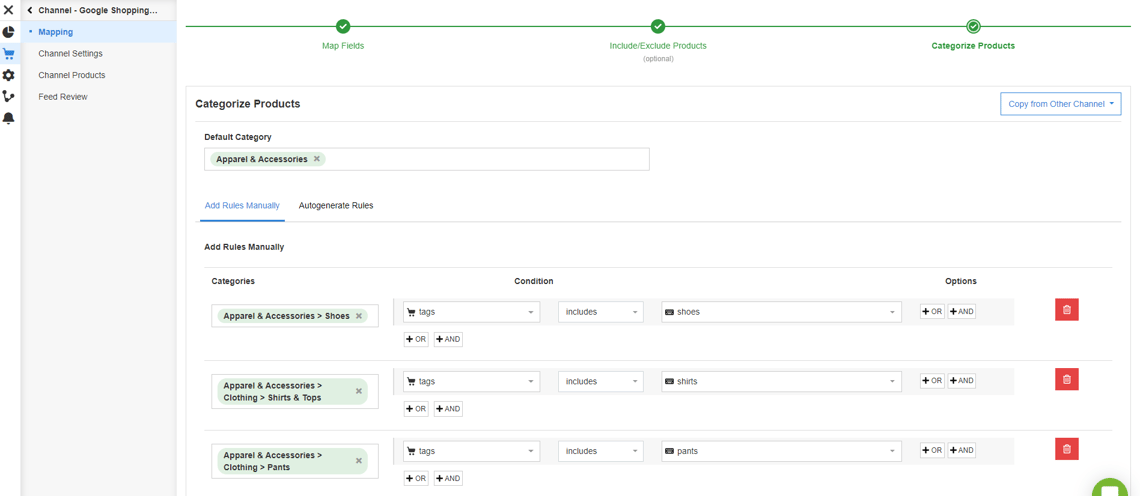 More on how you can automatically match product types in your feed with the most specific subcategory here.
Excluding products from your feed
Sometimes you'll sell more by advertising fewer products. By filtering out from the feed the unprofitable, seasonal, out-of-stock and low price products, you improve the quality of the feed and you focus your spending on the most profitable products.
Google Feed Rules doesn't allow you to exclude those products from your feed after you've uploaded them to the Merchant Center.
With DataFeedWatch you have numerous ways to exclude products from the feed based on their prices, profitability, seasonality and other parameters.
Here's examples of exclusion based on seasonality:

You can also exclude out-of-stock-products, so you don't loose your advertising budget. In the DataFeedWatch app you can use the information about quantity or availability from your data feed to create the following rule and then exclude temporarily all the out-of-stock items. Once this product is back in stock, it will be automatically re-included in your feed.

You can read about more ways of excluding products in this article.
Detailed Analytics on individual level
If you have a solid multi-channel strategy in place then you need to constantly review how each channel is performing and which products perform better on a channel or another.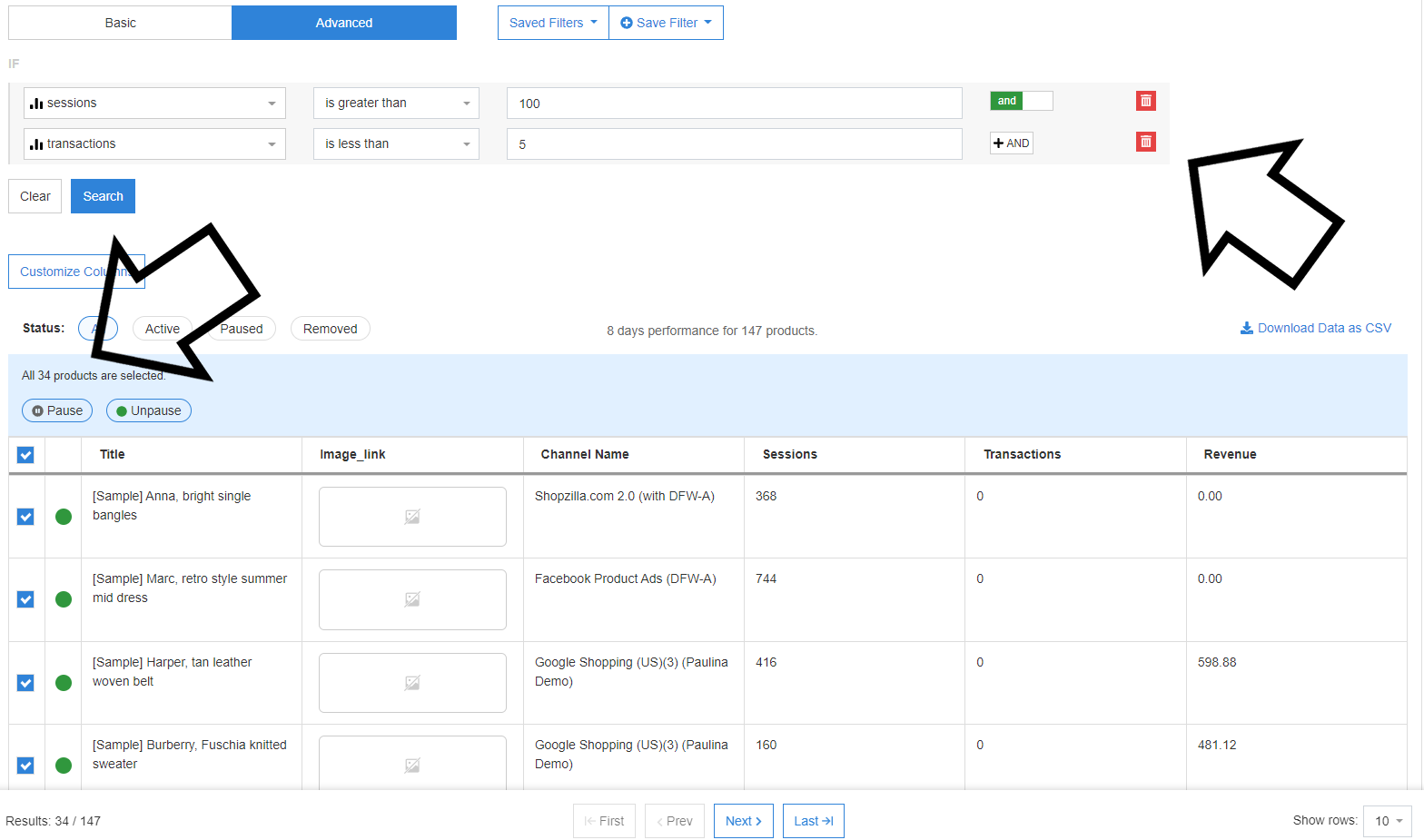 Most of the times CPC campaigns are managed on a category or brand level because most channels will not provide online retailers with product level data and also because it's a time-consuming task.
Still, being able to identify best performing products, optimize across channels and review all performance data on a single page will significantly increase the performance of your campaigns.
Support from feed experts
DataFeedWatch has a very capable support team that helps you create more advanced rules that can for example strip HTML for you, reduce the length of the description, etc. Our guys will help you with any problem connected to your data feed.
---
Conclusion
In short, Google Merchant Feed Rules is a good solution for merchants that advertise on Google Shopping only, have less than few hundred products and want something basic and quick, without getting into much depth with feed management and optimization.
For larger merchants that advertise on various multiple channels and want to be able to fully manipulate their feeds, this functionality isn't sufficient and they need to rely on a sophisticated feed tool to improve their shopping campaigns.