The .SHOP domain extension has opened its doors and is now available for registration in the Early Access Program (EAP). The EAP will run for almost a month: from September 1st until September 26th, 2016.
The Sunrise phase, open exclusively for trademark holders, was a big success registering more then 1,100 applications. Trademark holders didn't seem to mind the hefty price tag necessary to secure the new domain extension.
The European brands seem to have a bigger appetite for the new gTLD compared to the US ones. One week before the ending of the Sunrise phase 64% of the total applications came from Europe.
Fashion& luxury, sports and home/interior verticals were leading the way with more than 50% of the purchases.
According to Joseph Peterson, a domain broker and investor, the reason behind the over-representation of some countries relative to the USA is due to linguistic difference:
''I think what this shows is a linguistic difference. In the USA we "go to the store", we go "shopping"; but the word "shop" has a quaint European air to it, almost like "boutique".
We definitely use it – often for imported bitts of culture like the "coffee shop". But I daresay it's more prevalent in the UK.''
Retailers, should you get a .shop domain or not?
Brand protection. The world's biggest brands and retailers didn't miss the chance and secured their .shop domain extension already: Adidas, Gucci, H&M, Lego, Home Depot, 1-800-FLOWERS and others. Brand protection is a big issue in the industry, and some brands probably bought the new gTLD for defensive purposes so that they can protect their brand from abuses.
Business opportunities. If you can figure out a memorable, brandable name then it can easily become a new opportunity, and you could even build an entire business around it.
Keyword Optimization. A .shop domain extension can be used as a keyword for user queries that are looking to make online purchases: dress.shop, sneakers.shop etc.
Subdomains and redirects. If you have an eCommerce section on your website you can use the .shop as a subdomain. Or, if you own a store on Ebay, Amazon, Etsy or other platforms you can forward potential customers from a .shop domain directly to those stores.
How to get a .shop domain extension?

The .shop Early Access Program runs for 26 days and there are seven stages in which anyone can secure a good domain with the new gTLD. After that, the domain is open for general availability and the prices will go down.
The list of registers is available on http://get.shop if you want to secure a good .shop domain name. Prices differ from register to register so you might want to do proper research before you hit the Buy Button.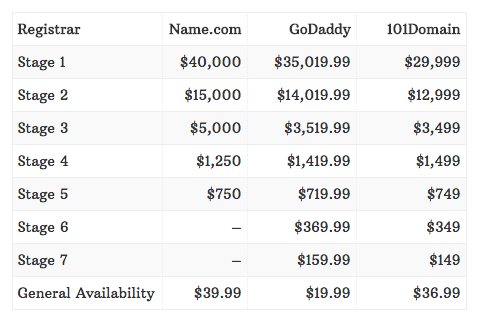 Hiro Tsukahara, CEO of GMO Registry Inc. is very confident that new domain extension is going to be a huge success and they're expecting to reach 1 million registrations within the first year. Whether this is going to happen or not, we are waiting to see.
Do you think the new domain extension will live up to the expectations or will it wear off soon? Share your thoughts in the comments below!