---
#1. 250% Increase in Clicks After Optimizing top Product Titles
The problem: Getting more clicks to our leading products in charge of 60-70% of the total revenue from Google Shopping.
The Solution: Optimizing product titles by using insight from shopping search term reports & keyword research tools.
Our optimized product titles now include additional key information about the products that helps capture new traffic, and they've been recreated so they match high traffic search terms more closely.
After a little experimenting we found out that these simple changes to product titles had a very positive impact contributing to impression share & CTR increase.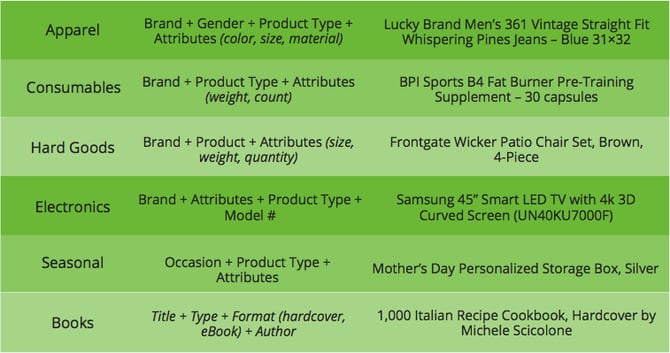 The optimization guidelines we followed are:
Included extra information like recommended users, activity type, materials & extra details for special products like bundles, beginner packages, custom gear etc. (This is on top of existing basic details like brand, color, size etc.)
Rephrase product titles so they match relevant high traffic search terms more closely.
Quick example:
Say you sell Baseball Gear, and on of your top products is a pair of Wilson Baseball Gloves.
The original title could be: "Wilson Classic Baseball Gloves #Model Number"
A little research with any PPC Keyword Tool will show that one of the top queries containing "baseball gloves" is "left handed baseball gloves" - That's a great keyword opportunity to add to one of our left hand thrower gloves title.
We'll also mention extra details like that they're made of leather and come in youth sizes.
Here's an example of an optimized title: "Wilson Youth Leather Baseball Gloves - Left Hand Throw"
Our gloves are now likely to serve for many more queries, including the one we spotted using the keyword research tool.
We did this to all of our top products (about 15-20% of all products), adding as much extra details as we can.
Quick tip: My favourite research tool is the free SEMRush Keyword Magic Tool - it shows all the possible search queries that contain the keywords you choose.
The Result. 250% overall increase in clicks from Google Shopping, growth in impression share, better Click Through Rates and more clicks from existing high converting traffic.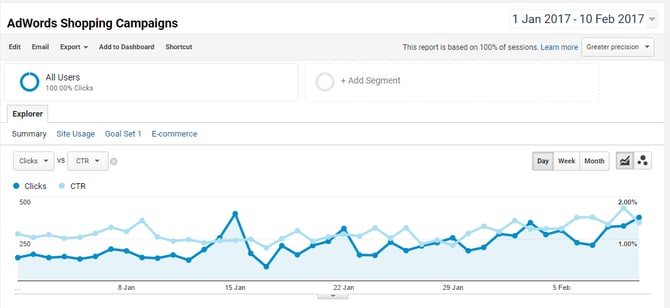 Some products with 0 traffic started getting 50+ Clicks/Day after a few simple title optimizations.
To summarize, our experience with title optimization has shown to have a very big impact on traffic & traffic quality driven from Google Shopping Campaigns. We highly recommend taking the time to do that, with big emphasize on top products.
---
#2. 30% Increase in a Shopping Campaign's ROAS by Adding 3 Negative Keywords
The problem. The ROAS for our 5 leading product groups wasn't getting the result we wanted.
The Solution. Cutting costs by spotting losing keywords with high density in the search query report. We looked for repeating patterns and search behaviour that don't lead sales. (We also learned what does work and where important bidding optimizations can be made.)
From our experience, Shopping Campaigns tend to attract many long/mid tail search queries and so the best way to add negative keywords is by combining data from many search terms that contain certain keywords and don't deliver sufficient results. (Instead of just excluding specific terms).
Quick example:
Our #1 product group with high traffic served for queries that contained 3 branded keywords that never led to any sales.
The branded keywords were spread across many different search terms leading to products within that group, and were in charge of 30% of the total cost for that product group..
We excluded those 3 branded terms and instantly saw a 30% growth in return on ad spend for that product group.
What you want to look for:
Branded terms. Branded terms can be a blessing or an hindrance, don't just let shopping campaigns bring in unwanted branded terms (Irrelevant / non-converting brand term, etc.) - Make wise decisions and you can save serious marketing dollars.
Repeating search patterns. People search in different ways, but a close look on your search term reports will quickly show you patterns, some leading to sales and some don't.
We noticed that with a certain apparel category, all the queries that contained the word "men" never led to any sales - probably due to the fact that those products were more appealing to women.
We added "men" as a negative to that campaign and saved the cost of 500+ clicks a month.
Noncommercial keywords. This is basic but shouldn't be overlooked. Have a decent negative keywords list in place with the obvious terms ('free', 'used' etc.) but also keep a list of non-obvious terms you found in adwords reports that just don't work for your business.
The Result. Before excluding losing keywords - 30 day period:

After excluding losing keywords - Next 30 day period:

After about a month of implementing this to our top 5 product groups, our total shopping campaigns ROAS grew by 178%!
We simply stopped paying for non-converting / irrelevant traffic, and that has a tremendous impact on your campaign profitability.
---
#3. Improved Campaigns Click Through Conversion Rates after Optimizing Pricing
The problem. Some products / product groups were getting very low click through or conversion rates. Pricing is undoubtedly one of the most important factors in success with google shopping.
Having a great pricing strategy, where you find the pricing "sweet spot" for every product group or even every product in your business is a continuous complex task that requires periodic overview.
We noticed that in some cases, we've had big success even if our pricing wasn't that competitive (probably due to low competition / google algorithms found our products super relevant) but in many other cases our prices needed adjustments.
The solution. We took 3 main steps:
-Add custom labels that contain the retail, wholesale and profit margins for every product on Google Shopping (you can easily use this info on other sales channels with DataFeedWatch.)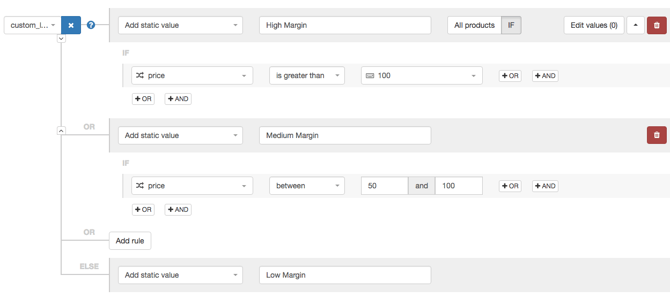 -Highlight all the products that need pricing overview - normally all the products with low CTR & prices that aren't competitive. (Remember to take a look at the Product Groups Relative CTR)
-Make pricing adjustment where we can - given our profit margins and the potential we think exist with that product / product group.
The result. We're far from being done with pricing adjustments, but the results so far are proving to be very significant:
Some products convertion rates grew by up to 50%

Our total shopping campaigns CTR improved by 15% - CTR is known to massively affect the quality score of your ads.

Some Product Groups that previously got very little traffic have now started getting fair amounts of traffic thanks to improved CTR.
We now make monthly overview of adwords report to determine where we can optimize pricing, we also take shopping into account in our overall pricing strategy.
That's it, those 3 steps have helped us massively improve our Shopping Campaigns ROI, and hopefully you can benefit right away by implementing them in your campaigns and see great result.
You may also find useful: Google Shopping Optimization - 10 Useful Tips for Improving Your Shopping Campaigns
---