Merchants know that the holiday season can be a make-or-break for their company. The exceptionally high sales that occur during this time can make up for the slow months.
That said, it is also one of the most stressful times of year for Merchants. You have so much preparation to do, from preparing your shop (either virtually or physically) to ensuring you have enough inventory, to making sure you are buying the right advertising.
One element of this holiday preparation that often is put off until November, but really should be taken care of in September or October, is preparing your online advertising.
Paid Advertising is like a Soccer Game
Think of it like a sporting event. If you show up to the game, with no pre-game preparation, you're not going to be ready to win.
Winning teams prepare well in advance of the actual event, just like winning Merchants. In the first half (late October and early November) - they play hard to win as much as they can.
At half-time (just before Black Friday and Cyber Monday), they go to the locker room and discuss what they learned during the first half, and how they can improve and win the rest of the game.
They return to the field, winning and gaining additional points (sales) in the second half. The second half ends with the Christmas holiday.
Are they done? Absolutely not - now it's overtime. They redouble their efforts, putting in every last drop of sweat they have, in order to win in overtime (between Christmas and New-Years).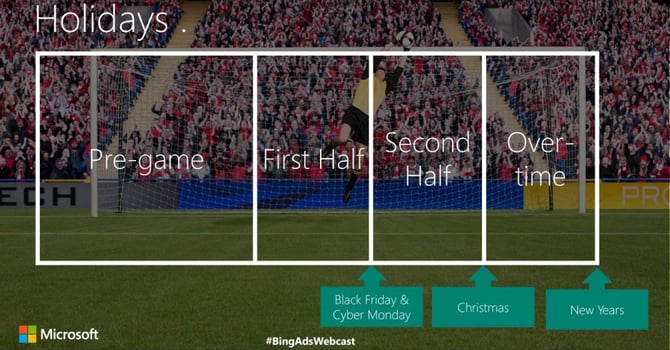 Just like with sports, there are special techniques one can take into the world of retailing to win the game. Below are 7 techniques you can use to be better prepared and win the holiday shopping game this year.
Tip 1 - Have a defined budget strategy
Whether you're using Bing Ads daily standard budgets, daily accelerated budget, or a monthly budget, it's imperative you have a strategy.
Most experienced merchant advertisers opt for a daily standard or daily accelerated budget, as it gives you more flexibility and helps you be more responsive to the changing needs along the holiday season.
Here's a resource article that explains Bing Ads budgeting and will help you start a strategy.
Tip 2 - Use the campaign priority settings
When setting up your shopping campaign in Bing Ads, you should select a campaign priority. This is a great setting that allows you to assign a low, medium, or high priority to ensure that in the case of product overlap the campaign with the higher priority will take precedence.
If you have a certain product line that is high-margin and sells well, you would want to set that at a higher priority than a product line that is low-margin and struggles to sell.
Tip 3 - Save with bidding strategies
Merchants often think that in advertising you need to be the most aggressive player in the space, and always aim for the top ranked spot.
Having a bidding strategy, whether through controlling bids based on match types or using the Bing Ads suggested bid amount, will help you extend your advertising reach while saving your valuable advertising dollars.
Tip 4 - Bid based on your goals
You know your business better than anyone. So one of the first steps you should take with your online advertising is to create goals: have people visit our web-store, get people to leave a product review, get people into our physical storefront, drive online purchases, get people to sign up for our newsletter, etc.
Based on these goals, you will tailor your bids, to ensure you're getting the right actions.
Tip 5 - Customize mobile bids
Merchants have a great advantage when they know how to customize their bids for mobile devices.
Because many merchants simply set a "one size fits all" bid for their ads, they're not leveraging specific bids based on device type, and they're losing out on money or site traffic.
Be sure to analyze how your ads are doing on different devices, and then set mobile bids accordingly.
Tip 6 - Build a negative keywords list
If you're selling women's boots, and you tell Bing to target the rather broad keyword "boots," you'll be paying for all sorts of traffic you don't want.
For example, someone may type in "how to get a boot removed from my misparked car" and your ad will show up, and maybe even get clicked on.
Bing Ads lets you see which actual keywords being searched are triggering your ads, so you can create a list in Bing Ads of negative keywords you don't want to show up for.
Tip 7 – Retargeting: Remind Customers
You've worked so hard to get advertisers to your website. Most of them will not purchase though, often because they're indecisive and just need more time. How will you ensure they come back to you though, when they're ready to purchase?
By reminding them! With Bing Ads remarketing, you can advertise specifically to individuals who visited your website and didn't purchase. It's a great way to ensure sales keep flowing for you all holiday season!
It is obvious that Bing Ads is a great platform with rich functionality. It has all the functionality of Google, but is lesser used and so your advertising dollars generally go farther.
As you launch into your holiday sales preparation, be sure to give Bing Ads a try. With over 160 million unique searchers each month (50 million of those don't use Google at all), Bing is an excellent search engine to better leverage your valuable advertising dollars.
Please comment below to let us know how Bing Ads has helped you better spend your advertising dollars!