Brand is important when selling glassware: nobody would be interested in "Glassware Diamax set of 4" even if the picture looks appealing. But "Longchamps Glassware Diamax set of 4" is a different story. Now buyers understand that this is luxury glassware from Longchamps.
William found that for some products 'Brand' was listed in the feed, but for others that field was empty. For the products without an empty Brand-field, Brand was sometimes mentioned in the title (Name-field) and sometimes only in the description.
Still, William wanted every title to show the Brand, the product type and the product name:
- Longchamps Glassware Diamax set of 4
- Concentrix sets of 4
- Artland Glassware
- Etc.
Our data feed management software offers simple rule-making to pull this off and with 5 minutes, William got the job done: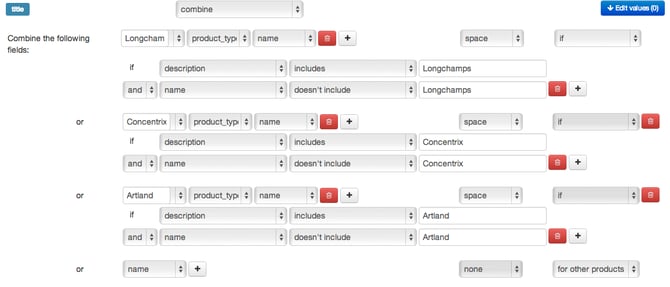 He Combined a text field (with the Brand) with the fields for Product type and Product name IF that particular brand was in the description. With a second condition (IF that brand was not in the Name-field already) he made sure that the Brand would not appear twice in the same title.
For all other products (particularly the ones where Brand was already part of the Name field), he simply used the Name field as Title.