Google Shopping in the US
Google launched the paid model in the US in October 2012. Since then, we have been bombarded with good news: Marin blogged in January last that conversion rates and CTRs for PLAs are higher and CPCs lower.
RKG reported a 22% higher RoI for PLAs compared to non-branded text ads last April. Adgooroo estimated that Google served 4 billion Product Listing Ads (PLAs) between March and May 2013 and that 8 of the 20 largest PLA-advertisers are already buying more PLAs than text ads.
This does however not mean that every advertiser in the US is on Google Shopping: It's mainly the large retailers who got on board. PLAs account only for 5.9% of all AdWords-impressions and only 1.5% of all US AdWords advertisers are doing PLAs.
---
Google Shopping in Europe
According to the same Adgooroo research, 2.5% of all European AdWords advertisers have adopted Google Shopping. There are 2 reasons why Europe may have a higher penetration:

- The Europeans read success stories about Google Shopping since last year and adopted it quickly.

- It's primarily the large national brands that got into Product Listing Ads. In Europe there are large national brands for each country, so that adds up to a lot more players on a European scale.
In absolute terms, there are far less PLA-advertisers and PLA-impressions in Europe, but apparently European advertisers are quicker to adapt.
---
Google Shopping penetration among European agencies
We contacted 150 SEM agencies in two European countries, to understand to what extent they have gotten involved in Google Shopping:
The UK: Tech-trends from the US usually land in the UK first: they speak the same language and the UK is the European bridgehead for many US companies. The Brits therefore tend to be a bit ahead of the rest of Europe.

The Netherlands: Is often regarded as the best trial market for Europe: what works in Holland, usually works in Europe.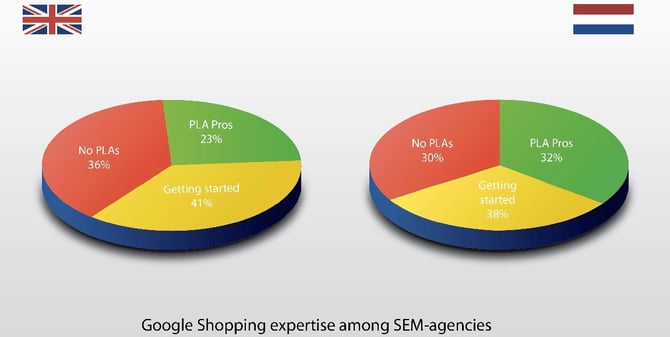 Averaging the scores for both territories, there are three levels of expertise among European Search Engine Marketing Agencies:
PLA-Pros
More than 1/4 of all agencies is actively managing PLA-campaigns. They know how to set up and manage product targets. They use a data feed management tool to optimize their customer's feed and constantly sync it with the product targets.
They optimize across multiple channels. Most PLA Pros are either very large agencies or an agencies specialized in eCommerce.
Getting started
About 40% of the agencies only have a few customers on Google Shopping. Their knowledge level is often low. The customer has to export his product feed to the Google Merchant Center by himself and the agency is managing just a few product targets.
They often manage AdWords campaigns only and do not optimize across other channels like Comparison Shopping Engines (CSEs) or Affiliate Networks.
No PLAs
Approx. 1/3 is not involved in Google Shopping at all. Most of them do not have any eCommerce customers, so there is no need to build up any expertise.
---
Comparison Shopping in Europe
The Comparison Shopping market in Europe is fragmented: each local market is dominated by a few local players. Only a few international CSEs (Ciao, Kelkoo) have a leading position in more than one country.
As a consequence, many channels are relatively small and do not have a very professional infrastructure when it comes to submitting data feeds, cpc bidding or api connections.
In the US, data feed tools like DataFeedWatch, Godatafeed or Singlefeed have been around for years, to optimize data feeds for large channels like eBay, Amazon, Bing, Nextag, etc.
In Europe, merchants tend to focus on just getting their feed into the required format; DataFeedWatch is one of the few tools that offers real optimization functionality for all local shopping channels.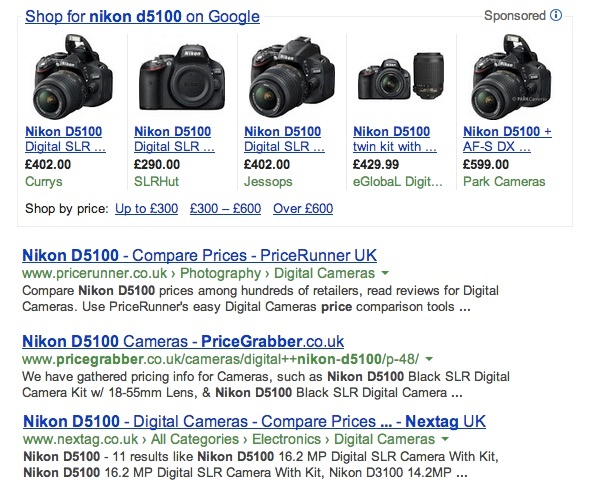 European CSEs fear the emergence of Google Shopping. The SERP may turn Google Shopping into a major player overnight; especially if the organic rankings of the local CSEs will be lowered.
They have already started a fight and filed anti-trust complaints with the EU. Funny enough, Google Shopping's push into Europe also has a positive effect on the incumbent shopping channels: The SEM Agencies that got started with PLAs, realize that if they can cope with Google Shopping and data feed optimization, they are also able to cope with other shopping channels.
They have started to advise their customers to add more shopping channels than Google Shopping alone, thus driving more business to the local CSE.
---
Conclusions
Google Shopping is making its way into Europe at a higher pace (2.5%) than in the US (1.5%), although the US is still leading the PLA-market in absolute terms. SEM agencies are ahead of the curve; 2/3 of them have gotten involved in Product Listing Ads.
With Google Shopping being a very small player in Europe currently, there is an interesting battle ahead for the leadership of the comparison shopping market.
About the research
DataFeedWatch is actively selling to agencies all across Europe. Talking to agencies tells us exactly to what extent each agency is involved in Google Shopping. The facts as presented in this article were compiled by aggregating this data.