1. Check the Source Feed in the Feed Tool
If you need to gain insight on your input feed fast you can go to your DataFeedWatch Store and from the Options menu select Show Products.
This will allow you to review all the products you have in your INPUT feed.

A. Search the Products in the Input Feed
At the top of the page you can review the number of products in your data feed.
You can choose to see the products based on any criteria or field from your source feed. Let's say you'd want to review all the products where availability is 3, so that you can prepare an order to the supplier.

B. Customize Columns
You can customize the columns and this will show only the criteria you are interested in reviewing.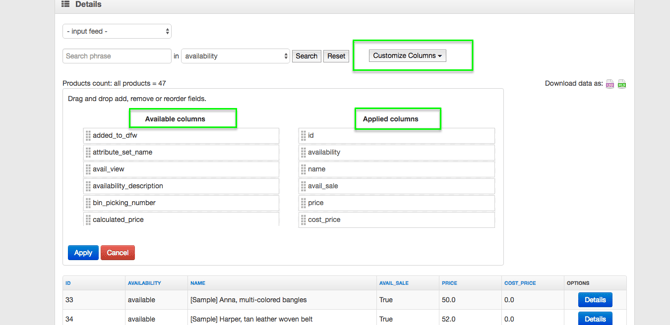 C. Details: Every field for every product
If you want to see every field and specification for a certain product, you click the Details button for a selected product.

---
2. Review Source Feed Offline
Sometimes a complete overview of all product data in Excel works best. From the store Options select Download your products and this will download your entire feed as a CSV.

Stay on top with all updates in your source feed by constantly reviewing its quality in the DataFeedWatch interface or offline.
If you have found this post useful, then you'll probably find our Boost Your Omni-Channel Retail Strategy useful. Download it and learn how to drastically improve the quality of your data feed.