Has the new Comments feature been released yet?
The Comment feature was released on Tuesday, June 28, 2022. Log in to your DataFeedWatch account and check it out!
---
What is the new Comments feature?
This new feature in DataFeedWatch allows you to add a comment on the mapping.
You can do it in the general module and leave a comment on the whole mapping.
You can also leave a comment on individual fields such as ID, Title etc. In this case, this note will only refer to a specific mapping/field.
The feature is especially useful for medium/large companies and agencies, where there are many sub-users of the same account. Anyone with access can leave a comment when they have finished a particular mapping. Comments can explain the logic behind more complex mappings so that all other users who come across that mapping can also understand it.
The main purpose of introducing the Comments feature is to improve communication between all the people involved in feed mapping and optimization.
This functionality can be a great improvement in knowledge sharing between marketing agencies or bigger companies and its clients. Anyone can access specific mappings at any time and understand what has been done. However, it's important to highlight that the introduction of Comments on mappings needs to be followed by a change in approach to how changes to the mapping are communicated within the organization.
Who can use it?
The Comments feature has been created with both our admins and DataFeedWatch clients (and customers of our customers) in mind. It can be used for communication between:
admins
admins and clients
clients - multiple users of the same account

How to start using Comments in DataFeedWatch?
In order to start using our new feature, please follow the steps below ↓
You can find the Comments feature when you go to Internal Fields mapping or a specific channel that you use (Google Shopping, Facebook, etc). There you will see new buttons named "Comments".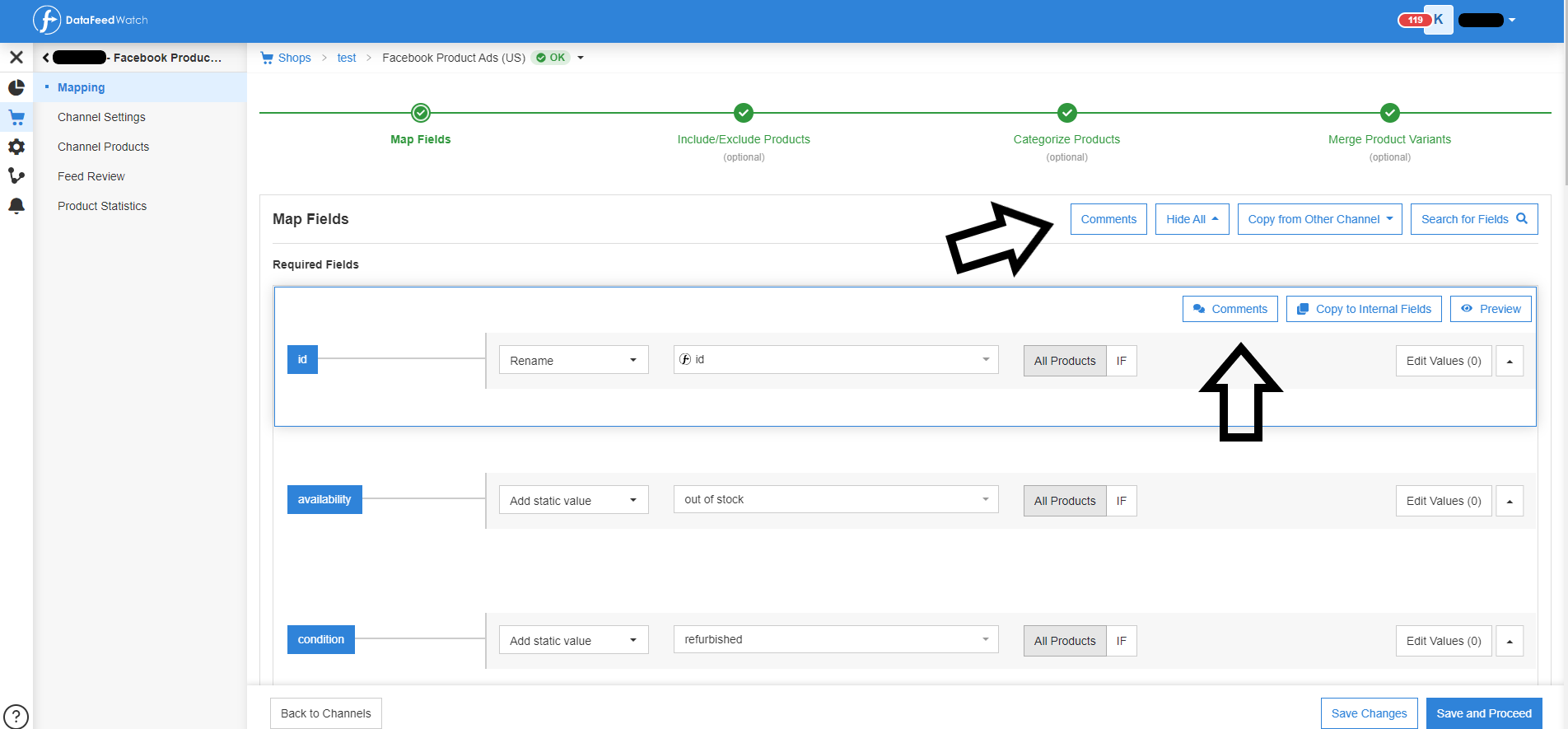 Click on the first one if you want to leave a general comment on the whole mapping. A comment box will appear.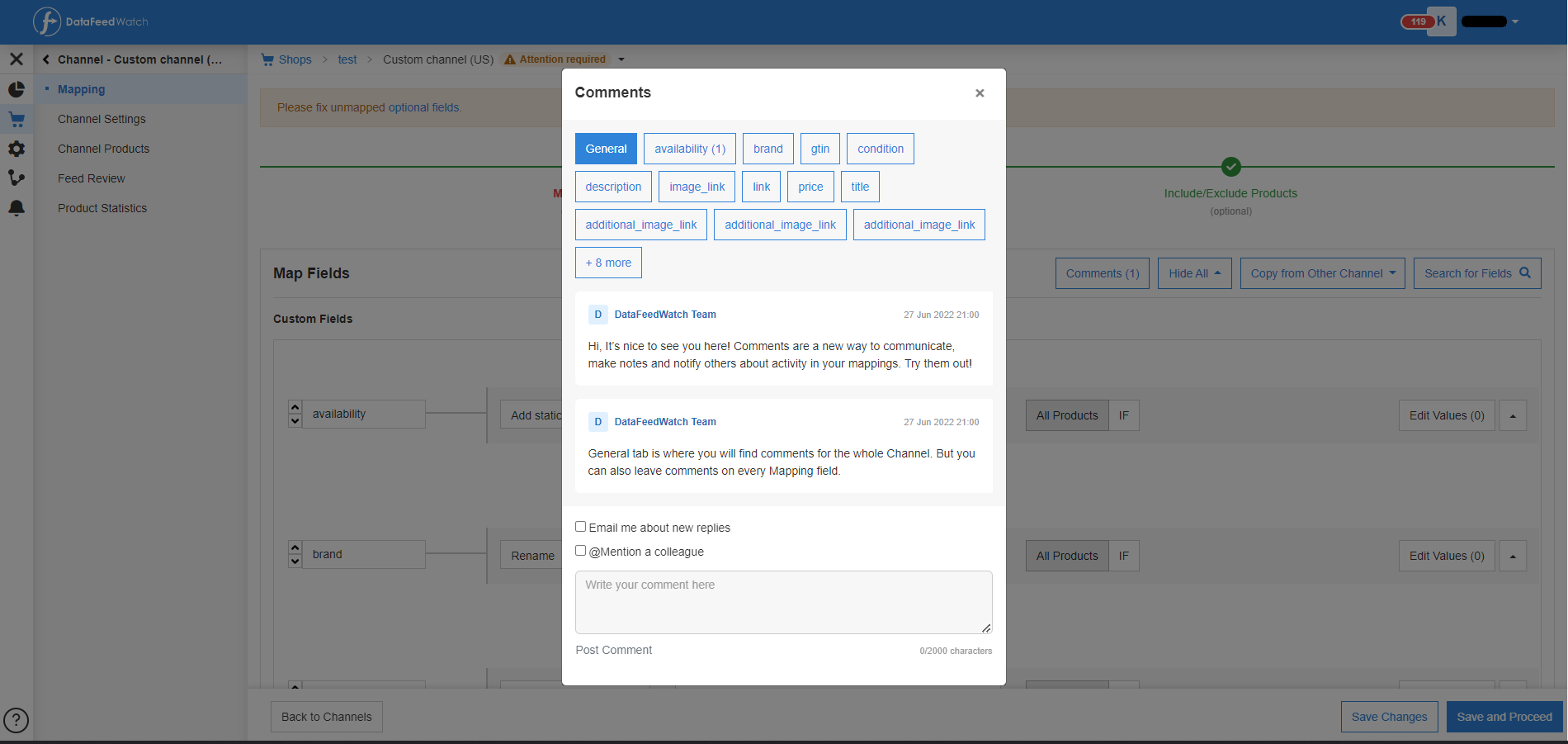 From the general comments module, you can also switch to any other field and write a comment referring to a specific field, e.g. shipping. The number in parentheses shows how many comments have been added to the particular field.
In the picture below you can also see that price has light blue color (as the only field) - it means that you have unread comments that you should check out.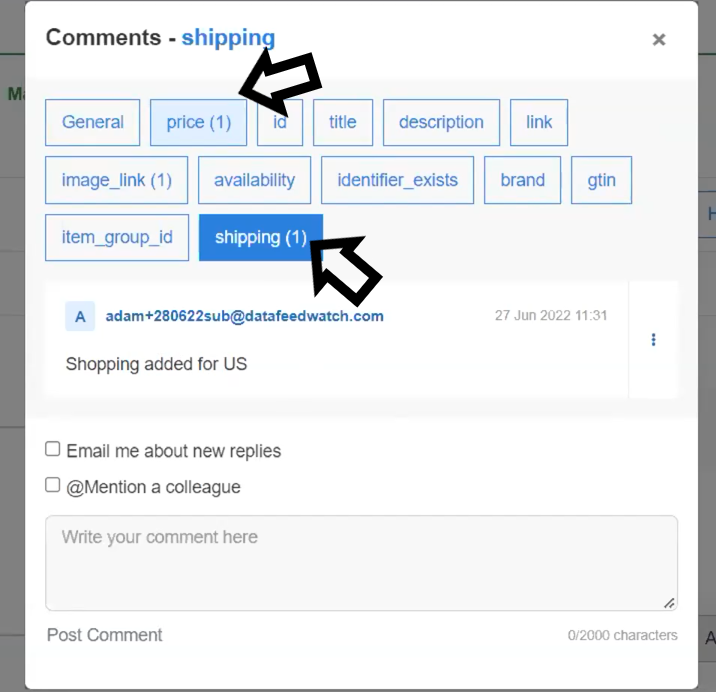 If you wish, you can also comment on a specific field, e.g. size, by clicking on the Comments button next to that field.

Write comments that will be useful for your colleagues and/or clients. Voilla!
Important: You can edit or delete your own comments, but you can't change anything in the comments written by others.
Back to top or Get started with feed optimization - 15-day Free Trial
---
In which situations can the Comments functionality be useful?
You can think of lots of ways to use our new Comments feature. After all, the need for this tool enhancement came directly from our clients. Below, we present a few ideas on how and for what purposes you can use the new functionality:
Clear communication of the changes to the feed mapping to all users
In medium or large companies and agencies, more than one person is involved in feed optimization. There are many sub-users of the same account. By using comments, you can post all the changes you have made in a specific feed mapping. This way, all your other colleagues working on the same mapping will immediately know what changes have been applied and how they can continue with the optimization.
Clear path and history of changes
In some cases, there are really lots of people who are working on the same mapping throughout the years. With our Comments feature, they can write the exact date and time they made changes in the feed, so the whole team can keep track of who made what changes and when. There will be no need for lots of documents and excels archiving your strategies! Everything you need to know about feed mapping will be visible the moment you check the feed in DataFeedWatch.
Using comments to request changes
Until now, the conversation about optimizing the feed has most likely taken place via one of the messaging applications or emails. If you use our Comments feature, you can leave requests for changes that should be made by your team or by the DataFeedWatch support team (if you have requested feed setup) in the form of comments. All requests and comments will be collected in one place, so you don't have to contact anyone directly.
Leaving notes and suggestions
If you can think of a preferable way to create rules, you can now inform your colleagues about it by leaving a comment. You can create suggestions and notes on mapping so that everyone else applies the rules the way you want.
Learning material for new employees
New people join companies all the time. If you have used Comments functionality, they can easily check your notes to learn about your mapping procedures.
Easy communications between DataFeedWatch and you
If you've requested a feed setup from DataFeedWatch, you can now track all the changes that have been made and get updates on progress. Our support will leave a comment in the general Comments section when the feed setup is complete and explain in the individual field section what changes have been made to the specific mappings.
---