Black Friday, Cyber Monday and Boxing Day are phrases that trigger emotions of opportunity in some and desperation in others. However, discount strategies can be applied year round, and are well worth taking advantage of.
Over 90% of customers use a discount Code throughout the year
Research predicts that coupon redemption will increase to $91 billion by 2022
57% of customers made a purchase from a new brand after being offered a discount
Whether you're selling high-end makeup, call center technology like an IVR, or digital assets, a successful discount strategy can help your business to generate more sales. Done well, it will increase product demand and attract more customers.
However, a badly implemented strategy can damage the perception of your brand, affect operations and reduce profit margins.
Here are 6 things to consider for your next discount strategy.
---
6 Things to Consider For Your Next Discount Strategy:
2. What is the product - and why are you discounting it?
4. How do customers interact with your business?
5. Are you adding value with your discounts?
6. Are you still guaranteeing profit with your discounted prices?
Is a discount strategy worth it?
---
1. What are your objectives?
Without setting firm goals and understanding that different objectives require different strategies and approaches, then you may run the risk of hurting your business. Let's look at four common goals:
Increasing sales of your product or service
Here the aim is to ensure consumers buy the maximum number of items. This can be achieved using volume sales - the more you buy the less it costs. Alternatively, you could use bundling discounts, where you lower the price of items only when they're bought together. Both of these methods will help boost your eCommerce sales.
Sometimes, the simplest options are best - you can't go wrong with an across-the-board 10% coupon.
Clearing old stock
Unwanted inventory can take up valuable space and prevent you from focusing on successfully performing products. In this case, high-profit margins aren't as important as the discount strategy aims to rapidly move the excessive or outdated stock. Luckily, digital products such as accounts payable automation solutions or research white papers don't have this problem.
Gaining new consumers
Here the aim is to provide a new customer with an incentive to try your product. By providing a discount, you lower their amount of risk.
Retaining current consumers
Sometimes, you just want to increase the connection between you and your repeat customers. This discount strategy is often delivered using a loyalty discount. In fact, Accenture research shows that 57% of customers spend more on brands that they are loyal to.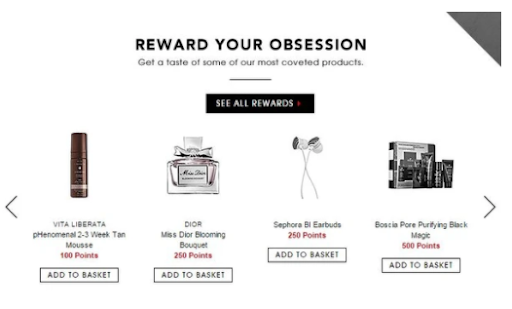 source: shopify.com/blog
Return to top of page or
---
2. What is the product - and why are you discounting it?
No one should have a better understanding of your product than you. You can't manage your sales pipeline if you don't know what you're selling, after all! Understanding what your product is - and why you want to discount it - are important steps in formulating a discount strategy.
We can all remember that store from our childhood that always had a "sale" on all their products. Discounts can sometimes cheapen your brand and cause the customer to believe your product is worth less than its listing price. But, when implemented correctly a discount strategy can pique interest and generate customer demand for your product. Here are three examples.
Experiencing competitor competition
This can often reduce the requirement of your product, forcing you to adjust the price point. But, as mentioned above, this can reduce the perceived value of your product. You don't want to look as though you're reducing it directly because of competitors.
Instead, create a reason for your discount. This could be a holiday season, an anniversary, or any themed event. Get creative! By adding a time limit on the discount, you can generate customer urgency and overall demand for your product.
Creating new market awareness
If your product has recently launched it can be useful to provide an initial incentive to garner customer attention. A RetailMeNot survey from 2018 reported that 2 out of 3 customers have carried out a purchase that they had not initially planned to carry out due to the presence of a discount.
Clearing unwanted inventory
Old stock costs money to store and it can often be more cost-effective to remove underperforming products and surplus inventory quickly, even if it is at a lower price point. This strategy is often used in the food and fashion industries.
However, it's worth considering how this might make your brand appear. High-end luxury brands tend to avoid this approach as it can dilute their exclusive nature.
Return to top of page or
---
3. Who is your customer base?
Understanding customers is key to creating strong customer relationships. Marketing communication tools are critical to building a relationship with your customers. You can use them most effectively if you understand their preferences and priorities.
Creating a discount strategy without this understanding can cause customers to become accustomed to the discounted product and fail to return when the product prices are back to normal.
Designing discounts specifically for your target market - for instance, a student discount scheme - is a great way to entice them in. It also makes the terms of the discounts clear, avoiding this problem.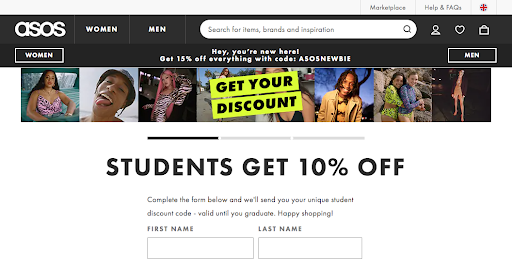 As your customer base are the individuals who make your company successful, it is important to recognise and reward them. Research by Adobe showed that a company's top 10% of consumers spend three times more per order and the top 1% spend up to 5 times more.
It's clear to see that loyalty programmes are vital to running a successful business. By providing recognition and discounts to your returning customers, you give them an additional reason to return.
Another discount strategy often used to increase customer retention is bulk and bundling discounts. These discounts automatically apply when a certain amount of money is spent. Alternatively, the consumer receives free delivery or a gift after a certain price point. Customer data can help you work out the ideal price points to implement these deals.
Research shows that the more purchases your customers make the more likely they are to return to your website e.g. after the third order the consumer is 54% more likely to complete another order in the future.
You can also increase your business' customer interaction by providing friend referral discounts. If your target market is active on social media pages, run dedicated deals for those who interact with you there. This promotes word-of-mouth marketing and increases your customer reach - great if you're scaling a business.
Return to top of page or
---
4. How do customers interact with your business?
In addition to understanding your customer's priorities and preferences, it is also vital to understand their behaviour and how they engage with your product or service. This includes your core base as well as newly acquired consumers.
Separating customers into groups based on their needs and actions allows you to, more efficiently, solve their problems and sell more products. This is known as behavioural segmentation.
A strong customer base understanding can help you to create personalized discounts to your specific demographic e.g. promotions for students or seniors. Targeting these groups with eCommerce email marketing is a great way to capture their attention.
As well as focusing on active customers, spend some time looking into the reasons people don't make a purchase. The majority of us have browsed a website, added an item to the basket and then either forgotten or weren't ready to purchase the product. This is also the case for 69% of online shoppers.
Knowing your customer cart abandonment rate, and the reasons behind it, can help you build a discount strategy. MailCharts research shows that using reminders or discounts can recover 11% of these lost sales.
Another solution to this problem is exit-intent pop-ups. By examining customer mouse movements detectors can identify when a consumer is about to exit the page and hook the visitor back in with a pop-up e.g. a discount, free shipping, etc. Baymard Institute's research shows that exit-intent pop-ups can help recover almost 70% of your business' abandoned carts.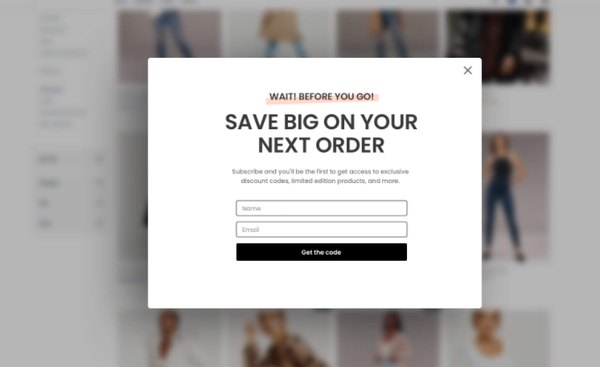 Image source

Return to top of page or



5. Are you adding value with your discounts?
Constantly having the most discounted products doesn't necessarily mean you'll be a successful business. In fact, it can cut into your profits, drain your sales department and, as mentioned above, devalue your brand. You need to be adding value to your discounts.
Let's say you provide VoIP services. If a customer is questioning 'Is VoIP worth it?', then you need to be able to provide them with an answer in order to convert them into a sale.
A good example is a gift-with-purchase (GWP) strategy. Many businesses prefer this method as it adds value instead of providing negative discounts.
Imagine you have a shoe store and the average consumer spends around £73 per order. You want to increase the average order to £80. By adding a gift to purchases over £80, you incentive the increased purchases. However, the gift has to actually be something the customer would want!
Not only does this method add value but it can also be an opportunity to market your brand to your consumer. An example of a successful GWP campaign was Sport Direct's free mug. The mug is comically large, includes their logo and has increased the reach of their branding.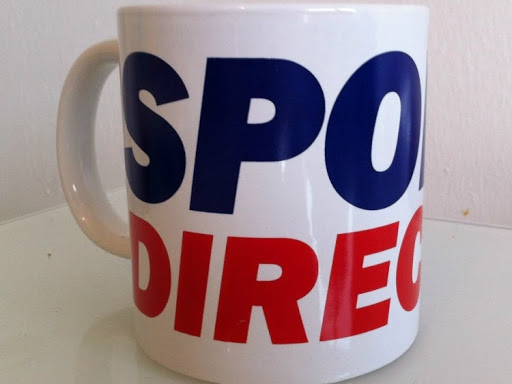 Image source
Return to top of page or
---
6. Are you still guaranteeing profit with your discounted prices?
In the same way that it's important for your business goals to be in line with your discount strategy, it is also important for your discount strategy to be in line with your sales goals and targets so that your profits can be increased or at least, maintained. Here are a few tips to guarantee profit with your discounted prices:
Reduce your marketing costs
It's important to segment your offers, so focus your discount marketing on dormant or first-time customers. This will increase your chances of acquiring new purchases without wasting budget on sales that would have happened regardless. Figure out your most effective platforms, and run campaigns there rather than taking a broad approach.
Cut costs in other areas through new technology.
You could invest in video conferencing tools, a customer relationship management platform, or automated chatbots. While investing in new technology can have a large upfront cost, it's great for savings in the long run.
Focus on customer retention
Customer acquisition is important, but so is customer retention. Repeat customers cost less to convert into sales, and often spend more. Tactics like loyalty schemes and subscriber-only sales are a great way to drive profit at a low cost to you.
Return to top of page or
---
Is a discount strategy worth it?
Overall, discounting can both positively and negatively impact your business. Whether that's providing a healthy sales boost or devaluing your products in the eyes of the consumer. The difference between both outcomes is preparation.
Most companies use discount strategies, but the successful ones invest time in fine-tuning their strategy. This means:
Tailoring your strategy to your brand
Avoiding discounts if it will affect your business in the long run
Ensuring that consumers don't take discounts for granted
Providing a secure, high-quality product.
Consumers often fixate on cost when the value of your product is not completely understood.
"Price is what you pay. Value is what you get" – Warren Buffet.
---