How Do I Know So Much About Google Suspensions?
My name is John Horn and I'm the CEO of StubGroup, a Premier Google Partner headquartered in Fort Worth, Texas.
I've spoken with thousands of business owners whose Google Ads and/or Google Merchant Center accounts were suspended by Google.
I've seen accounts spending $20M+ per month be suspended with zero warning.
Subsidiaries of some of the largest companies in the world have reached out to me after being suspended by Google for over a year without knowing what policies they violated or how to get back online.
I've also helped businesses that thought they'd exhausted all their options with Google to get back online and generate tens of millions of dollars in revenue.
Back to The Top or
---
Common Reasons for Google Suspensions
If Google suspended your account, you've likely been directed to one of these policies:
Misrepresentation
This is the most frequent policy I see referenced in suspensions of Google Merchant Center accounts.
Unfortunately, "Misrepresentation" can mean a thousand things.
Here are a few examples of problems I've seen and helped correct related to this policy:
Inadequate shipping and return policies
Unclear pricing on product pages
Missing information about accepted payment methods
Missing contact information
Unsupported claims about products
Tax & Shipping Errors
Google requires that the information you communicate about your tax and shipping charges in your Google Merchant Center account match the rates on your website.
When the rates don't match, Google will often suspend the account.
I see this happen all the time because:
Advertisers enter the data incorrectly into Google Merchant Center
Advertisers update the rates on their website and forget to update Google Merchant Center
It doesn't help that tax and shipping rates for some businesses can be extremely complicated and challenging to communicate to Google within the parameters Google has defined.
Restricted Businesses
Google has restrictions and limitations on certain types of businesses.
You're most likely to run into this policy if you're in traditionally sensitive verticals such as:
Alcohol
Firearms
Adult Services
Gambling
As well as verticals where Google has seen significant fraud, such as:
Third-party Technical Support
Authorized Dealers/Resellers
Assistance with Government Services
Financial Services
Addiction Treatment
Suspicious Payme

nt Activity
If Google thinks there is something suspicious about your payment activity or payment method, they may suspend your Google Ads account.
Common red flags may include:
The same credit card or billing address being used in multiple Google Ads accounts
A mismatch in the billing address you entered
Fraud associated with your credit card
Circumventing Systems
This is probably the most serious reason for a Google Ads account suspension because Google is saying that they believe you are actively trying to circumvent their systems and advertise in an illegitimate manner.
While possible (in theory) to overcome, this policy violation is incredibly difficult to get Google to reverse.
Back to The Top or
---
Why Does Google Suspend Accounts?
When Google suspends an account, it's because Google is trying to do the right thing.
I know it doesn't feel that way when you're being told you can't advertise on the most dominant search engine on the planet.
But, it's helpful to remember that Google spends billions of dollars fighting "bad actors" online who are trying to scam people and they've built incredibly complex algorithms that identify these fly-by-night operators and suspend their accounts.
Google has a robust catalog of policies which defines what Google views as acceptable business practices for advertisers using Google's platform.
When Google believes that an advertiser has violated one or more of those policies, Google issues an account "suspension," which means that the advertiser can no longer show ads on Google.
Unfortunately, no algorithm is perfect. Google's algorithms often flag accounts for suspension because they misread or misinterpreted something on the business's website or in the business's Google accounts.
And often, legitimate advertisers have no idea that they are accidentally violating Google's policies (which are both complex and vague).
Back to The Top or
---
Common Questions about Google Suspensions
My competitors are doing the same thing as me and their ads are still running. Why?
I've said this to countless clients: The only thing consistent about Google is their inconsistency.
It's frustrating, but it's true. I've seen clients suspended for supposedly violating policies when 10-12 of their competitors are doing the exact same thing. I've seen one policy team say "no" to an appeal and another policy team say "yes" to the exact same appeal.
At the end of the day, Google's systems are far from perfect. If you spend your time railing at Google's inconsistencies, you're not going to get anywhere, and if you're doing that railing in your appeal to Google, you may be hurting your chances of a successful resolution to your suspension.
My advice, based on years of working with Google and thousands of advertisers, is to focus your energy on what you can control, which is making your website and accounts as picture-perfect as possible and being strategic in how, when, and through whom you submit your appeal.
Will my Google Ads suspension hurt my Organic rankings?
No, Google does not base your website's Organic rankings upon your Google Ads account, so a suspension of your Google Ads or Google Merchant Center account will not impact your Organic rankings.
That said, if the Google Ads algorithms think there is a problem with your website (e.g. unclear information, untrustworthy site, etc.), it's quite possible that the Google Organic algorithms will identify similar concerns.
Does Google allow dropshipping?
When COVID-19 regulations made customers flock online to do their shopping, there was a parallel boom in the number of new ecommerce businesses popping up, and many of these brands relied on dropshipping to deliver products to their customers.
That's one reason why ecommerce platform Shopify's stock exploded in 2020.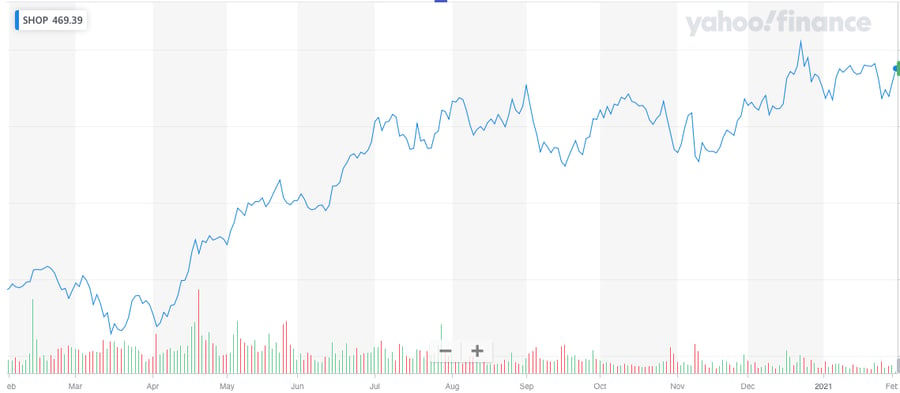 Along with the increase in new dropshipping sites came an increase in Google suspensions, and the forum world quickly began speculating that Google "had it out" against dropshippers.
I don't believe this to be true. Rather than causation (dropshipping = suspension), I believe we have a case of correlation, where many of these brand-new dropshipping sites are not following Google's policies when it comes to things like return policies, "about us" pages, contact information, and so on.
We have clients we've worked with for years who fulfill via dropshipping and have never had any trouble with Google's policies, and we've also successfully helped unsuspend other advertisers who offer dropshipping and were suspended.
Related Read: A Complete Guide to Dropshipping in Australia
What's the difference between Google Ads and Google Merchant Center?
A Google Ads account is where you create and manage advertising campaigns on Google. It's the place from which you can turn your advertising on and off, and where you enter your payment information to pay for clicks your ads receive.
You access Google Ads accounts at ads.google.com.
A Google Merchant Center account is where eCommerce companies upload information about their products to be used in Google Ads campaigns such as Google Shopping and Dynamic Remarketing, as well as in Google's free product listing tool.
You access Google Merchant Center accounts at merchants.google.com.
You can run Google Ads campaigns without a Google Merchant Center account, and if you're not selling products through your website, you don't need a Google Merchant Center account.
But if you're selling products through your website and you want to use Google Shopping and/or Dynamic Remarketing campaigns, you need a Google Merchant Center.
Does Google always suspend an advertiser's Google Ads and Google Merchant Center accounts at the same time?
No, not always. There are many scenarios where just one of those accounts may be suspended.
For example, if Google suspends your Google Ads account because they think the payment method you're using is suspicious, they probably won't suspend your Google Merchant Center. However, you can't use the products from your Google Merchant Center in ads until you fix that Google Ads suspension.
Similarly, if Google suspends your Google Merchant Center because you haven't corrected outstanding issues with the product data you're uploading, Google might not suspend your Google Ads account and you might still be able to run campaigns on Google's Search Network. But again, you can't run Google Shopping or Dynamic Remarketing campaigns until your Google Merchant Center is unsuspended.
Can I talk to Google's policy team?
No, you can't.
Google has multiple policy teams located around the world, and there is a complete firewall between Google's policy teams and advertisers, meaning that you will never get to interact directly with a policy team member about your suspension.
That's because Google wants to avoid any liability from allowing advertisers to influence or pressure policy team members about their decisions.
When you submit an appeal, if you're lucky enough to get past the purely automated system, you will be corresponding with an individual on Google's support team who acts as your go-between with Google's policy team.
Or, if you're working with a Premier Google Partner like StubGroup, you may have a dedicated team within Google who is going to bat for you.
Back to The Top or
---
So, You're Suspended by Google . . . What Next?
The first reaction that legitimate businesses often have when they find out Google suspended their accounts is to submit an appeal as quickly as possible.
That is NOT the right thing to do.
A Google suspension is an incredibly serious thing. We've seen many, many scenarios where Google simply will not reverse a suspension. And this impacts not just your current website/business but any businesses/accounts you want to create down the road, so it is CRITICAL that you approach your suspension in as careful a way as possible.
What NOT to do when Google suspends your account:
Don't rush to make an appeal
Don't assume that you're not violating Google's policies
Don't create a new Google Ads or Google Merchant Center account
Don't "yell" at Google in your written appeal or in any verbal conversations you have with Google support
Don't submit multiple concurrent appeals
What TO DO when Google suspends your account:
Carefully review every piece of information that Google provides you with about the suspension (the email notification, any policies linked to by the email, any policies linked to by the notification in your Google account, etc.).


Analyze your website and your Google accounts with a fine-toothed comb to identify anything that violates Google's policies or anything that might make Google's algorithm or an itchy trigger-fingered Google policy team member think that you are.



Decide whether to submit an appeal yourself or work with a Premier Google Partner like StubGroup to submit on your behalf.




Submit a carefully crafted, detailed appeal in which you explain why you think Google may have suspended you and a detailed explanation of any changes you've made to correct the issue.
Back to The Top
or
---
What to Do When You Run out of Options?
I often hear from advertisers who feel like they've run out of options and see no future for advertising their business on Google.
I'll be honest, sometimes that's true. Sometimes Google simply will not reverse their decision, and for better or for worse, they own their platform and they get to decide who uses it.
But I've also seen many situations where an advertiser comes to us as a last resort, with very little hope, and we shock them by getting them back online after everyone else failed.
Our best chances of success are not as a last resort but instead as the first place you turn to when you're suspended, before you submit appeals or create new accounts or do anything else that may jeopardize your chances of success.
I can't tell you how fulfilling it is to hear the good news from Google that an account has been unsuspended and then get to share that with a client.
If you're hitting your head against a brick wall, or even better, if you haven't yet appealed your suspension because you want to do it the right way, feel free to reach out to the team at StubGroup so that we can discuss your unique situation and see if we are a good fit for each other.