Google Price policy
Google checks whether your advertised price and landing page price are the same. Following Google's enforcement announcement in 2021, Google also actively monitors if your checkout prices are the same as what's shown on the SERP.
If Google finds it's not the same then you get a 28 day warning period in order to change the mismatch. You need to act quickly on this warning, otherwise your account is at risk of being suspended.
Google emphasizes the point that it creates a bad user experience if the checkout price is somehow higher.
Taking shipping into account
Merchants need to add shipping costs as a separate attribute (whether you have free shipping or not). That way it will show under the price of your product and shoppers will have a clear idea of the cost before clicking through to purchase.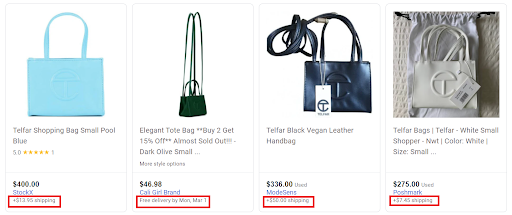 ---
How to prevent errors
Warnings and errors from Google are always dreaded. And, if you get too many (or leave them unattended), it can have dire effects on your ad performance.
Plus, like we mentioned before, accurate pricing is in your best interest as a merchant anyway. You don't want to increase your chances of shopping cart abandonment by disappointing your customers.
Displaying accurate prices
Let's get into the specifics of accurately mapping your product feed data. We'll focus on two attributes: price and sale price.

How to format price
Your price attribute should follow this formula: number + the currency.
There are many minimum requirements and best practices for setting prices, but they boil down to:
The advertised price needs to match your landing and checkout page (this includes the currency.
Keep the price the same regardless of the user's location.
Make sure the prices on your page are displayed prominently and clearly for shoppers as well as any requirements like a minimum order value (membership only prices not allowed).
Make all additional charges clear (like shipping).
Your products should be

updated frequently

. You can enable automatic item updates using Schema.org microdata, or using a third party solution like DataFeedWatch's product updates.
Your products should be updated daily, but if your prices are changing more frequently then your product updates need to keep up with those changes.
The requirements we listed just scratch the surface, so we suggest reading through Google's help page and becoming familiar with all of them.
Currency
You can use any currency when setting prices, but they will be converted to match the user's location. When showing prices to users, you must display them in either their preferred currency, the default currency of their location, or the currency of the destination where the activity will take place.
Getting your sale price right
By following Google's requirements, you can have your sale price and base price shown to shoppers at the same time. This let's them know they're getting a good deal.
The sale_price attribute follows the same format at the price attribute. You'll also need to meet the minimum price requirements.
Here are some other requirements and best practices to keep in mind:
Both the sale price and non-sale price need to be displayed on your landing pages (non-sale price can be more prominent). During checkout, only the sale price should be shown.
The sale price needs to be lower than the non-sale price.
Also submit the attribute sale_price_effective_date to control when it's seen.
---
Checkout best practices
The checkout stage of your customers' experience is very important. Follow these best practices to ensure it's a good one.
Be upfront about everything
Your shoppers should know exactly what's needed from them. This means clearly stating if you have a minimum order value, or if they need to create an account first before purchasing. They should also know what type of payments you accept before they reach the final checkout stage.
Security
Put your shoppers' minds at ease and protect them by having a valid SSL certificate. Don't ask for any personal information that isn't absolutely necessary and make sure that third-party payments are HTTPS-secure.
Consistent pricing
The price that customers see shouldn't change at any time during the buying process. The only exception here is if a discount code is provided at the end and the price is lower than advertised.
For example, this jewelry boutique allows you to add a discount code at checkout if you meet the purchasing criteria.

Any fees need to have already been included in the price, except for shipping and handling related costs. Be sure to pay attention to any country-specific laws like VAT and sales tax and include them accordingly.
---
Conclusion
Understanding Google's pricing policy is essential for businesses looking to advertise on the platform. By following the guidelines set by Google, businesses can ensure they are getting the most out of their advertising budget while adhering to ethical and legal standards.
It is important to stay up-to-date on any changes to Google's pricing policy to continue to optimize ad campaigns and stay ahead of the competition.
---