Google Shopping is expanding to 14 new countries in 2017. The service is also coming to Southeast Asia: the Philippines is now a Google Shopping beta target country. Obviously, this opens new opportunities, for merchants and online buyers alike.
Overview of the Current eRetail Market in The Philippines
In 2017, eCommerce revenue in the Philippines amounts to $1.2 billion. Not exactly a jaw-dropping number for a country with almost 100 million inhabitants. But things are progressing steadily: online retail revenue is expected to grow by 17% a year, reaching $2.3 billion in 2021.
Almost half of the country's overall eRetail revenue ($544 million) is generated by electronics and media products. The second most sought after category of items is represented by toys, hobby, and DIY, while the third is Fashion.
How many people in the Philippines are using the Internet? 47 million, which means almost half of the population. Internet penetration is expected to go above 65% in 2021.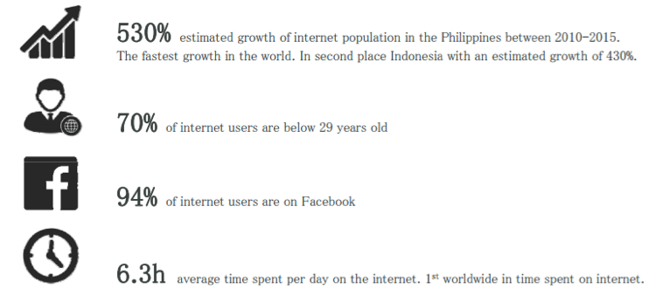 The development of the online shopping market is a priority for the Philippine government. Last year, the country's Department of Trade and Industry has issued an eCommerce roadmap. The main purpose is for eCommerce to contribute 25% of the Philippines' GDP by 2020, from 10% in 2015.
It is also worth mentioning that Filipinos are avid social media consumers. There are more than 40 million active social media users in the Philippines, and the number keeps growing.
How to get Started with Google Shopping in The Philippines
In order to get started with Google Shopping in The Philippines, there are some required and recommended steps.
Required steps to get started with Google Shopping:
1. Request a Google Merchant Account (GMC).
2. Create your feed according to Google's Shopping Feed Specifications.
3. Upload the feed to GMC. Focus on getting the Google Merchant Center disapprovals fixed so that your feed is in compliance with Google's requirements.
4. Update your data feed frequently so that all current changes are reflected in the Google feed.
Recommended steps for Google Shopping
Optimizing a product feed has countless benefits so it is worth spending more time on having all things optimized.
Some of the feed attributes we recommend you optimize are:
1. Product Title for Google Shopping - is what entices shoppers to click your ad and is what Google uses to match a search query to a listing ad.
2. Google Product Category is important and has a direct impact on the performance of the ad.
3. The Image of a product listing ad is what shopper sees for the first time.
4. Product Type is not a requirement of Google feed, but it is advisable to have it in your product data. It can turn out valuable in your bidding strategies.
5. Adding promotions to your Shopping feed is a great way to stand out and grab the attention of the shoppers.
The E-commerce industry in the country is still in its infancy, but it has a promising future. The Philippines has the fastest growth of internet population in the world, an amazing 530%. On average, Filipinos spend more than 6 hours on the Internet every day, making them number 1 globally.
The Philippines has a fast growing middle class, with purchasing power, and a young population. All the prerequisites are in place for a spectacular growth of online retail in the country.
If you have questions get in touch with us for a feed management consultation. We can help you get your feed ready and optimized in no time for Google Shopping in The Philippines.