But how easy is it for a relatively small business to get their products seen on Google Shopping?
At Cotswold Web, we find that by working with DataFeedWatch, it's remarkably easy. We design eCommerce sites for our clients and prior to data feed watch had to develop custom code into the website for each individual product feed.
This included any changes made by Google or Bing to their data feed requirements and product feed optimization. With DataFeedWatch we can very easily edit your data and make your products visible on Google, Bing and a range of online shopping channels.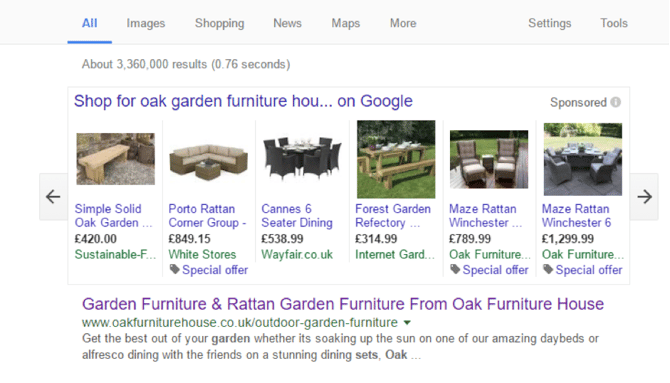 We've used DataFeedWatch for many of our clients, including Oak Furniture House. We designed their e-commerce site, which sells a large range of quality oak furniture for the home and garden. Working with DataFeedWatch has helped their products reach a much larger audience than the website alone.
---
Spend per click
Obviously using Google Shopping doesn't come free to retailers. Google charges the advertiser per click. But how much do you want to spend per click to make sure your products are visible?
This is where DataFeedWatch comes in. Because you set the rules and decide how much you are prepared to spend.
---
It's All About Increasing the Profit
Working with DataFeedWatch, we give Google the best quality information and control your advertising spend. We make sure your products are labelled and organised by price – high, medium and low.
And, importantly to advertisers, we also organise them based on your high, medium and low profit margins. Maybe a medium priced item with a high profit margin should appear in a more prominent position than a high priced item with a smaller profit margin?
DataFeedWatch allows us to quickly optimise feeds using custom labels to give you the best chance of making a profit.

If a product is retailing for £25, you may only want to pay a small amount per click to Google, but for a top of the range Maze Rattan garden set, retailing at £1,500 or more, Oak Furniture House might be willing to pay far more per click.
Needless to say, the more you are willing to pay per click, the more likely your advert is to be seen by shoppers.
And of course you are likely to have products that just aren't worth the spend per click. So you can set the margins to exclude low value products from Google altogether, because it's not cost-effective and could be taking the focus away from the high profit items you want customers to see.
---
Changing the name to optimize the search
On a client's own website, the products are clearly named and described, such as Oak Furniture House's Maze Rattan Furniture 4 Seat Garden Set.
When a consumer is on the Oak Furniture House website, they already know that the garden set is by Oak Furniture House, but what about when they're searching for a particular garden set through Google?
To optimise searches and give Oak Furniture House products the best chance of popping up in a consumer's search, the products are subtly renamed by DataFeedWatch. So in Google Shopping, the Maze Rattan Furniture 4 Seat Garden Set becomes the Oak Furniture House Maze Rattan Furniture 4 Seat Garden Set.
It's a simple, yet powerful technique to ensure your products are reaching the consumer. And again it is achievable without making any changes to your website.
---
Promotions
Promotions are a great way to get customers looking more closely at your products. Money off or a free gift makes products a lot more attractive and can give your company the edge over competitors.
DataFeedWatch can be used to get promotions, free gifts and special offers onto Google Shopping quickly and without making any changes to Oak Furniture House's e-commerce system on the website.

Richard Jaques, CEO of Cotswold Web, said: "We know that we can work with DataFeedWatch to come up with promotions that work.
We apply logic to the offers – so higher priced products means better offers and free gifts.
"It's a really flexible system which is attractive to the client. We can change the offers quickly without changing any coding on our customer's website."
A recent promotion was a free gift of a parasol and base to customers spending over £750 on garden furniture.
There was no point offering the parasol to someone who was buying a new bed, desk or chest of drawers, so the promotion was simply optimised to work only with garden furniture.
---
Why DataFeedWatch?
We've been using DataFeedWatch for our clients for two years and it has revolutionised what we can do for them. Before, we would send the feeds direct to Google and the various shopping channels and it was messy and time-consuming.
We had to change the website code to make it work, and you really don't want to do that!
But DataFeedWatch has changed all of that. We are able to react rapidly to changes on Google and build in edits to the feeds we're providing.
From the customer's point of view, all they're interested in is whether Google Shopping is making them money. Are they getting orders and how much are the orders costing them? The results speak for themselves – clients' orders and profits through Google Shopping are up since we switched to DataFeedWatch.
Working with DataFeedWatch is right for our customers and it's right for us as a web design company. We would never go back to the old way of working.
---
Read more about How to Improve Your Google Shopping Ads: