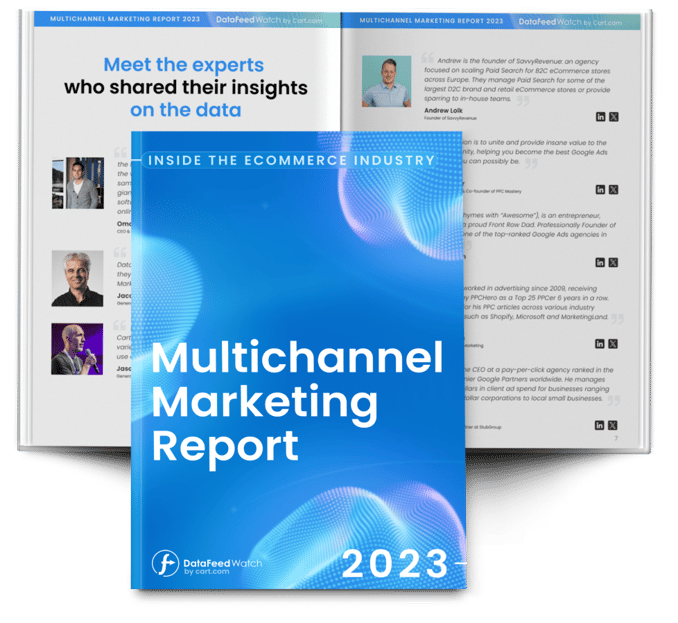 According to research, marketers who use three or more marketing channels in campaigns (email, SMS, web push notifications) see way better results. Both purchase and engagement rates up to 250% higher compared to campaigns using only one marketing channel.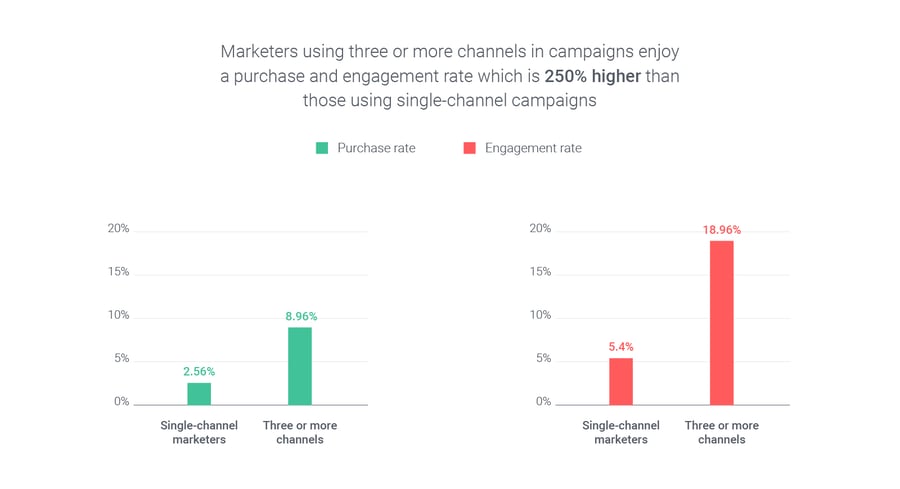 Back to The Top or
---
Multichannel vs. Omnichannel Marketing
Omnichannel marketing is obviously very different from single channel marketing. However, the distinction between omnichannel and multichannel is slightly less clear. Even though both approaches involve more than one marketing channel, omnichannel strategies offer a number of unique opportunities for businesses of all sizes.
Omnichannel marketing focuses on the customer at the center of marketing across all channels like:
Website
Social media
Email
SMS
and more
When using different marketing channels the goal is to deliver a seamless, personalized customer experience. Omnichannel marketing allows the customer to easily access information from any channel or device since they're connected to each other. So, the customer gets consistent engagement no matter where and how they are interacting with your brand.
By keeping channels integrated and unified, companies give a better user experience and consistency across all channels.
These can be:
your website,
social media
email
SMS campaigns
Multichannel marketing also uses several different channels, but these channels don't work together in a unified way. In multichannel marketing, each marketing channel provides different services and runs separately from the rest. Each marketing channel has their own strategy and goals.
For example, you could use social media with the goal of attracting new customers and email marketing with the goal of driving sales, and so on. This lack of integration can create a bit of a confusing experience for customers when they're approached without taking their previous actions into consideration.
It could play out as a customer who already made a purchase but then sees an ad on social media with a discounted product they already bought for full price. It could potentially be really frustrating for them.
While multichannel campaigns generally use each channel to distribute a similar message, omnichannel marketers craft more sophisticated campaigns that respond to each unique customer. For example, a new lead might visit your site on a mobile device, enter their phone number, and receive a follow-up SMS over the next few days.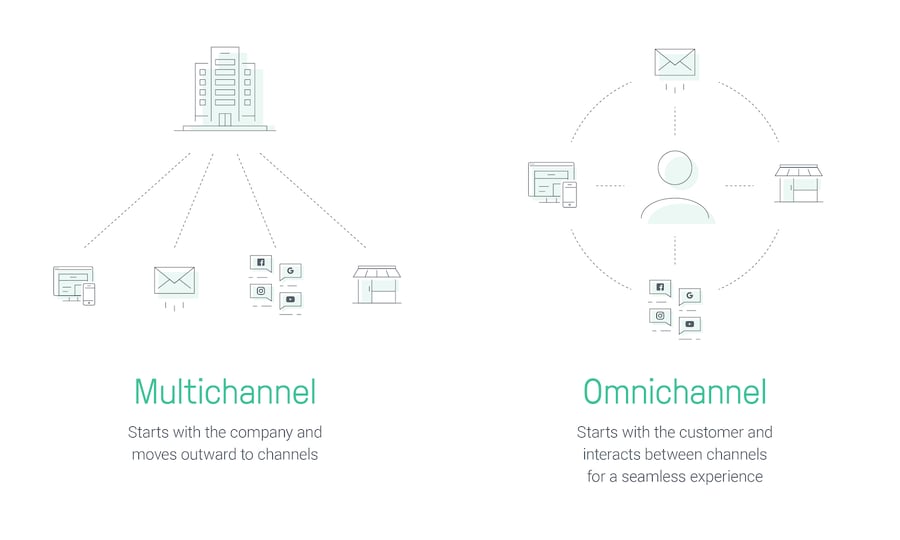 Back to The Top or
---
Getting Started with Data Collection
Of course, these workflows are only possible with robust data collection practices. You need to be able to engage with leads on different channels and at different times while offering a consistently personalized experience. Over time, you'll naturally lead each customer through the stages of the sales cycle based on their unique behavior and preferences.
For example, an Amazon study shows that the Omnichannel marketing concept has a positive effect on the whole customer journey. Within six months after having an omnichannel shopping experience, customers had logged 23% more repeat shopping trips to the retailer's stores and were more likely to recommend the brand to family and friends than those who used a single channel.
With that in mind, any successful implementation of omnichannel marketing requires a shift from message-focused to customer-focused thinking. It's critical to start with the customer journey and shopping experience in order to build better relationships with your audience and continue moving customers toward an eventual conversion.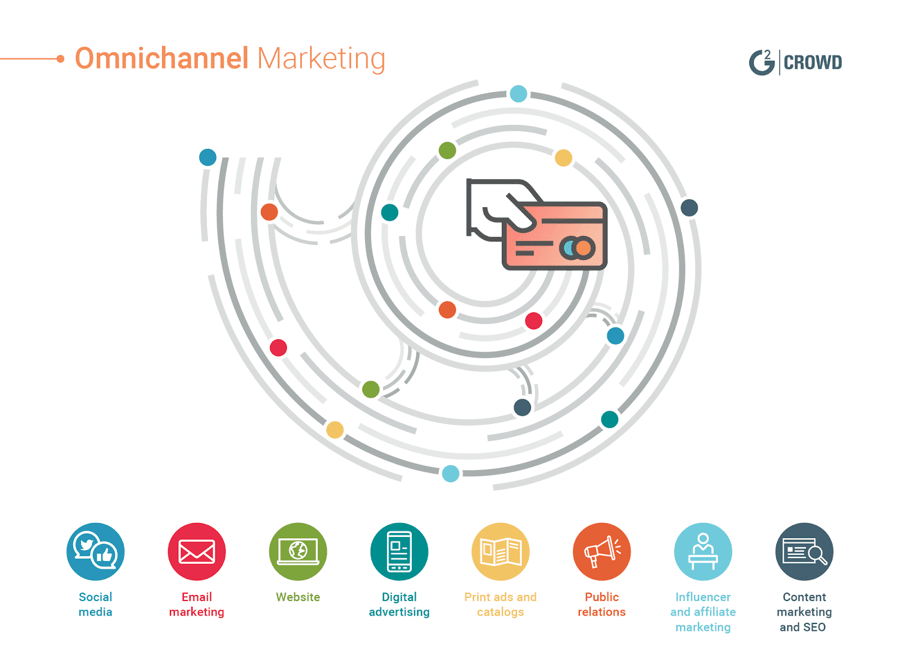 The first step toward getting more data about each lead is simply asking for some basic information when they sign up for your content. If you have an email newsletter, for example, you could add fields for other data points including:
Location
Age
phone number
email frequency preferences
On the other hand, asking for too much information could negatively impact your subscription rate, so you should only solicit the data that's most relevant to your omnichannel campaigns. Because, according to the Simplicity Index, 64 percent of consumers are willing to pay more for a simpler experience.
Back to The Top or
---
Implementing a Welcome Sequence
Omnichannel communication is all about sending the right content at the right time. Welcome sequences are the perfect way to set a positive tone for your first interactions with a new lead. Email is the most popular option for welcome workflows, but you can also integrate other channels depending on customer preferences.
Your first welcome message is an opportunity to give new leads more information about your brand and get them interested in future engagements. For example, you could talk about your company values or how you reached the point where you're at today. With that in mind, it's important to include a personal touch in order to build common ground with your audience.
Of course, you also want to motivate leads to make their first order, so many brands offer a small gift such as a discount or free shipping. At the same time, it's critical to avoid putting too much emphasis on sales when you're still trying to build a rapport with new leads—you'll have more chances to convert them into loyal customers later on.
Back to The Top or
---
Extending Site Visits with Exit-intent Popups
A strong welcome sequence will drive more and more subscribers to your site, but it's also critical to extend the length of each visit. The longer a lead spends on your site before leaving, the more likely they are to make an immediate purchase or at least stay interested enough to come back later.
As at any other stage in the customer journey, marketers use a wide range of strategies to increase the average visit length on their websites. Exit-intent popups are a simple option for brands that are new to marketing automation, and they're also far less intrusive than more conventional types of popups.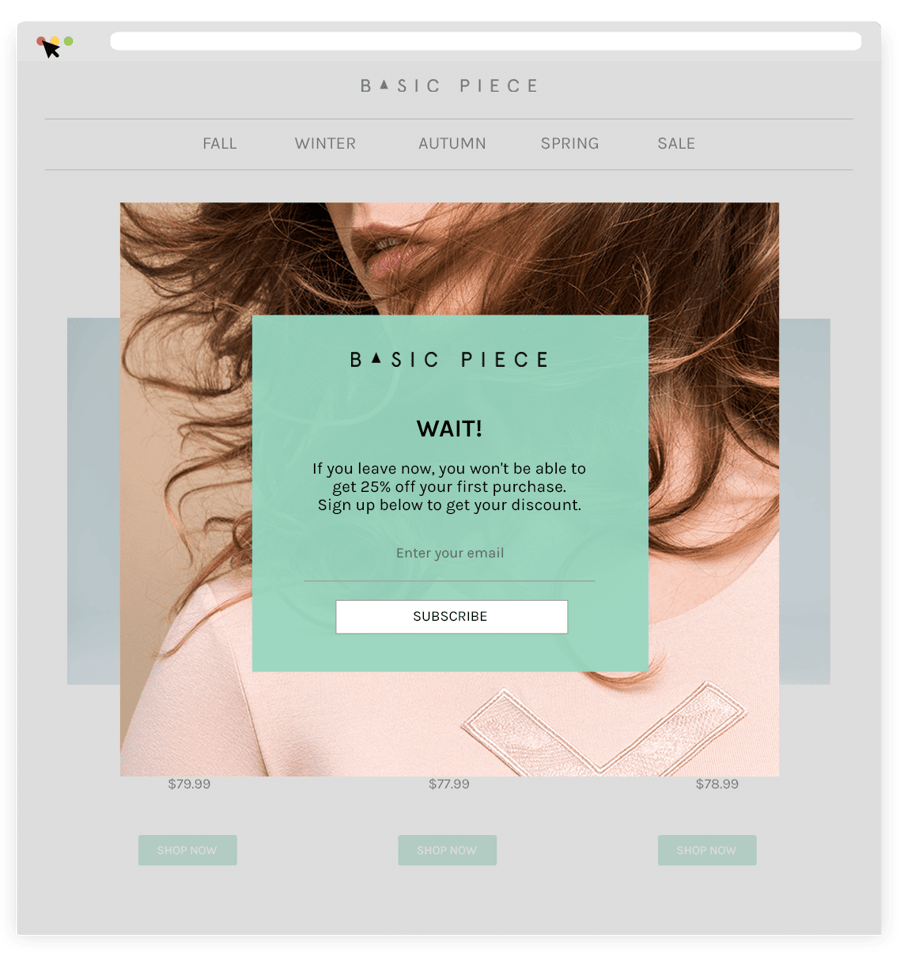 Unsurprisingly, exit-intent popups are designed to appear when a user intends to leave the site. This could be tracked in a variety of ways—for example, you might configure yours to trigger when the customer's cursor leaves your page.
Like the welcome sequence, your popups may be more effective with a discount or another small gift. The goal is to draw the user's attention back to your site and give them a reason to stay rather than leaving immediately.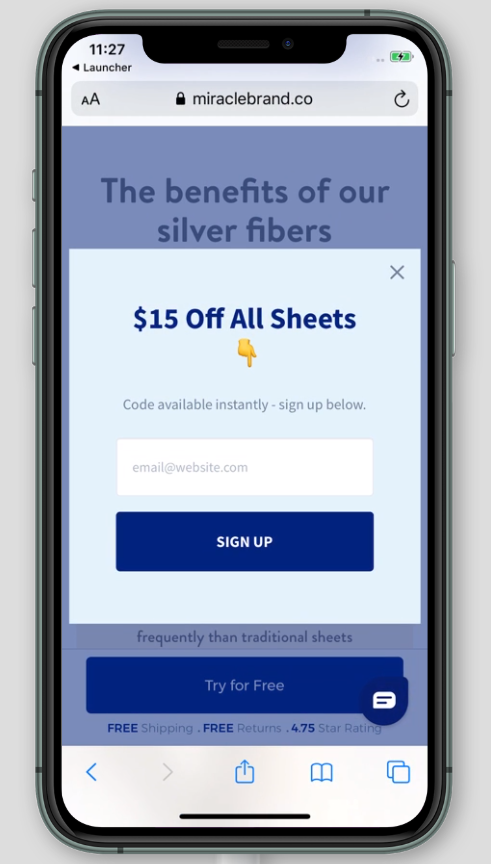 Back to The Top or
---
Following up on Abandoned Carts
ECommerce is a rapidly growing area for a wide range of retail brands, and digital sales are even more important during the COVID-19 crisis. Online businesses have seen a substantial bump in sales. At the same time, companies that were primarily selling through physical stores have been hit hard by the coronavirus pandemic.
Unfortunately, online shopping inexorably leads to abandoned carts. In fact, as many as 90 percent of all ecommerce shopping carts are abandonedbefore the purchase. Cart abandonment is one of the key sources of lost sales for digital brands. Even converting a small percentage of abandoned carts will lead to a massive increase in orders.
Fortunately, you can bring more users back after they abandon their carts with a few simple steps. Cart abandonment workflows are easier than ever to set up with contemporary marketing automation software. They're one of the most reliable techniques in the field of omnichannel marketing.
After a lead leaves your site, you can send an initial follow-up in as little as an hour. At this point, your brand is still fresh in their mind, and there's a good chance they'll reconsider the offer if they still want the product. You can also use this as an opportunity to highlight similar items that they could be interested in.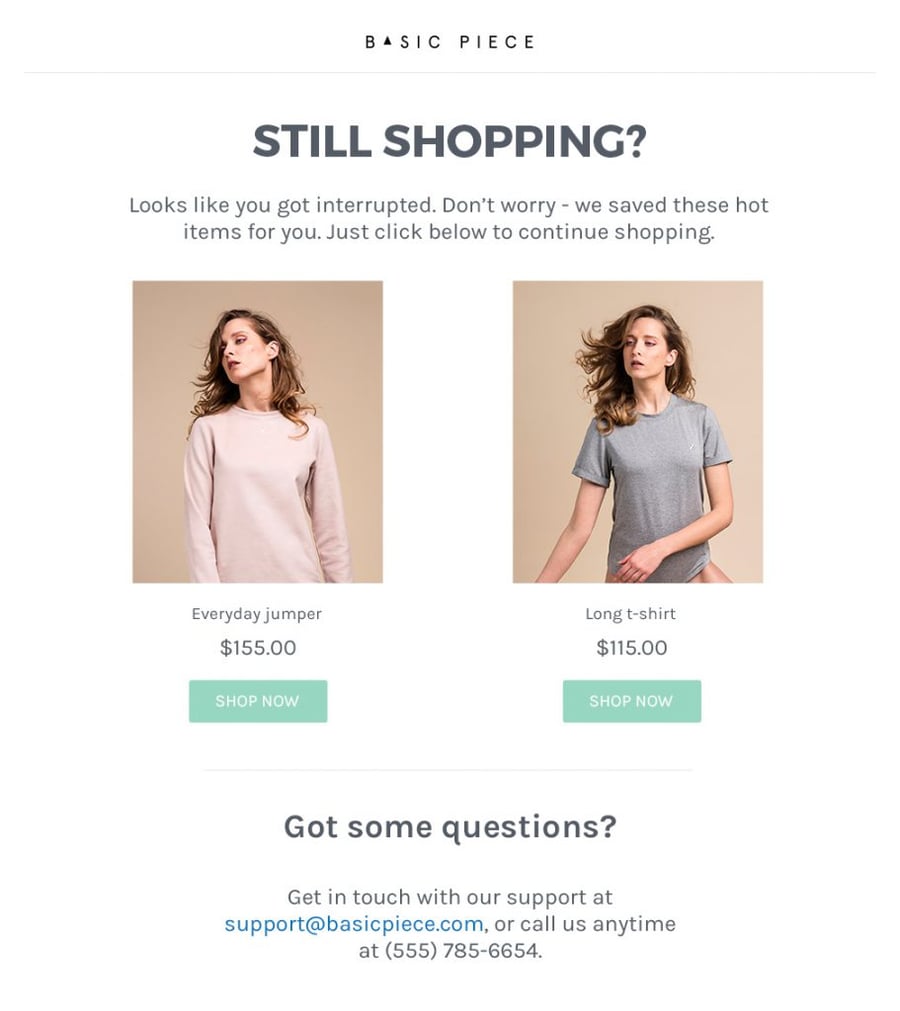 From there, it's usually worth waiting around 24 hours before sending a second message. Like your welcome messages, that follow-up should contain some kind of offer that provides additional motivation. Even something like a "10 percent off' discount code will be enough of an incentive to generate a significant number of sales.
Back to The Top or
---
Use Customer Information to Provide More Responsive Support
Retailers often treat customer support as an afterthought, but offering quick and informative responses to customer questions will have a surprising effect on engagement. Users may interact with your support team through a wide range of channels. You should be able to offer a consistent customer support experience across all platforms.
The easiest way to improve your support responsiveness is simply to ensure that customer information carries over between interactions. With traditional phone support systems, for example, customers typically have to start from scratch every time they call. Collecting more data and storing it in a unified customer profile will allow you to view each user's history and provide personalized assistance.
Wrapping Up
Omnichannel marketing offers a deep set of unique challenges and opportunities for marketers, but it also offers the chance to start slow and gradually implement more omnichannel tactics. These are just a few of the most effective ways retailers can implement more omnichannel strategies into their marketing campaigns.