What are Microsoft automotive ads?
Microsoft automotive ads are much as the same as paid product ads in other search engines and platforms, with visuals, text descriptions and links. They are feed-based, meaning sellers can provide all the details and attributes of cars available. The ads are displaying on Bing, Microsoft's web search engine, and on the Microsoft Audience Network, Microsoft Autos Marketplace and the Windows search bar.

Microsoft Automotive ads also appear on Yahoo! and DuckDuckGo (Microsoft has agreements to show ads on both these platforms).

For sellers, these advertisements create another online touchpoint where they can connect with active shoppers with intent to buy. They're also easy to create and manage, and can be automatically updated via a product feed to keep up with changing prices and availability.

Microsoft Automotive ads offer a range of advertising solutions that can help automotive brands and private sellers reach their target audiences and drive sales:

Audience targeting: Microsoft Advertising allows automotive brands to target their ads to specific audience segments based on demographics, location, interests, and search history.

Ad formats: Microsoft Advertising offers a range of ad formats including search ads, display ads, and video ads. Brands can choose the format that best suits their advertising goals and creative assets.

Search ads: Search ads appear at the top of search engine results pages (SERPs) when a user searches for a specific keyword or phrase related to the brand's products or services. Automotive brands can use search ads to reach people who are actively looking for information on particular cars.

Display ads: Display ads are visual ads that appear on websites and apps across the Microsoft Advertising network. They are another touchpoint for maintaining awareness among customers that have demonstrated an interest in a car.

Video ads: Video ads are a powerful way to showcase the features and benefits of any brand's products. Automotive brands can use video ads to engage and inform potential customers through storytelling and compelling visuals.

Reports and analytics: Microsoft Advertising provides detailed reporting and analytics tools that can help automotive brands understand the performance of their ads and make informed decisions about their advertising strategies.

By leveraging the audience targeting capabilities, ad formats, and reporting tools available through Microsoft Advertising, automotive brands and other sellers can reach their target audiences and drive sales.
---

What do Microsoft automotive ads look like?
Microsoft Automotive Ads are designed to be highly visual and informative, showcasing the vehicle's key features and details in an engaging way. These ads typically include a high-quality image of the vehicle, along with important information such as the title, make, model, and price.

In addition, they may also feature a brief description of other vehicle's features, condition and mileage, as well as any promotional offers or payment options that may be available.

Microsoft Automotive Ads are prominently displayed in search results, making them highly visible to potential buyers who are actively searching for a vehicle.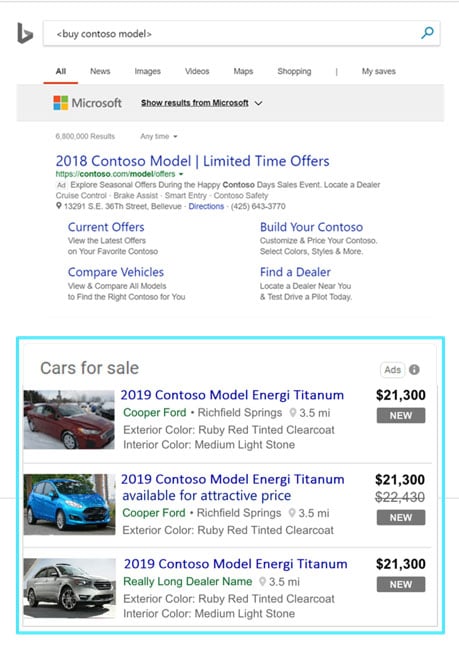 Example of a Microsoft Automotive ad | Bing Search Engine
---
Where are the ads displayed?
Text automotive ads appear at the top of the page with links to local dealers and sources. A side-scrolling menu with large color pictures of models for sale along with price and mileage information is displayed in the middle of the page.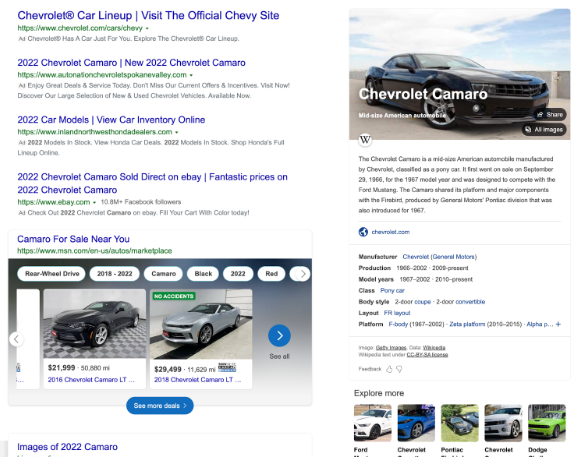 Placements of Microsoft Automotive ad | Bing Search Engine
---
The benefits of using Microsoft Automotive ads
Using Microsoft Automotive Ads is convenient and effective for sellers for a number of reasons:
Customized ads. Create and schedule your feed and the service will create relevant, personalized ads based on the information you provide.
Solid return on spend. You'll get more volume, better click-through rates (CTR) and lower CPC.
Automated processes. Since no keywords are required, the ads are created by feed files that use Microsoft AI automation and are fully equipped for bulk upload.
---
Getting started with Microsoft automotive ads
Now let's look at the steps you need to follow to take advantage of the potential of Microsoft Automotive Ads.
Choose between Automated and Advanced campaigns
There are two kinds of campaigns for Microsoft Automotive Ads, Automated and Advanced. The choice largely depends on how hands-on you want to be and how much control you want over the bid choices for cars in your feed:
Automated campaigns
Microsoft takes the wheel and uses your campaigns and ad groups to choose the right keywords and bids. Automated campaigns are best if you want to use your current text ad setup. The downside of Automated campaigns is a lack of performance tracking insights.

There's no setup required on your end to get started. Microsoft does all the heavy lifting here. You do, however, have to set up your data feed according to the Autos Listing Inventory feed format and upload it in the Microsoft Advertising online user interface.

As always, with Automated campaigns you have to keep your data feed up to date for the best results.
Advanced campaigns
As you would expect from anything "Advanced", you get more control over the details of your campaigns in Advanced Microsoft Automotive Ads. In this case, that means more control over the bid choices for cars in your feed, an important must-have for many advertisers who want to closely track results, manage budgets and optimize their performance.

Setup in Advanced campaigns is obviously different, requiring input from you in the form of text for ad campaigns in the setup stage in Microsoft Advertising. As with Automated campaigns, you have to set up your data feed according to the Autos Listing Inventory feed format and upload it in the Microsoft Advertising online user interface.
1. Create your Microsoft account
To begin with Microsoft Automotive Inventory Ads, you'll first need to create a search campaign with a responsive search ad to act as a placeholder.
To get started, you should select All campaigns > Campaigns > Create campaign from the collapsible menu on the left, and choose the appropriate goal.
Then, select Search ads > Next and follow the steps provided by the campaign creation wizard.
In the Campaign settings, you must include the Campaign name and add a disclaimer if desired.
In Ad groups, you should create at least one ad group, and create only one keyword for each ad group.
In Ads & ad extensions, you should select Create ad and from the Ad type dropdown menu, choose Responsive search ad. Once you enter the Final URL and placeholder values for each field, you can save the ad and proceed to Budget & bids, where you should select Enhanced CPC from the Bid strategy dropdown menu and save it.


If it's still not clear, you can read Microsoft's guide on how to create an account for Automotive.
2. Create your Microsoft Automotive feed
Afterwards, you should create a dynamic data feed for your Microsoft Automotive campaign.

The quality of your product feed is crucial to success and automotive ads are no exception. This is the information customers are looking for and, given the price point and customer funnel for something like a car, it's essential that you make your feed as complete and descriptive as possible. If you're selling large volumes of cars and need to maintain auto inventory feeds at scale, it's even more crucial.

To see all feed specifications for Microsoft Automotive campaigns, see our chapter below.


3. Upload and schedule your Microsoft auto inventory feed
Here are the steps to follow to upload and schedule your product feed to Microsoft Automotive Ads:
Upload a feed file
Start by selecting Tools > Business data > Dynamic data feeds
Then go to Upload > Autos > Listing inventory
Select the feed file to upload and give it a name
You can then Upload and preview to view the changes you have made or Upload and apply to finish the process and create your feed
Schedule your feed file
Again, start with Tools > Business data > Dynamic data feeds
Choose the feed file that you want to schedule
Go to the Schedules tab
Select Schedule feed uploads and provide the URL and scheduling plan for your product feed
4. Start running your Microsoft Automotive ads
Now you're ready to go! Microsoft will generate the Automotive ads by extracting the relevant information from the feed file, and use the ad's settings for targeting and optimization.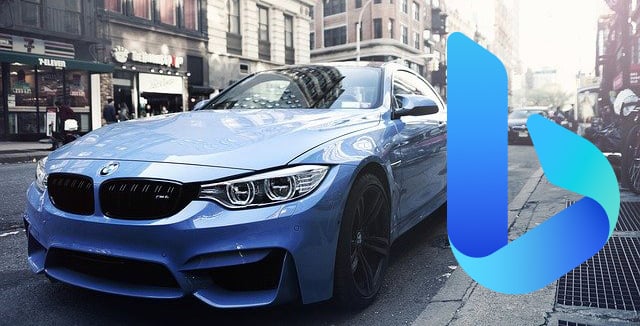 Source: seroundtable.com
---
Microsoft auto inventory feed
Data for dynamic feeds is collected on spreadsheet complete with attributes that are used to create ads for your products. All dynamic feed files must be in CSV, TSV, XLSX or ZIP format and contain tab-delimited plain text only.
Required Attributes
Automotive inventory ads allow dealerships to showcase their inventory directly in search results. The required feed attributes for this type of campaign include essential information about the vehicle such as the make, model, year, trim, and more.

By providing accurate and complete information about their inventory, dealerships can create effective ads that are more likely to be seen by potential buyers and generate leads for their business. If you fail to provide values for any required attributes, your automotive ads can be rejected.

The full list of required attributes for Microsoft Automotive Ads are:
Country
Final URL
Image URL
Make
Model
Price
Title
Target campaign
Vehicle ID
Vehicle type
That's not many, especially when compared to the Google Vehicle feed requirements.
Recommended Attributes
In addition to the required feed attributes, there are several recommended feed attributes for Microsoft Automotive Campaigns that can help dealerships create even more effective ads. Some recommended attributes include:
Body
Style
Year
Trim
Fuel Type
And more!
See the full list of Microsoft Automotive recommended feed requirements here.
By providing as much information as possible about the vehicle and its unique selling points, dealerships can create ads that not only attract potential buyers but also provide them with the information they need to make an informed purchase decision. This can ultimately lead to higher conversion rates and increased sales for the dealership.

Optional Attributes
There are also several optional feed attributes for Microsoft Automotive Campaigns that dealerships can choose to include. These attributes can help provide additional context about the vehicle and its history, such as:
Condition
Availability
Custom Parameters
Mileage value
Payment Type
And many more!

See the full list of Microsoft Automotive optional feed requirements here.

Including these optional attributes in the feed can help you differentiate their inventory and provide valuable information to potential buyers, which can ultimately lead to increased sales and customer satisfaction.

However, it is important to note that these optional attributes may not be relevant for all vehicles or markets, so it's always a good idea to consult with a marketing expert before deciding which attributes to include in the feed.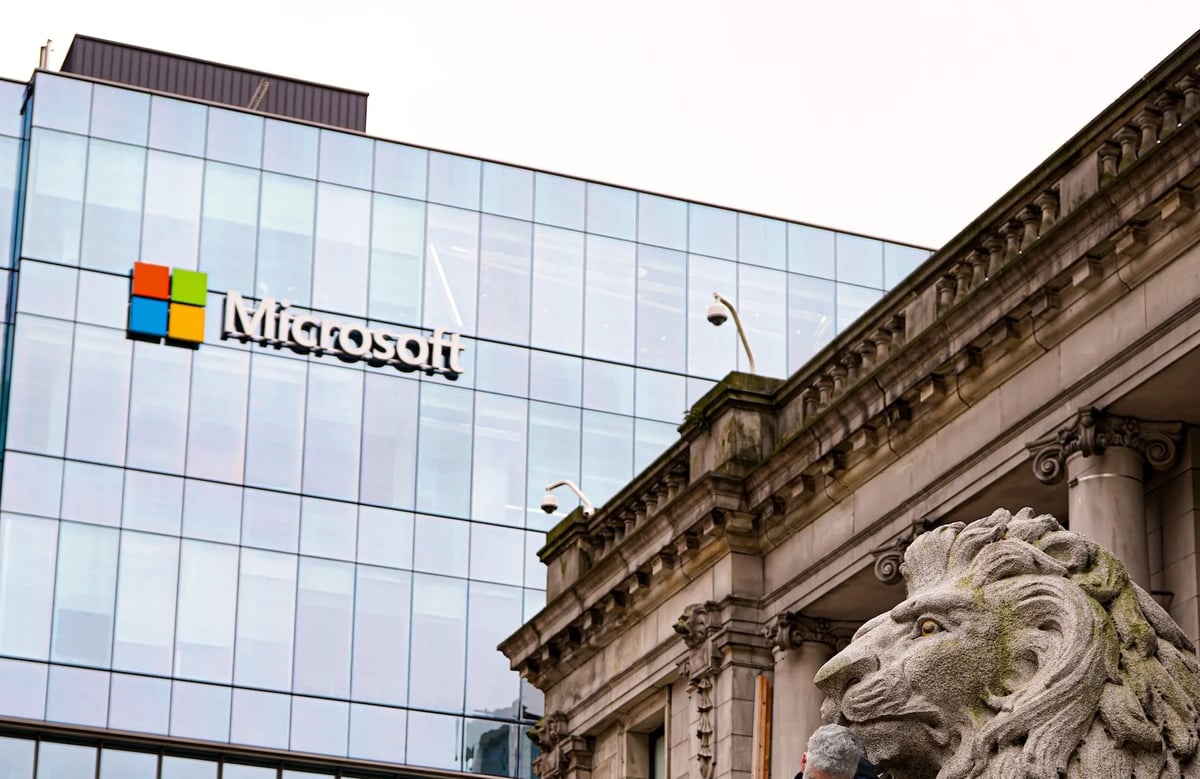 ---

Microsoft Automotive Targeting
As a seller, you almost certainly expect prospective buyers to come from a rather limited geographic area within a certain distance from the location of the car up for sale. While this isn't always the case — buyers will sometimes travel a great distance to save on a car — the exceptions to the rule probably don't justify diluting your geographical targeting.

Select from the location targeting available in the campaign settings to let Microsoft focus your ad on the most relevant region.

Apart from geographic location, Microsoft doesn't recommend applying other audience profile markers when you set up your ad. It's better to get some data feedback and baseline performance figures first and then make changes based on what you learn.
---

Microsoft Automotive Bidding
The budget you allocate to campaigns and the bids you submit for particular listings will always be up to you, influenced by your budget, margins and how aggressively you want to compete for ad visibility.

Microsoft recommends a daily budget of between $50 - $500 to give your ads a competitive chance for success. If you are too conservative or unrealistic about the prices involved, you may not enable your campaign to succeed at all.

Also, if your ads don't appear, or don't appear enough, Microsoft can't gain enough data about them to help you optimize and make needed changes.

At the end of the day, you want to manage your bids in much the same way you would a text-based ad campaign, while monitoring performance and using feedback to make informed decisions about any changes.
---
Summary
Microsoft's digital promotion powers may not be as familiar as other, bigger search engine-advertisers (starts with a "G"...) but don't underestimate its reach or effectiveness. The internet is a big place and there is plenty of room for lots of virtual billboards.

Microsoft Automotive ads are well-crafted, targeted and able to reach customers who are ready to buy. In a busy online world with infinite options for everything, that's about all you can ask for as a seller.

The campaigns are easy to set up, the platform's interface guides you through what you need to do and you can track your progress as your campaign moves along. If you're in the car trade and looking to expand your marketing toolbox, give Microsoft Automative ads a closer look.
---