3 tips to Google Shopping titles that convert
1. Use keywords with high commercial intent
The most important thing about the keywords you use in your Google Shopping advertising is their intent. The understanding of intent should affect how you prepare your product campaigns. This kind of marketing activity even has a name – intent marketing. Although Google Shopping campaigns don't use specific keywords to target ads, they are still a very important part of ad performance.
Online users, who are at the early stage of their buying journey (early research) will use the keywords that have lower intent e.g. "good cameras". Shoppers who are looking for something specific will conduct a search using a high commercial intent keyword (also by some called transactional keywords) such as "buy blue dress long sleeves".
As a rule, keywords with high commercial intent tend to describe a product very precisely. Also, they sometimes contain words such as "buy" or "for sale". This is why the SERP for such a search often shows Google Shopping ads.
High commercial intent keywords often include:
Brand names (if the brand is well known)
Specific products ("Samsung s22" etc.)
Categories of products ("winter jacket", "wedding accessories", "christmas sweater etc.)
GTINs (often used with electronics)
Etc.
2. Choose long-tail keywords over the high-traffic ones
It's important to highlight that the keywords you use in Google Shopping product titles often should be long-tail and not always high traffic. You should go for keywords that don't necessarily have high search volume, but that have a higher commercial intent. High commercial intent keywords target search queries with a purchase intent, thus have larger conversion rate.
It's recommended that long-tail keywords with high commercial intent are targeted with paid ads because:
Google Shopping Ads are especially attractive to searchers with high commercial intent. They tend to get the clicks from online users who are at the final stage of their buying journey. At this point they have already researched the products, have all necessary information and are ready to make a purchase.




They increase ad relevance and help your Shopping ads appear on for the right search queries.

You can make many combinations of long-tail commercial keywords and try ads with different ones.



3. Consider keyword order
What you should also consider is the order of the keywords in your title. This is important because Google places the greatest emphasis on keywords placed at the beginning of the product title. This influences its decision on which ads are relevant to that particular search query. There are recommended title structures that you can read about in our article dedicated to Google Shopping titles.
---
Ahrefs – how can it help your Google Shopping titles?
Ahrefs is a robust software for link builders and SEO marketers, but can be also very useful for online advertisers. It provides tools that help with marketing activities such as:
keyword research,

link building,

analysis of competitors,

site audit

or rank tracking.



The one tool that will be most useful to improving the results of Google Shopping campaigns is Keyword Explorer. You can use this specific Ahrefs' tool to research and discover accurate keywords for your Google Shopping titles!

Afhrefs' Keyword Explorer
There are over 3 billion keywords in Ahrefs' database and this tool can generate keywords for over 100 countries! The Keyword Explorer helps you find relevant keywords for Google campaigns by giving you traffic estimations. This way you know how many people are searching for that particular keyword (or if anybody at all).
Keyword Explorer gives you also information about how difficult it will be to rank for a particular keyword on SERP. It does that through giving every keyword a difficulty score. Besides, you can also find click data (including data about paid only clicks) for your keywords. This report can be very useful for choosing the right terms for your PPC campaigns.
Identifying high commercial intent keywords for Google Shopping campaigns using Ahrefs
There are many different ways to find or identify keywords with high commercial intent for your Shopping campaigns. First of all, you need to know your business and have an idea of what your potential customers need. You should also get to know your competitors and their clients. And in the end, the easiest way is just to use a tool dedicated to keyword research such as Ahrefs.
This way you can analyze available keywords in all possible combinations and have all the data supporting your choice of a particular keyword in one place.

Think about 'seed' keywords first
"Seed" keywords are a kind of keywords that define your vertical or your niche and are immediately associated with them. The whole keyword research process always starts with brainstorming "seed" keywords as they are the foundation of it. Thanks to a knowledge of "seed" keywords you can also easily identify your competitors.
Ahrefs needs you to provide "seed" keywords to be able to generate lots of other keywords ideas connected to it. Brainstorming "seed" keywords" is very easy - you just need to think of keywords that your customers might type into Google to find your Shopping ad.
Example: If you sell diving equipment, then you need to come up with "seed" keywords such as:
Diving equipment

Diving suits

Dive wear

Scuba Diving




Etc.



As you can see, there really are many different options. But "seed" keywords alone are often not worth adding in Google Shopping titles, as they are too broad. Instead, use them as "seeds" to generate more keywords that will be far more valuable to you and your campaign.
Look at your competitors
A good and quick way to come up with good keywords with high commercial intent is to review the keywords that your competitors rank for. You can easily do it using Ahrefs' Site Explorer.
"Stealing" keyword ideas from your competitors should also be done at the beginning of your keyword research as it can save you a lot of time. But if you don't know your vertical that well, you first need to identify the competitors. In this case you can just use your "seed" keywords in Ahrefs to see who ranks for them.
SERP overview | Ahrefs
Certainly not all the results from SERP will always be relevant. You always need to use your best judgment when determining your competitors. In case none of the websites generated by your keyword is relevant (e.g. they're not other web stores but articles), you just need to come up with another "seed" keyword.
Once you've determined your real competitors - websites that resemble your own business - you can again use Ahrefs. Paste links of the competitors' websites one by one in Ahrefs' search engine and choose Top pages report which you'll find in the list displayed on the left side of the screen.
Top pages button | Ahrefs
In this report you'll see the most popular pages on your competitor's website based on monthly search traffic. You will also be able to check each page's top keyword - the one that's sending the most organic traffic to that particular page.
Searching for top keywords | Ahrefs
By analyzing competitors we discovered that popular keywords for this web store with diving equipment are e.g. scuba gear packages or dive computers.
Keyword Research
It's all about analyzing, comparing, and prioritizing the best search terms for your business and then using it in your Google Shopping campaigns. You need to know what language your potential customers use to avoid using the keywords in your product titles no one is typing in Google.
Once you've brainstormed keywords based on your industry knowledge and analyzed your competitors, use Ahrefs' Keywords Explorer to expand on these ideas and find even more valuable keywords.
All you have to do is type your brainstormed "seed" keywords into Ahrefs' keyword research tool. Let's try researching the keyword "blue dresses".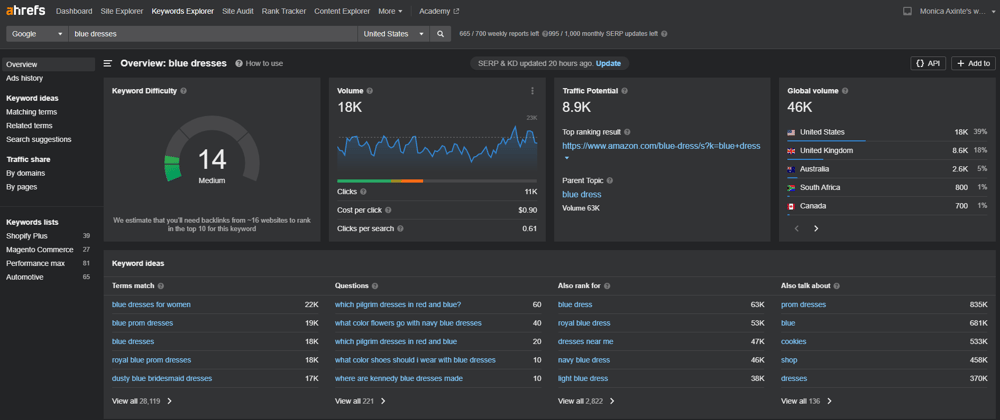 SERP overview | Ahrefs
Already on the main page you can see reports such as: Keyword Difficulty, Volume, traffic Potential, Global Volume, Terms match, Questions, Also rank for and Also talk about. All this data is generated from your keyword "blue dresses".
If you cannot find any suitable keywords on the main page, you can look for more of them in one of other Ahrefs' reports.
Terms match
This report will generate new keyword ideas that contain all the individual keywords from your 'seed' keyword in any order. You can see this report on the main page after typing in your "seed keyword" but you can also check the expanded version of this report by clicking "View all". Here you can find lots of long-tail and possibly profitable keywords that you might include in Google Shopping titles.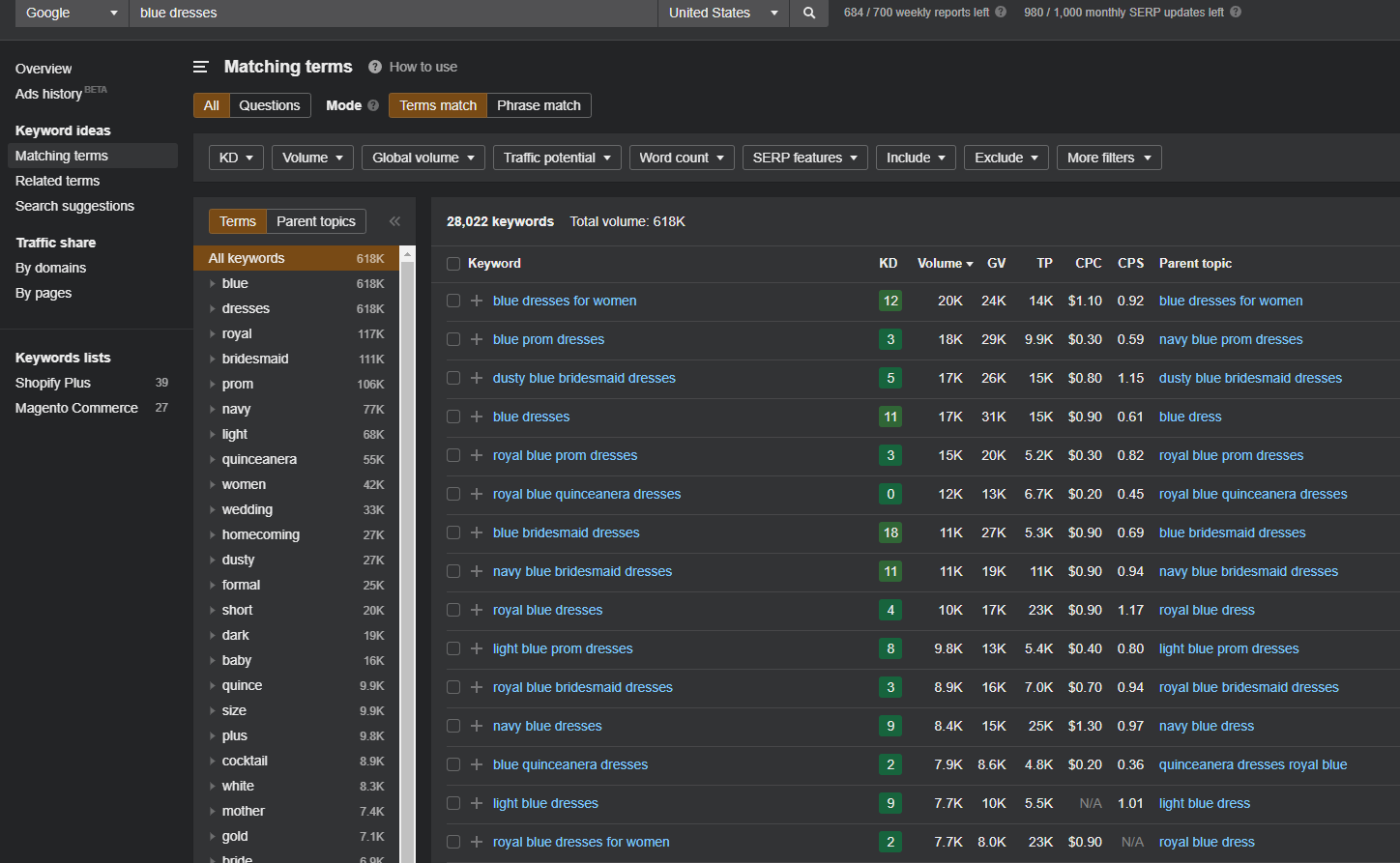 Searching for matching terms | Ahrefs
Also rank for
This report will show you the list of keyword ideas that the top 10 ranking pages for your "seed" keyword also rank for. In this case you can see the expanded version of these keywords ideas as well. We notice that quite a lot of people (17k per month) use a term "babyblue dress" - maybe it's a valuable keyword that you could in include in your product title?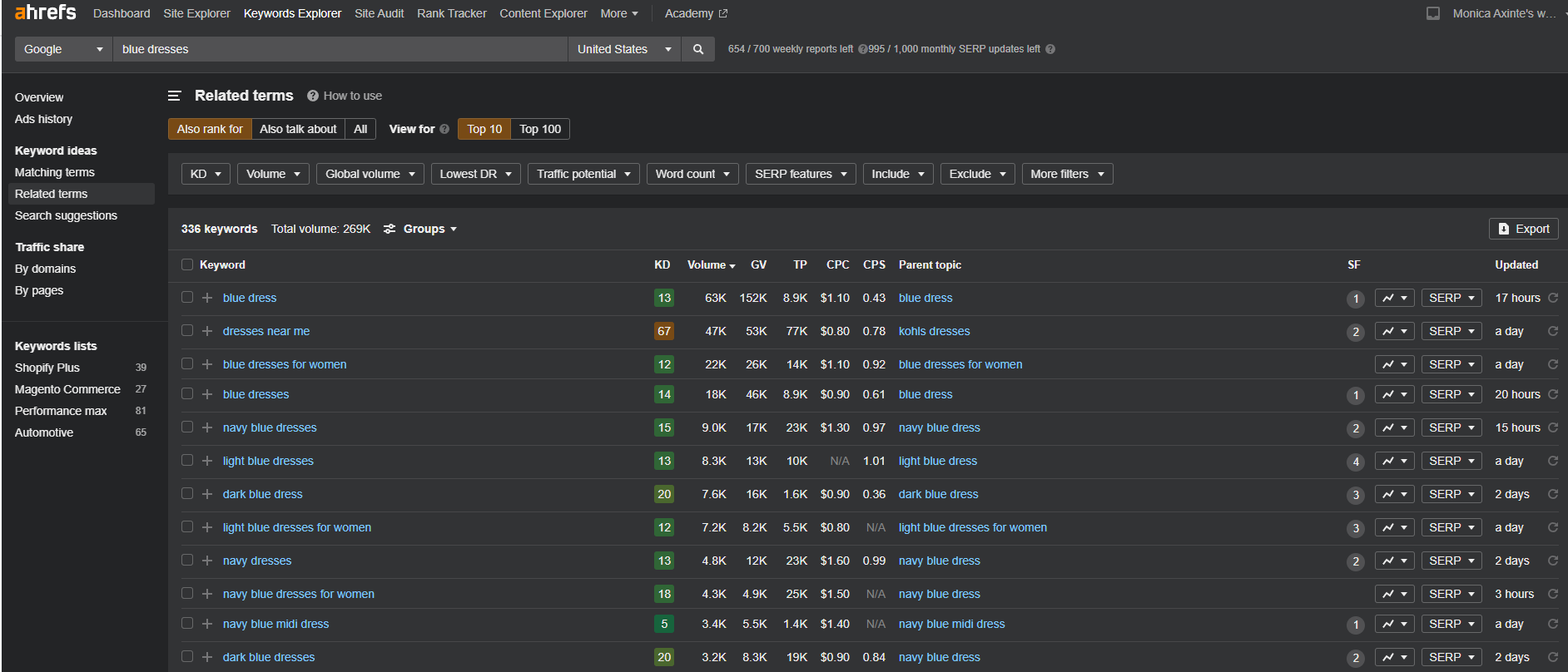 Searching for related terms | Ahrefs
Paid clicks report
When looking at the click report you can also check what percentage of those clicks that people make while searching for this particular keyword are clicks on paid ads. This information can be very useful when choosing the right high commercial intent keywords for your PPC campaign product titles.
Example: We're checking the keyword "light blue dress". You can see what percentage of all clicks are paid only clicks by moving the mouse over the visible line with green and orange colours. This keyword seems like an okay keyword for a Google Shopping title, as 14 % of all clicks go to paid ads. However you can find better long-tail keywords so keep searching!

Checing paid clicks | Ahrefs
---
Include all important attributes in titles using DataFeedWatch
Optimizing your product feed is a crucial element in preparing for a Google Shopping campaign. And product titles are one of the most important attributes of all, as they identify the product and help get through to the target audience. If the Google Shopping title is not optimized, it may not attract customers at all or result in many irrelevant clicks and waste of your advertising budget.
How to create accurate product titles?
As already explained in the previous chapter you are able to come up with accurate titles based on your own knowledge of the industry (that you operate in), brainstorming "seed" keywords and finally comprehensive keyword research in a tool like Ahrefs. Now that you have this knowledge, you can create accurate product titles.
You export found phrases and keywords from Ahrefs or just write the interesting ones down.
You put all of them in a Google Spreadsheet with specific keywords assigned to specific products.
Then you upload them via lookup table to DataFeedWatch.
Product title contains many different attributes that you have in your product feed. That's why the next step is to combine the most relevant attributes in your product titles. You can do it easily in the DataFeedWatch tool with the help of simple rule like below.

Craeting product titles | DataFeedWatch
You can also map your title to a specific field from your store or upload customized titles from a spreadsheet.
Conduct product titles A/B testing
Sometimes it's hard to determine which title will work best right from the beginning of the campaign. That's when product titles A/B testing functionality comes in handy. Using DataFeedWatch, you can run 2 different versions of one product title at the same time.
You simply create the desired structure for each product title version. There's no limit to your creativity or modification options.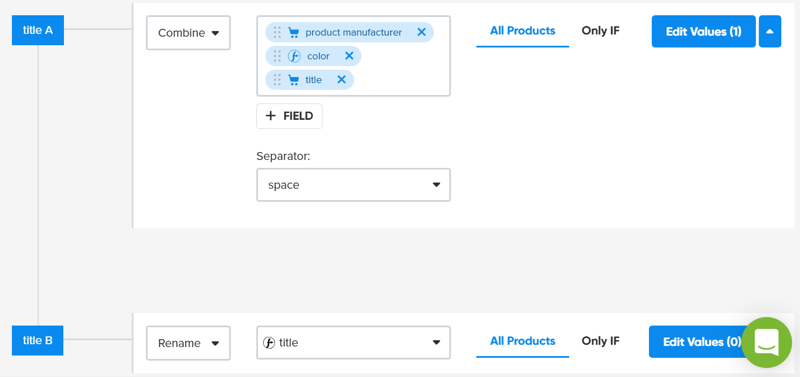 A/B testeing titles | DataFeedWatch
Then you just need to track and analyze both title versions and pick the best one.
Case Study: Read about how a fashion retailer used DataFeedWatch's A/B testing functionality for their product titles to increase their ROAS by 25%
---
Summary
Using Ahrefs and DataFeedWatch together can be very beneficial for your Google Shopping campaign. Indeed, a large part of feed optimization is about using the right keywords with high commercial intent. With these, you can attract the right audience. The more effort you put into analyzing keyword opportunities, the better chance you have of creating optimized titles. This in turn will help you in achieving great success with your Shopping ads.
---