In case you have missed them, we have the list of the most important updates we announced last year:
---
1. DataFeedWatch Preview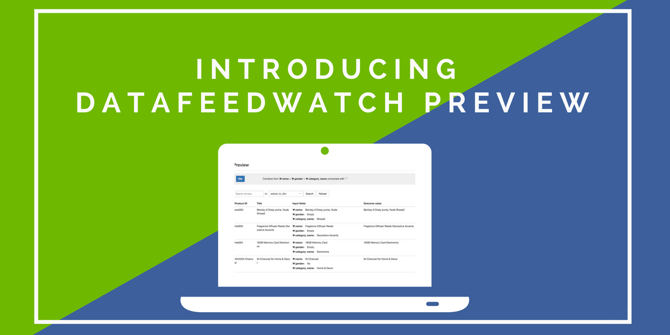 The preview feature is probably the one that got the most love from our customers. It saves time, hassle and it's intuitive.
With DataFeedWatch Preview our users can now see how an attribute will look at the customer's end on the shopping engine from within the feed.
Initially, we released it for the feed mapping page, but due to popular request we will soon extend it to the Category and Exclude Products pages.
---
2. Exclude Associated Variants
Allows merchants to exclude all variants of a product from your feed if a specific variant or a certain percentage of all variants go out of stock.

Not only does it give retailers a higher degree of control over the products they want to exclude from their feeds, but it is a low hanging fruit that has the potential to improve shopping feed performance overnight.
Continue reading about associated variants to see:
When and how to use associated variants in your feeds?

How to use them in DataFeedWatch

What are other retailers saying?
---
3. Ebay Marketplace is now available via API integration
DataFeedWatch Merchants can now upload their inventory fast and easy to eBay through the Merchant Integration Platform (MIP) in Australia, Austria, Canada, Germany, Spain, France, Italy, United Kingdom, India, United States and Russia.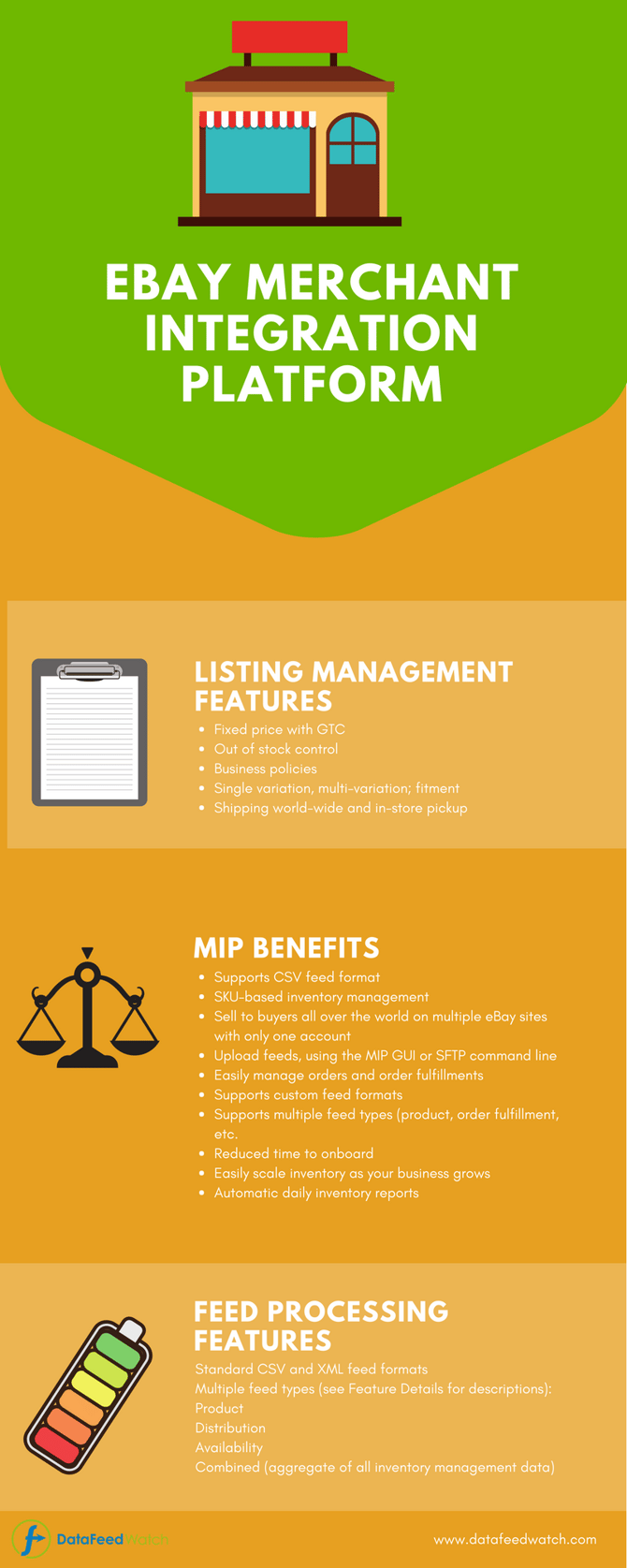 Head to our full post if you want to know more about:
How to get your products on eBay in DataFeedWatch?

What type of feeds do you need to create and when to use them?

How to submit product variants?

How to upload the feeds to eBay?
---
4. Full API integration for Marktplaats.Be
Marktplaats is one of the top 10 most prominent websites in The Netherlands. While not as prominent in Belgium, it is still an important online selling channel.
We already fully support the integration on the Dutch market, but for the Belgian territory, the marketplace was previously available through a standard feed upload.
Read more if you want to know more about:
---
5. New Functionality: Longer Than/Shorter Than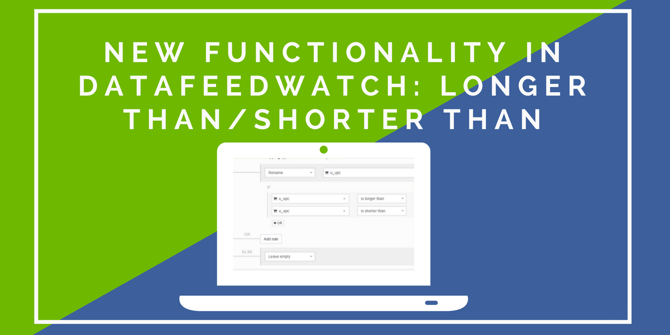 Longer than/shorter than is a simple, yet efficient rule that is helpful for feed optimization rules related to character limitations:
Keep titles, descriptions of other attributes within required length constraints

Ensure that GTINs have the right number of characters
---
6. New Navigation Experience
Mid-autumn we announced the upgrade of our navigation. The new layout makes it easier for users to find their way around the tool and to separate the navigation from the pages they are working on.
The new design has an updated look and is more responsive and intuitive.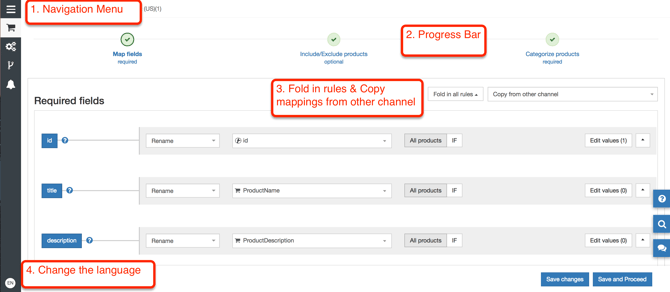 The major navigation uplift brought:
Navigation Bar was moved from the top of the page to the left-hand side of the page

Fold in & Fold out navigation menu to ensure that users have more screen space when doing their mappings

Back & Forward navigation arrows to move through the menu without leaving the page you're on



---
7. New Output Feed URLs & Increased Speed
This is the type of internal update that we usually don't make a big fuss about. But, improving the speed and therefore the efficiency and productivity of our users, is highly important to us. This update was responsible for:
Mapping page loading time was reduced by up to 50%

The processing speed of the feeds was cut to half. The customers that will see most benefits from the increased processing speed are the ones with larger feeds.
---
8. VersaCommerce Integration
DataFeedWatch full integration with VersaCommerce Shopping Cart will make multi-channel marketing effortless for all German online merchants.
Thanks to the integration, VersaCommerce merchants can now scale their omnichannel presence faster and easier.
---
9. New In-app icons
This summer we introduced new in-app icons to help our users manage better their feeds by having quicker access to all our resources:
Help Center Icon - contains videos, FAQs, how to fix errors and all you need to be able to learn and use the DataFeedWatch for creating better feeds;

Search by Field Name Icon - It gives the possibility to find and navigate easier to any field in a given shopping channel;

New Chat Icon - replaced the big orange chat box with a smaller one.
---
10. DataFeedWatch Extension Available for Magento 2
While a lot of merchants are still using Magento 1, it's just a matter of time before they migrate to Magento 2.
If you have already migrated or you are still pondering whether you should make the move now or later head to our post. We cover:
The Benefits of Upgrading to Magento 2

The Drawbacks of Upgrading to Magento 2

DataFeedWatch Extension Installation for new customers already on Magento 2 and for customers migrating from Magento 1 to Magento 2



---
11. DataFeedWatch Next Generation
By now everyone has got so used to the new interface that they've probably forgotten how the older interface looked. Last March when we launched the new interface we made some important changes: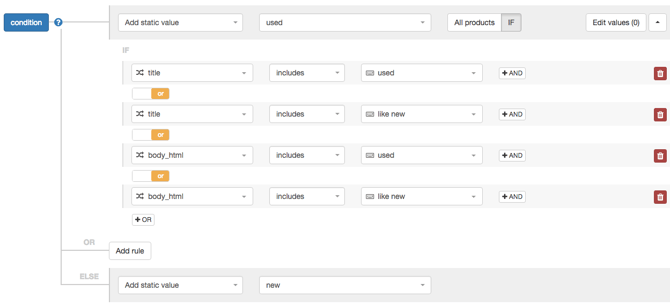 We changed the interface of the ''Field Mapping Template''.

We added a way to fold in all rules, so you can review all your rules at a single glance.

We created more ways to add "and / or" conditions

We implemented the possibility to create multiple conditions to specify a category
---
12. DataFeedWatch And InRiver partnership
Deploying DataFeedWatch with inRiver can lead to higher web search conversion rates. As enterprises enrich their product information, they offer more detailed product descriptions which result in more specific and satisfying search results.
Thank you for your support during a momentous year and we look forward to working with you in 2018.


---