Google Seller Ratings
Google has increased the threshold of required reviews for the Seller Ratings program from 30 up to 150 over a period of time of 12 months.
Also check: 33 Google Seller Ratings and Product Reviews Platforms


CPC Strategy got in touch with Google's Adwords support and the reason for the update was:
"Our tech team found that the historical minimum of 30 reviews was prone to some quality issues. Increasing the threshold of required reviews allows us to have additional data on which to generate Seller Ratings, allowing for more stable scores to be generated. They felt that producing a high quality, stable signal in less places is more beneficial to users."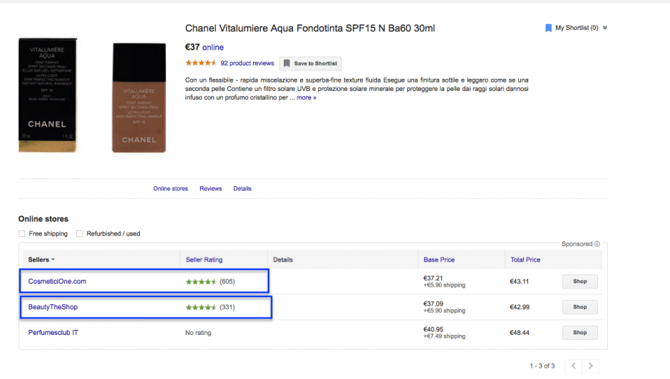 While they didn't say it out loud it was easy to cheat the system and obtain the 30 reviews. Nowadays most decisions on all the services we use and products we buy are based on other buyer's reviews, so it is important to keep them accurate and high quality.
This update will have an impact on the smaller Google Shopping Advertisers, who don't have a high number of transactions and will have a hard time reaching the minimum threshold.
Product Listing Ads are now scrollable
Google has silently rolled out a new change that has a big impact on the way shopping ads show up at the top of the search engine results page on desktops.

Until recently the searchers would see up to 4-6 static ads at the top or on the right-hand side of the page.
Now they can see up to 20 product listing ads for certain product queries. Below the search query ''Dr Marteens Originals'' produced no less than 20 results in the Czech Republic.

It is still up for debate what effect this change will have on the CTRs of the product ads and whether this is going to be beneficial to all retailers or not.
One thing is sure: with more space for the ads to be displayed small-to-mid size merchants have more possibilities to see their ads up next to the ones of the large retailers.
For the shoppers, this is going to bring more relevant options, and overall is going to improve the user experience.
For Google is very easy to get everyone's attention on the slightest change or update, but we agree that keeping abreast with all releases and new functionalities of all the tools we are using in our day to day jobs is a Sisyphean task.
A month ago we listed all the Google Shopping updates that have been released over the course of 2016 for the Shopping advertisers. If you haven't read it yet, make sure to check it so that you won't miss anything that might have an impact on your campaigns.