Consumers increasingly turn to reviews to help them make online purchasing decisions. In fact, 97% of consumers consult product reviews while 85% of consumers seek out negative reviews before making a purchase.
Research has shown seller ratings have the potential to increase conversion rates by as much as 50 percent. Just look at how consumers trust Amazon and increasingly turn to it when buying online which leads to their revenue increasing consistently year-on-year.
On Google Shopping there are two types of ratings: product ratings which apply to individual products and seller ratings which apply to vendors and are crucial for establishing trust with buyers.
---
Related: 33 Google Seller Ratings and Product Reviews Platforms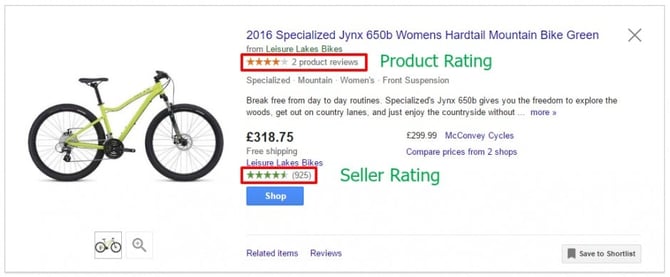 Seller ratings on Google Shopping give buyers an overview of how past customers viewed their experience of buying something from you. They take a split second for a customer to read, and can result in you getting a sale or not.
If you would like to begin establishing trust with customers before they even arrive at your website you should get a better understanding of how seller ratings work on Google Shopping.
Table of Contents
---
What Are Seller Ratings?
Seller ratings are a five-star rating system that Google uses for merchants. It is a rating of your store or business that appear in Google Shopping search results and on product pages in Google Shopping.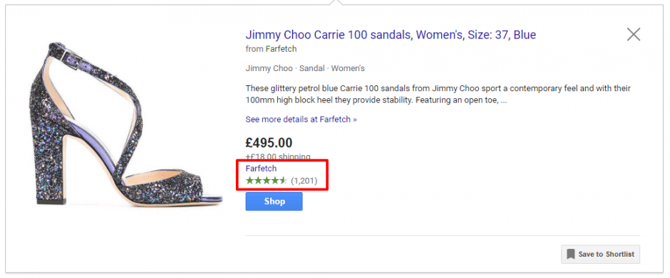 Obviously, listings in Google Shopping search results with a seller rating stand out more than listings that have no rating. Also, listings with a high number of ratings, and listings with high numbers of stars, stand out even more.
Seller ratings also appear on PPC ads when you run AdWords campaigns and AdWords ads that have a seller rating get more clicks too.

Go back to the top or
---
How Seller Ratings Work?
Google aggregates reviews from a number of different sources to come up with the star rating it gives your business. It is not a fixed rating, however. Instead, it changes as new reviews are added and old reviews are removed.
Google has changed the threshold from 30 reviews to at least 150 unique reviews in the past 12 months for your seller rating to appear.
According to Google's Adwords support team the reason for the change was:
"Our tech team found that the historical minimum of 30 reviews was prone to some quality issues. Increasing the threshold of required reviews allows us to have additional data on which to generate Seller Ratings, allowing for more stable scores to be generated. They felt that producing a high quality, stable signal in less places is more beneficial to users."
You also must have an aggregated score across these 150 reviews of at least 3.5 out 5.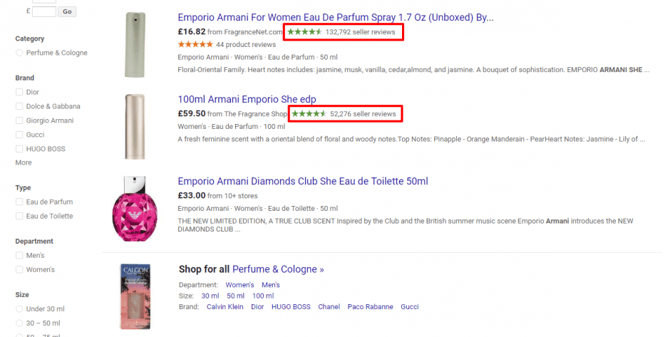 Google Shopping doesn't collect reviews directly, however. Instead, it uses a number of other sources, including Google sources and third-party sources, to get the review data that it then aggregates to come up with your rating. You have to participate in one or more of these review websites so that customers have the opportunity to leave a review. Some are free services, while others charge fees.
The sources where reviews are aggregated from include:
It is important to remember that Google's seller ratings are not updated in real-time. This means it can take some time for a new review to reflect in your rating – up to six weeks.
Go back to the top or
---
The Impact of the Seller Ratings
Omnitail, reported a 107% increase in CTR for the ads with seller ratings as opposed to ads served without them. A product listing ad that showcases seller ratings and product ratings will increase the CTR and as a consequence improve therelevancy of your ads in Google Shopping.

Merchants have a tough time at getting customer reviews, asresearch has shown because only six percent of consumers always leave reviews after making a purchase. This can make it very difficult for small retailers to hit the 150 review minimum required by Google for the display of Seller Ratings.
The best way to optimize your chances of having a seller rating appear on your Google Shopping listings is to be proactive and take steps that will increase the likelihood of receiving customer reviews.
Go back to the top or
---
6 Smart Ways to improve your Seller Ratings for Google
1. Offer a great service
This goes without saying but striving to ensure an excellent experience for your customers is actually the most important ''optimization'' tactic you can work on.
Customer reviews are typically based on service so make sure you deliver on customer expectations: ship your products quickly, don't charge high shipping fees, respond promptly to queries and accurately describe your products.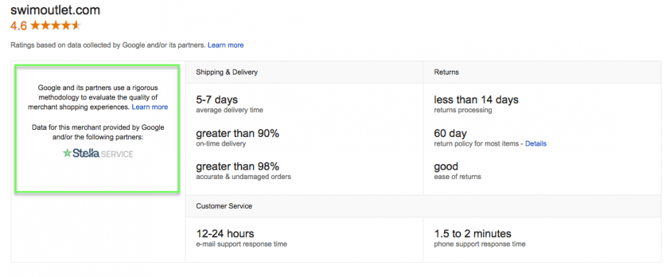 If you want to get some tips from Google on what you could improve even more you can get anevaluation from StellaService.
2. Make sure your merchant data is correct
Having the information in yourGoogle Merchant Centerup-to-date is important because incorrect data can result in reviews not being attributed to your company.
Make sure this information matches the information held on the review source as well. In particular, check the name of your store and the domain name of your website.
3. Respond positively to bad reviews
Bad reviews are never pleasant to read, but you should view them as an opportunity for your business.
You should deal with them by responding to the review and apologizing to the customer for the poor experience. Express your desire to investigate and then ask the customer to make contact via a private method - such as by email.
When responding to the feedback don't include the name of your business or search keywords in your answer.
If you think you have resolved the situation successfully and the customer is now happy, you could ask them to reconsider their review. They might, for example, post an update or a follow-up review.
4. Respond to good reviews
While responding to negative reviews is essential, thanking happy customers for their positive review shows up that you care.
Engage with positive reviewers by thanking them and use in your response the business name, city or relevant search keywords. Invite the customers to repeat the purchase and next time they order again from you add a personal touch to their order.
5. Ask for reviews
It's a well-known fact that customers are more inclined to leave a review after a negative experience and for everycustomer that complains26 customers will remain silent.
The feedback of your satisfied customers is invaluable so why not ask your customers to leave you a review and give them a link to where they can do it? Why sit on a pile of gold and do nothing about it?
The best practices for urging customers to leave a feedback is to send an email to the customer once you have confirmation from the courier that their order is delivered.
This approach can result in up to70 percentof your customers leaving you a review. This will make it much easier for you to reach Google's 150 review minimum.
6. Use Google's product ratings as well
The ultimate goal of the seller rating is to gain visibility and establish trust inGoogle Shopping.
Another way to give even more visibility to your listings in Google Shopping is if you use product ratings.
Product ratings appear on products listed in Google Shopping as well as on shopping ads, and they feature prominently. Listings without them look incomplete and less compelling when displayed beside listings with a rating.
Ideally, you should include all three identifiers in your feed:GTIN, brand, and MPN. In fact, if you don't submit aGTINand one exists for the product, Google mightnot approvethe listing. You also have to submit a review feed to Google at least once a month.
Selling online is competitive. A seller rating is a way for you to remain competitive as it demonstrates to customers that you offer an excellent level of customer service and are an honest and trustworthy merchant. For most consumers, that is more important than getting the cheapest possible price.
Go back to the top or
---
Seller Ratings are All About the Trust
"Customer reviews have changed the way shoppers research, discover and purchase products both online and in-store. Brand-provided information is no longer enough. Today's consumers have come to expect easily accessible information to aid their purchase decisions, and the number of shoppers who rely on information from fellow consumers increases each year," said Matt Moog, chief executive officer, PowerReviews.
Google Shopping Seller Ratings gives buyers quite an overview and may or may not result in a sale. It's better to start building customer trust before they even reach your website. Don't waste your time and money and take the advantages of sharp tips on how to use Google Shopping Ratings.
Go back to the top
---