Data driven online marketing
Like most marketing efforts, online marketing is increasingly becoming data driven. Unfortunately the data that you would like to use is never available with the touch of a button.
However, when you put enough attention to your data integrity, you can enrich your data easily and optimize your online marketing efforts.
DataFeedWatch offers you the possibility to merge numerous feeds together containing product data from different sources or more interesting containing additional information about your products.
---
Optimize bids by margin
There are quite a few sources that you could use to add relevant information to your product data. Let's start with your purchasing data or sales administration system, it contains all information needed to generate information like margin by product or product group.
Enriching the data of your product input feed offers you various ways to optimize your campaign performance.
For example by adding custom labels based on margin categories to your Google feed and use them in your Google Shopping campaigns to set more optimal bids.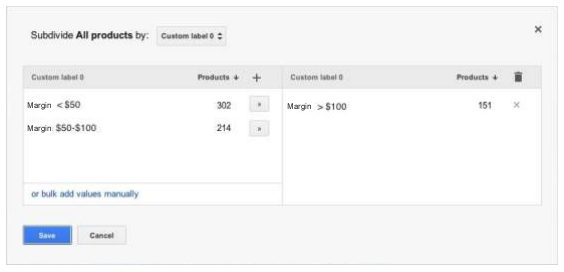 ---
Stock accuracy
The availability of current stock data is essential for successfully operating an eCommerce business. The growing number of marketplaces and other channels selling your products make it even more important to organize your stock data flow.
Merchants often use a Product Information Management system (PIM), ERP or other tool that contains their stock data.
Merging this data with your product data feed and updating your output feeds multiple times a day offers you the ability to instantly stop advertising products with insufficient stock levels and vice versa start selling products that are back in stock.
Stop advertising products that are (nearly) out of stock saves you CPC but more importantly prevents from having disappointed customers.
---
Repricing
Being successful in the hunt for the online consumer is primarily based on offering the right price. Repricing is a very important tool, especially for retailers selling comparable products in a competitive environment.
Merchants often use a third-party tool to monitor and update prices based on current competitor data.
Merging repricer data offers various opportunities. For example, excluding all products that have a price rank > 3 and therefore are not among the 3 cheapest, and include them again when their price rank improves.
Or include all products if competitor A, B or C is out of stock. And if your price-data is coming from the repricer-app instead of directly from your shop, merging enables you to add the most current price data to your feed.
---
Web scraping data
Building data feeds for all kinds of channels and marketplaces sometimes requires data that is not in the input feed from your eCommerce platform but ís available on your website.
By using a web scraping tool you're able to harvest the necessary data and merge it with your product data feed based on a unique identifier. This way your still able to build and optimise the best quality data feeds and be competitive!
Original author: René Bisschop