Table of Contents
---
What is Google Shopping Rank?
For each product in your feed, Price Watch will show you the position of your offer as compared to your competitors selling the same product using the Google Shopping Offer Rank metric. Needless to say, the higher the rank you have the higher the chances of getting more traffic and conversions. First rank is the ultimate goal.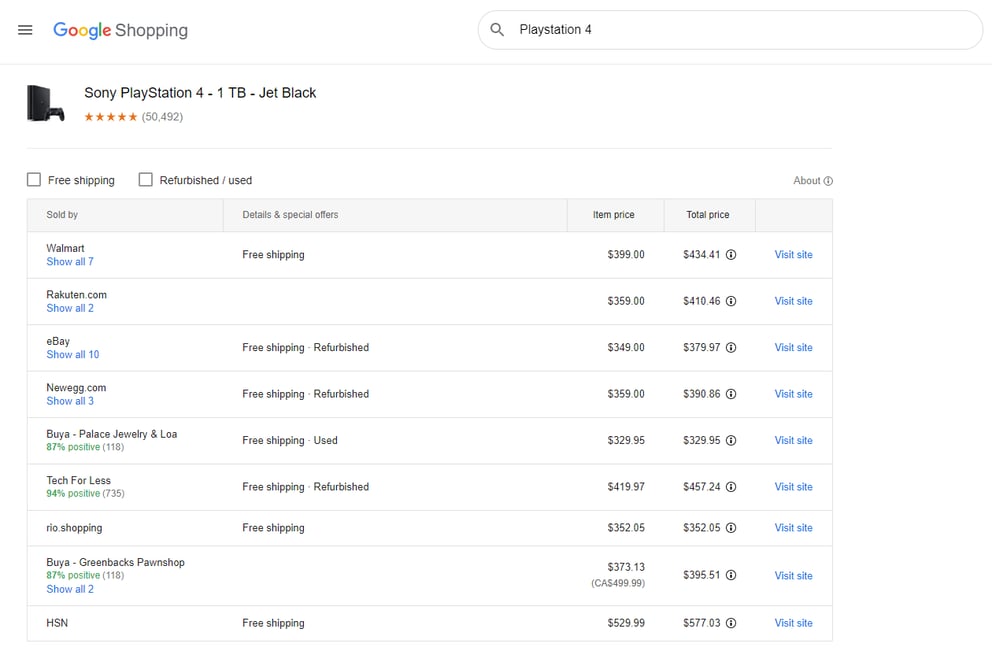 If you're wondering exactly how the Shopping Rank is calculated, you're not alone. Google doesn't exactly tell us, but they do say "a sufficient bid and high-quality product data will earn your ad a higher rank". It's commonly accepted that Offer Price and Max Cost Per Click (CPC) are the biggest deciding factors. The quality of the listing like titles, descriptions, and other aspects are also considered.


Price Watch shows you the total number of offers on Google Shopping for each product in your feed along with your Offer Rank. Let's say you are selling an iPhone X 64GB Black. Price Watch will enable you to see how many other sellers are selling the same product in your region on Google Shopping and what is the position of your offer. Let's say there are 10 other sellers selling the same product and your offer is at 4th position which means your offer is in the top 40% offers.
Return to top of page or Download The Ultimate Google Merchant Center Handbook
---
How to ensure your Google Ads convert into sales
So, how will this information be beneficial to your ads? Start by looking at your listings that rank in first place and create a plan to make sure they stay that way. After that, look at the price difference between you and your nearest competitor. If the prices are too close, try to increase the gap between them. A huge price difference means you might as well increase your price a bit and decrease your Max CPC to get some savings where you can.
Top selling products
Usually, it's the case that the top 20% of the products you're selling are responsible for 80% of your revenue. Since these are the products responsible for the biggest chunk of revenue you earn, it makes sense to spend the majority of your ad budget on them. Try starting with the products that are in your top 3 positions. Work on their pricing first and then move your way down to the products with lower positions.
High margin products
You can afford to spend considerably more with your high margin products because it's where you'll be making more. Again, organize your products in ascending order, beginning with offers that are closer to first position. Work your way down from there.
Low margin products
Low-value products might not contribute much to the top line but they do generate a lot of volume. They can also really help in acquiring new customers. Even if it means taking a hit on the initial transaction or selling it at a loss, that loss will make up for itself by acquiring a new customer. In fact, new Customer Acquisition Costs can actually be much higher than the hit you'd take on a low-value product. In a few cases even if the hit is a bit on the extreme side, you still might be able to justify it based on your Customer Lifetime Value (CLTV).
Products at the very bottom of the offer list
You can find the products at the bottom of your offer list by sorting the Google Offer Rank metric. Since these products are already at the bottom, there is not much you can do about them unless you make some drastic changes in the Pricing or Max CPC. You might also need to fix some other factors in your product feed like the Title, Description or Images if there was something wrong with them. You can even reduce the Max CPC on such products and use the money saved on other products where you have a higher chance of beating your competitors or claim the first rank.
Return to top of page or Download The Ultimate Google Merchant Center Handbook
---
Additional rank-based metrics
Price Watch also gives you other rank-based metrics which can be just as helpful as Offer Rank. Metrics like Number of Offers Above and Number of Offers Below can give you even better insight on where you stand among your competitors. The Google Offer Rank metric, although very valuable, might still be misleading in some cases where very few competitors are selling the same product. If you come in first place for Google Shopping Rank, there's a chance you might be the only one selling the product. That's where combining this metric with Number of Offers comes in handy.

Number of Offers Above simply shows you how many offers are above your offer. Although not displaying the actual position it can still give you an idea how far away you are from the number one spot. This metric provides one more way to attack the same problem and gives you a different perspective to look at the pricing data.


Leverage Manufacturer Prices
Our last metric is Number of Equal Offers. This shows you how many of your competitors are selling the same product for the same price. In many cases, your competitor will try to match your prices. Now you can easily find out and use this metric to work on your pricing strategy to get an edge on them.


An interesting use of this is when the prices are heavily controlled by manufacturers, Apple being the perfect example and they don't provide any room for distributors or retailers to play around with discounts. If you happen to offer similar products whose prices are tightly controlled by the manufacturers you can easily find out through this metric if your competitors are doing the same as in respecting the manufacturer's pricing policies. You will find that many competitors don't actually do the same and offer heavy discounts in which case you can either complain to your distributor or manufacturer and ask for the same leverage that your competitors have.
Return to top of page or Download The Ultimate Google Merchant Center Handbook
---
Conclusion
Now you have a broader idea of Price Watch and how you can use the data to identify your position among your competitors and beat them. You'll be able to use this information to optimize your ads and make sure you're always a step ahead of your competitors.
The fine-tuned Price Watch's final version is already live! Don't hold yourself back! Start with Price Watch 15-Day Free Trial and explore how easily you can keep track of your competitors.
Check Out More Resources on Price-Watch: