Here, we will walk you through the most important elements of Purchases on Google and how to get started with it.
---
What is Purchases on Google?
Google has branded the tool as Purchases on Google but many people refer to it as the Google Buy Button. The buy button appears when people do product-related searches on Android phones or tablets. This is how the process unfolds:
1. Google Shopping Product Listing Ads appear on those searches and if one of the advertisers uses Purchases on Google, its ad will have a "Buy on Google" button.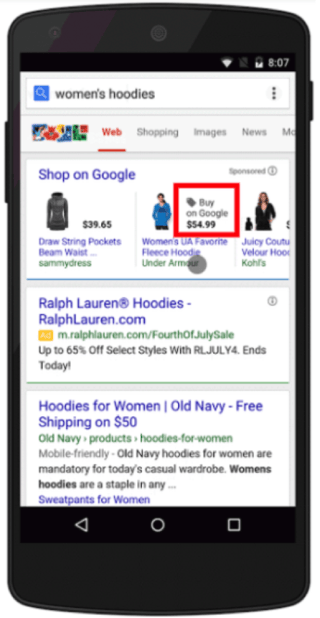 2. When the user clicks on the Buy on Google button they go to a landing page on Google, i.e. not the retailer's website.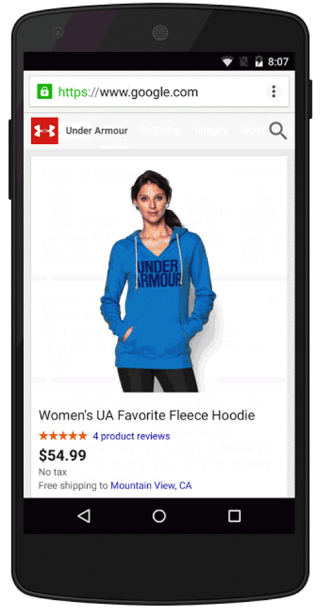 3. The user can add the product to a shopping cart.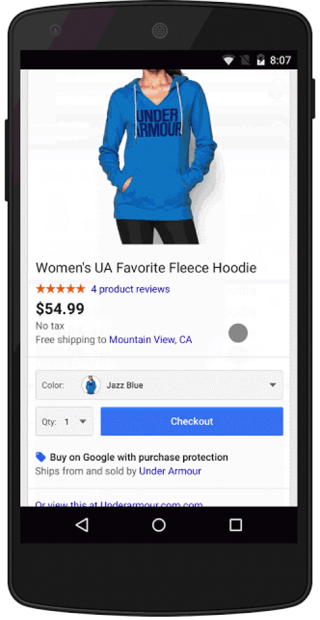 4. They then complete the purchase using Google Wallet, all without ever leaving Google.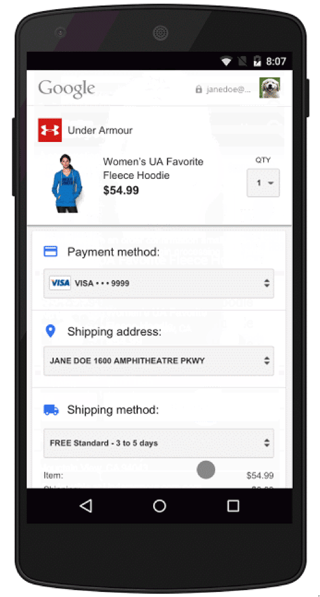 5. The retailer then fulfills the order and is responsible for all communications and interactions with the customer in relation to that order.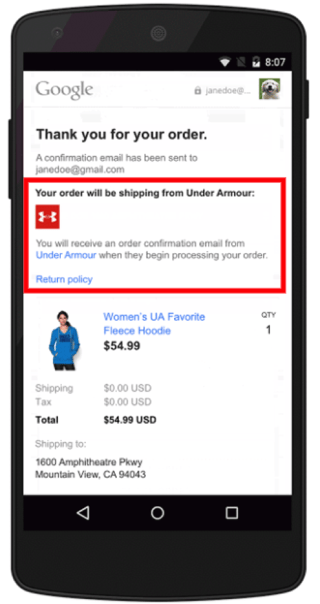 A pilot for Purchases on Google involving brands like Under Armour and UGG launched in July 2015. At the time of the launch, Google said it had analyzed conversion data and found the conversion rates for its Product Listing Ads were 50 percent lower on mobile than desktop.
With the Google Buy Button, Google aimed to increase conversion rates on mobile. Google says its buy button simplifies the process of buying online as the purchaser already has an account with Google and a method of payment.
This is easier than going to a retailer's website and, potentially, creating a new account and/or entering delivery and payment information.
---
The Conditions you Must Meet to use Puchases
In May 2017, Google opened a beta for Purchases on Google. There was no announcement accompanying the launch of the beta. Instead, retailers spotted the option in Google Merchant Center.
The beta is limited to selected retailers, though – i.e. it is only available to US retailers and you must make an application to get access. Only if Google approves your application will you be able to use Purchases on Google.
In addition, you can only use the Google Buy Button on limited product categories.
As with most beta programs, however, Google will use the time in beta to correct any other minor bugs or problems with the tool. It is expected to then extend the availability of Purchases on Google to a wider group of retailers, including retailers outside the US.
---
How to get Started with Purchases?
The only option you have right now to get access to Purchases on Google is to make an application. Google will review your application to decide if you can use the Google Buy Button during the beta period.
You can make the application through your Google Merchant Center account. To find details of how to apply for Purchases on Google, go to the Merchant Center Programs section of Google Merchant Center.
Alternatively, you can complete an online form.
---
What are the Implications for Retailers
At the moment, the implication for retailers is minimal because Google is restricting access to the beta. Once Purchases on Google becomes more widely available, though, the effect on retailers will be more significant.
Firstly, once you qualify to use the buy button, you can choose to add a call to action button to your Google Shopping Product Listing Ad. This should result in more sales.
The downside is that those sales will not bring traffic to your website. Why is this important? Having a tool that can increase conversions on mobile is beneficial, particularly considering the widespread use of mobile devices, but not getting traffic to your website presents challenges.
For example, if a user visits your website via a Google Shopping Product Listing Ad but then doesn't make a purchase, you can use a retargeting campaign to advertise to that user as they use the internet in the future. The same applies if the potential customer puts a product in your shopping cart but doesn't go through with the transaction.
At the moment, you can't do this with Purchases on Google. Google might change this in the future as it has changed other things with the Google Buy Button. For example, in the initial pilot, it was not possible to send marketing messages to customers who buy from you using Purchases on Google. Now, however, customers are automatically opted in to receive marketing and promotional messages from you.
Even though Google made this change, control of what you can and can't do with the customer remains with the search engine, a situation which will always be more restrictive than when you get a customer through your own website.
---
Pros and Cons of Purchases
Purchases on Google should increase mobile conversions which will result in more customers for your business.
The main disadvantage is you don't have much control over the customer to, for example, retarget or send them marketing messages in the future. This is because Google processes the sale creating a situation that is, in reality, no different to selling through Amazon or eBay.
In other words, consumers might start talking about buying products on Google in much the same way as they talk about buying products on Amazon or eBay. This is despite the fact that Amazon, eBay, and, now, Google are facilitators of sales, not the direct sellers. This may have an impact on the visibility of your brand.
Not having control over the customer or transaction is also important because it will be more difficult to get add-on sales or to upsell the customer. These are things you can do if the customer makes the purchase on your website.
Another disadvantage is only a percentage of your potential customer base will see the Google Buy Button on your Product Listing Ads. This is because the user must have an Android device and Google Wallet.
Pam Aungst, believes that due to the fact that the button is new the customers might be reluctant to buying from unfamiliar landing pages and having the credit card information stored in their Google Account.
---
Conclusions
Purchases on Google is still likely to be a game changer.
According to John Lincoln, Co-founder and CEO at Ignite Visibility, Google Buy Button is a direct shot at Amazon and,
It's also going to eat into Amazon's market share, because people love the convenience of one-stop shopping. If they can find what they need on Google, evaluate it, and buy it without hopping around from website to website, they're going to do that.
While all the disadvantages above are significant, you must look at them in the context of getting more sales, i.e. you might not have complete control over the data of a customer you get through Purchases on Google but without the Google Buy Button, you might not win the customer at all.
For this reason, Purchases on Google presents exciting opportunities for retailers and is something you should test – when you can get access to it, of course.