You don't work with Phillip Kunz, and you didn't go to school with him—he is a complete stranger. In 1976, hundreds of people received cards like this from Kunz when he carried out an experiment to see who would reply to his randomly sent cards. And to his surprise, he was flooded with mail from people who didn't care who he was and didn't want to get to know him. They just responded to his action with a reciprocal one.
Reciprocity can go both ways. If you are hostile to someone, they will often be far more hostile in return. But if you are friendly and show kindness, then they will frequently feel compelled to return the kindness and reward you for your actions.
Want to learn how to persuade (in a good way) people into buying your products and generate client loyalty? If so, you need to harness the power of reciprocity.
Back to The Top or
---
The Psychology Behind Reciprocity Marketing
Successful marketing involves understanding the way animals—your customers— behave. In evolutionary terms, reciprocity is essential for survival.
Cleaner fish swim beside bigger fish to clean their hosts. The bigger fish's sense of indebtedness means the little one can leave without being eaten. Understanding the ways in which indebtedness can turn a potential customer into an actual customer will undoubtedly make your eCommerce business more successful.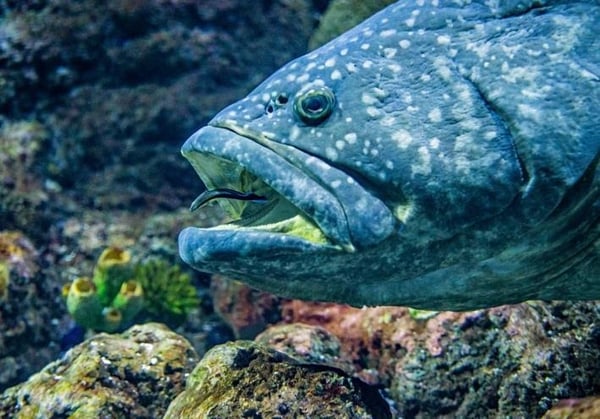 Just like the big fish, if a customer feels indebted towards you, then your requests (products or services for sale) are more likely to be rewarded (purchased).
For example, giving a customer a gift creates a social obligation, and whoever receives the gift feels compelled to return the favor. Offering a customer a carrot when they land on any one of the marketplaces you are listed on, will immediately make them engage and far more likely to buy.
Now, carrots come in different shapes, sizes, and even colors! And the type of reciprocity you choose for your eCommerce business will also be unique depending on the product or service you offer as well as the individual customer.
Here are six ways you could influence customers into buying your products and maintain a long-lasting relationship with them. Every method is illustrated with a real-life case—when a company has embraced reciprocity.
Back to The Top or
---
1. Be the first to give
From the moment a potential customer engages with your platform, you want to trigger their sense of indebtedness.
Make sure you give them something that they value, like a free eBook or free training sessions or webinars, that separates you from the competition. This initial act of kindness will disarm them, put them in a cooperative frame of mind, and may turn a browser into a customer. The gift is not an act of charity. What you are really buying is people's attention.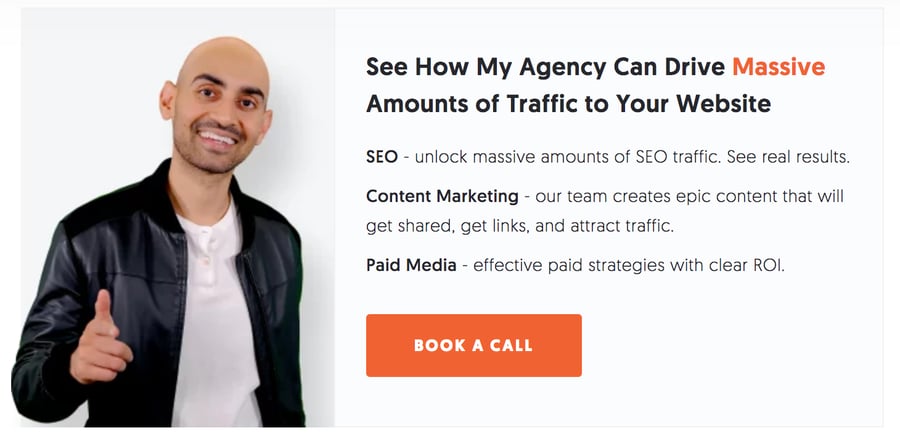 Case: This free consultation offered by Neil Patel gives people the chance to speak with a marketing professional to unlock massive amounts of SEO traffic AND create epic content.
How could anyone not be tempted to book a call with an industry leader via online conferencing? What is online conferencing? It's just another tool he uses to connect with his customers. He gives so much that it's hard to take advantage of his kindness without giving anything back. That's the idea, anyway.
Back to The Top or
---
2. Make your customers feel special
Who doesn't like feeling special? Bespoke treatment makes us feel as if we are important and valued. Rewarding a customer for their purchase is a great idea. But how much more special would the customer feel if they could choose their reward?
Allowing your customer to make autonomous decisions demonstrates you value them and want them to feel special. You don't just want their money; you want them as a customer.
But why stop there? You can also make the customer feel special when they receive their product by sending a personalized, handwritten note. This will set you apart from the companies that anonymously dispatch products.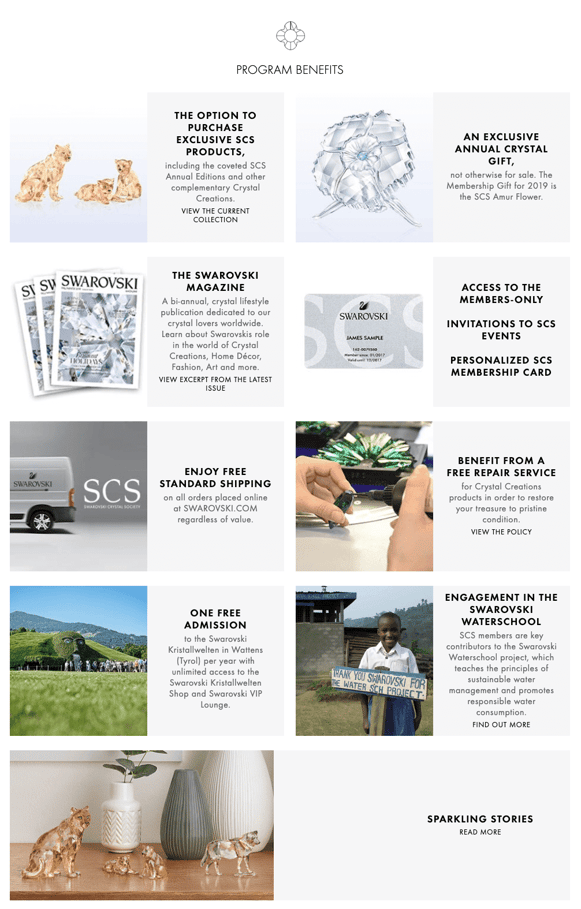 Case: Swarovski screams luxury, and luxury and feeling special are a perfect match, so they created the Crystal Society.
There are two tiers of membership—paid and free—but the idea is the same. The more you spend, the greater the rewards. Swarovski offers its members a range of extremely unique experimental rewards that they are free to choose based on their unique preferences.
Back to The Top or
---
3. Whatever you give – make it memorable
In addition to leveraging useful tools such as sales funnel software, making your brand memorable will give you infinite possibilities to increase sales.
People will only buy things from a brand they remember. This means that when you give them something, it should be valuable rather than cheap. People forget cheap.
Case: Have you ever heard of the slogan "it melts in your mouth - not in your hand"? This is the long-standing unique selling proposition of M&M's, which was revolutionary back in the 40's, especially when it started being consumed heavily by the United States military. The candy is now one of the most widely-known and best-selling chocolate treats.
Back to The Top or
---
4. Help your customer outside your business
To maximize the success of your online selling, customers need to be engaged—even when they're not thinking about your brand. Your task is to engage them and to not let them forget you. If someone has a reason to remember you, they are likely to first become a customer and then keep coming back.
Offering people free help is both altruistic and a method of engaging people. If you have an online bike store, posting free tutorials on YouTube about how to clean the chain and change the pedals will help the customer at no extra expense for you.
And, the next time they want to buy a bike, they might just think of you. But don't stop there—offer your customer post-sale help. Using call center software or providing information on how to do a three way call between your company, the customer, and the manufacturer can support this process.
Free help will also build a long-term relationship between you and your customer. They know they can rely on you, and they also know where you are when they want to make their next purchase.
The added benefit, for you, is that your brand can position itself as an expert, which will make customers feel more comfortable. Additionally, why not ask them to like your Facebook page and sign up to your newsletter. The customer gets something for free while you can target free marketing at your ever-growing client base.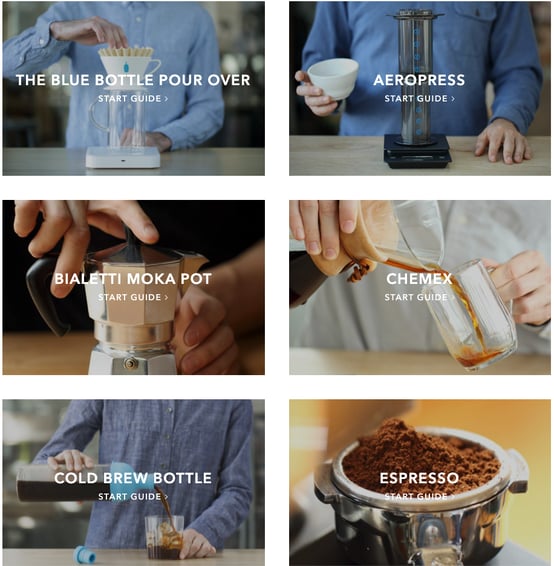 Case: Blue Bottle Coffee doesn't just sell you coffee, it provides you with a step-by-step guide, detailed background, video tutorial, and support email ready to answer any questions a coffee novice may have.
Even if you never buy their coffee, they will help you to find the best way to prepare yours. After having learnt how to make the perfect Espresso, Blue Bottle might just be the name that comes to mind when you think about signing up for that coffee subscription.
Back to The Top or
---
5. Keep the relationship alive
We've all experienced it before. The sale that ends when you pay. This guarantees the customer will forget about your brand almost instantly.
A loyal customer is one who feels remembered and like a partner in an equal relationship. Sending a previous customer a directly targeted email will remind them of you—and you can offer them the latest promotions.
Pre-empting customers who reach out to your brand is advantageous and can be helped with the use of a call router. Moreover, offering customers a reward for recommending friends and family is an incentive for them and a chance for you to increase your revenue.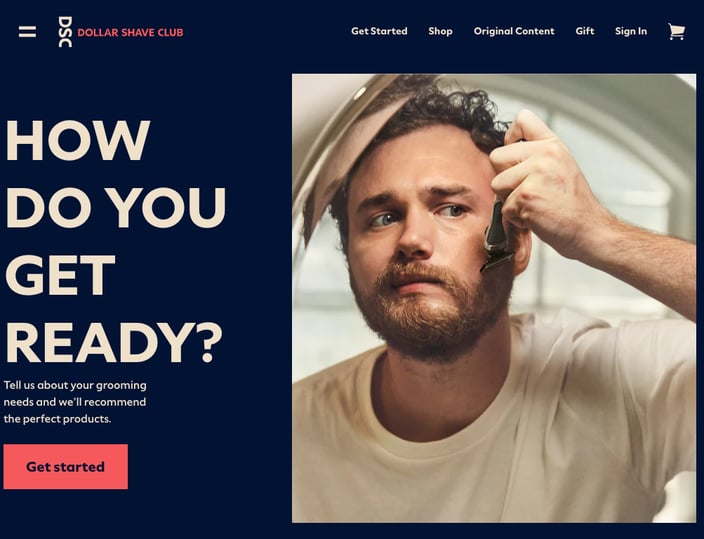 Case: Dollar Shave Club gives customers more than a memorable shave. The company's website hosts a blog that promotes relationships between customers, the company, and the wider community.
Each week, the blog offers a different member the opportunity to share something unique with readers—a personal story or a plug for their business. The content of the blog is irrelevant, and it is almost never related to shaving. But Dollar Shave Club has found a way to form a community and keep relationships alive.
Back to The Top or
---
6. Finally – let customers show their support
Creativity is key with this one. If your product is good and you have a solid relationship with your customer, then make it easy for them to help you.
They could rate your brand online. They could write a sparkling review. They could like your social media pages. Managing a call center team that lets customers know how they can help could be a step in the right direction. The options are endless, but always give them the opportunity to help.
Back to The Top or
---
Conclusion
Reciprocity is undoubtedly a powerful tool for your business. Give someone something they never asked for, and they might just become your customer. And if you use all the reciprocity tools at your disposal, that customer could turn into a long-term, loyal customer who feels like they belong to your community—and then invite their friends along.
How you harness reciprocity depends on your product and service. But whatever your business, if you use it in the right way, you will be just like Phillip Kunz—except it will always be Christmas.