A few examples:
- Seasonal products
- Unavailable products
- Products with a low price (CPA will exceed gross margin)
- Unprofitable products
- Some products do well on one channel and not on another
At DataFeedWatch we offer 2 ways to remove products from your feed: rules based and individual products.
---
1. Make Rules to Exclude Shopping Feed Products
Go to the In/Exclude products tab at the top of the page.
Create exclude rules based on any input field: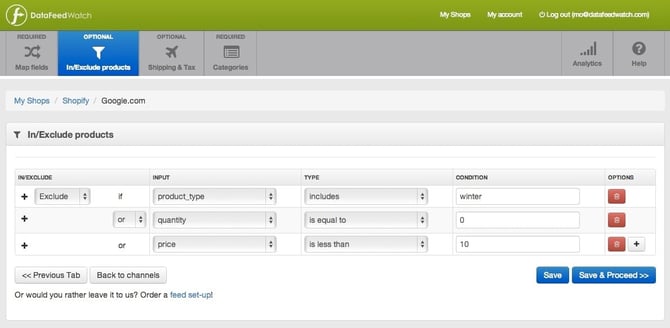 ---
2. Find and Exclude individual products
If you have Analytics you can see all your products for each channel.
You can sort them (click the column header) or create a subset of products by using a Filter:

Tick the box of every product that you would like to exclude and then click 'pause selected products' from the Pause/Unpause button above the products table.