What is OnBuy?
OnBuy is a British-born marketplace on a mission to change online retail for the better, providing a simple and transparent sales platform that connects every seller with millions of customers.
Founded in 2016 by CEO Cas Paton, OnBuy has a simple vision: To be the best choice for every customer, everywhere. Unlike other giants in this sector, OnBuy doesn't stock its own products - every pound spent on OnBuy is a pound of turnover for its sellers, something the brand is extremely proud of.
Trusted by over six million UK consumers and world-leading brands, OnBuy is a real British success story, recently ranked as Europe's fastest-growing eCommerce business, having achieved a remarkable growth rate of 3402% since 2018.
As the first marketplace to offer instant Cashback on every product across its site, with a variety of flexible payment options, including Klarna and Clearpay, it pays OnBuy it!
With competitive fees, hands-on support, and no threat of competition from the marketplace itself, OnBuy provides a platform that allows sellers to thrive.
Where is OnBuy based?
OnBuy, a rapidly expanding online marketplace, is headquartered in Bournemouth, a lively and dynamic city on the south coast of England. The company's state-of-the-art head office serves as a hub for its talented team, who are committed to fostering innovation in the tech scene. Known for its vibrant nightlife and miles of golden beaches, Bournemouth, often referred to as the 'Silicon Beach', is fast emerging as a leading tech and digital hub in the UK. OnBuy's strategic presence in Bournemouth not only reflects its commitment to this burgeoning tech scene but also plays a significant role in its ongoing growth and success.
Is onbuy.com safe?
OnBuy.com, as an emerging contender in the online retail space, has made significant strides in establishing its credibility and reliability. A wealth of user reviews on Trustpilot, a leading consumer review site, attests to this. With an impressive score of 4.6 out of 5 based on over 21,000 reviews, customers commonly praise the platform for its comprehensive product range, competitive pricing, and excellent customer service, reinforcing the safety and trustworthiness of OnBuy.com.
OnBuy.com appears to be a legitimate and safe platform where buyers are protected under PayPal's robust protection policy. This ensures that users can confidently shop, knowing their purchases are secured. The review also emphasizes the platform's commitment to customer satisfaction, with a high rating for their responsiveness and problem-solving capabilities. So, as per the available data and reviews, it is safe to say that OnBuy.com is a trustworthy and safe online marketplace.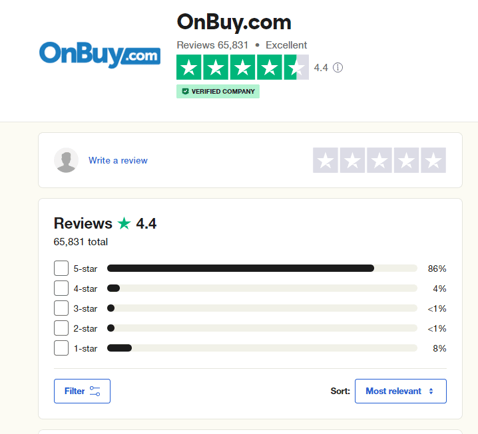 OnBuy review on Trustpilot | Trustpilot
Back to The Top or
---
What You Need to Know to Sell on OnBuy
OnBuy has been designed to help maximize retailer success. This means that the site is easy to get to grips with, both for those who are selling online for the first time and those who have had previous experience with other marketplaces.
With support from a dedicated, UK-based team, OnBuy focuses its efforts on growing your sales.
To start your registration and create an account, you'll need:
Products to sell!
GTINs for your products (unless they're not typically barcoded)
50 reviews from genuine public sources
A UK bank account, WorldFirst, or Payoneer account
Business registration information
UK VAT registration

OnBuy seller requirements
To become a seller on OnBuy.com, there are specific requirements that one needs to meet. Initially, prospective sellers need to create an account, providing crucial business information such as VAT number and bank details. The platform places high priority on integrity; hence sellers are expected to adhere to OnBuy's Seller Standards, which ensure a consistent and high-quality shopping experience for customers. Furthermore, sellers are required to meet the following requirements:
Sales Record: Sellers need an established online sales presence, with your company name matching that on OnBuy, and at least 50 positive reviews (4.5/5 stars or more) from the past year on public platforms.
GTINs: Products listed must have GTINs (EAN/UPC/ISBN), unless they are exempt (like jewelry, car parts, or private label goods with seller's UK registered trademark).
Payment Options: Sellers must have either a UK bank account or a Payoneer or WorldFirst account.
Business Registration: You need to register your business and provide the necessary documents. UK Sole Traders can provide proof of registration with HRMC for Self-Assessment.
UK VAT registration: If your business is in the UK or outside the UK, you must provide your UK VAT registration number.
Return Address: Provide a UK returns address or cover overseas return costs. A 30-day full refund policy is required as standard, with up to 180-day returns for faulty goods.
Product Compliance: Products listed should not violate the Prohibited Products Policy or infringe upon intellectual property rights.
Back to The Top or
---
What Kind of Businesses Sell on OnBuy?
OnBuy works with businesses of all sizes – from world-leading brands to smaller, independent retailers. Customers can enjoy a one-stop shopping destination they can trust to deliver value and convenience, with thousands of verified online retailers offering competitive prices and flexible delivery options across a broad range of sectors, including:
Home, Garden & Pets
Electronics & Technology
Health & Beauty
Tools & DIY
Toys & Games

OnBuy maintains strict guidelines when it comes to the listing of products to ensure the safety and legality of all transactions on its platform. Based on their prohibited products policy, items that are forbidden include but are not limited to illegal drugs and drug paraphernalia, firearms, weapons, and related items, adult-only content, counterfeit currency and stamps, stolen property, and products that infringe upon intellectual property rights. The platform is committed to creating a secure and trustworthy environment for both buyers and sellers. For a comprehensive understanding, sellers are encouraged to review the Prohibited Products Policy on the OnBuy website
.
Is OnBuy secondhand?
OnBuy.com provides a unique opportunity for its users to buy and sell secondhand products through their platform. The 'New and Used' section acts as an online marketplace for users to find an array of pre-owned or used items. It serves as an excellent platform for people looking to buy products at a lower cost or those wanting to sell their used items. Whether it's electronics, books, or furniture, OnBuy.com ensures that the items sold on its platform meet quality standards, providing a secure and trustworthy environment for transactions. This feature not only contributes to the circular economy but also makes shopping more affordable and sustainable.
---
How Much Does It Cost to Sell on OnBuy?
OnBuy's goal is to make it as easy as possible for sellers to reach millions of new customers and grow their sales. That includes making their pricing transparent and easy to understand.
Giving every seller the freedom to choose what works best for their business, the marketplace offers two flexible account packages:
Standard, which is £19.00 plus VAT per month,

Partner, which is £39.00 plus VAT per month.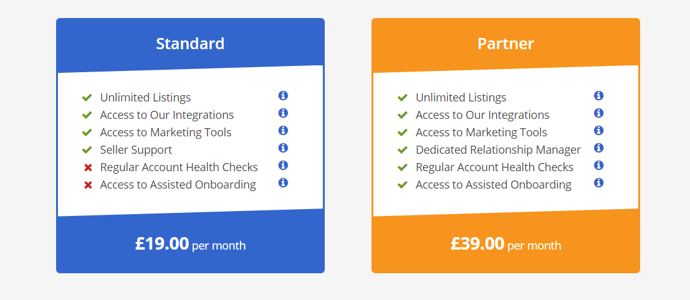 Sales fees are then charged on the total price of a product, including delivery charges. Unlike other marketplaces, OnBuy doesn't charge a separate transaction cost. Its sales fees vary depending on the categories your products belong to.
You can find out more about OnBuy's fees here.
---
Joining OnBuy - What to expect?
Once you've registered and verified your business, you'll be able to access your Seller Control Panel, where you can easily list your products, access OnBuy's powerful marketing tools, connect with your favorite integrations, view messages, and lots more!
You'll also be able to access the platform's handy Knowledgebase, which houses lots of information on everything you need to know about selling with OnBuy.
Adding your product catalog to OnBuy
OnBuy divides its millions of products into categories, using a catalog system. This means that multiple sellers can list against the same product, unless your item isn't currently shown onsite.
In these instances, you can easily create new listings as required using OnBuy's Product Wizard. This template gives you complete control over your item's descriptive copy, imagery, and technical details.
When creating your product pages, it's best to think about what will help customers find your items more easily. Try to give them the smoothest experience possible by making your listings clear, concise, and easy to understand.

You'll see that OnBuy's systems are very adaptive, and that includes the ability to easily bring onboard the advantages offered by DataFeedWatch.
This speeds up the listing process, leveraging DataFeedWatch's capabilities in creating rich content that matches OnBuy's product templates and promotes the information most likely to convert your buyers.
---
6 Best Practices to Maximize Sales on OnBuy
Getting up to speed to sell on OnBuy is one thing, but making the most of what the marketplace can offer is another. Luckily, a few tips are all it takes to give you shortcuts to success when you sell on OnBuy.
1. Always set competitive prices
Competitive pricing has never been more important! Stand out by offering the best deals, and make sure you're not charging more on OnBuy than on other platforms.
2. Deliver in quick time
Shoppers are more likely to choose you if you offer efficient delivery. Choose your quickest possible delivery option and always deliver on time to keep customers happy!
3. Maintain a healthy account
OnBuy tracks the performance of its sellers to make sure they're providing the best service possible. When you deliver a consistently 'Good' standard of service in all areas, you'll become an OnBuy Elite Seller. This unlocks lead listing advantage and you'll be rewarded with a seller badge, which lets customers know that you're a trusted retailer, making them more likely to shop with you over a competitor.
4. Fund your business growth
Did you know that sellers who utilize financing grow faster, on average, than those who don't? Thanks to OnBuy's partnership with YouLend, you can do the same! Depending on eligibility, you could apply for financing up to £1,000,000 to use for any business purpose and pay back as you earn.
5. Supercharge your success with Boost!
Reach more customers and grow your sales faster with Boost, enhanced performance marketing from OnBuy! With five Levels to choose from, you're in complete control of how much you enhance your product promotion, and it's completely risk-free – you only pay when you make a sale!
Getting up to speed to sell on OnBuy is one thing, but making the most of what the marketplace can offer is another. Luckily, a few tips are all it takes to give you shortcuts to success when you sell on OnBuy.

6. Reach more customers with Engage
OnBuy Engage puts your products directly into the inboxes of up to 3 million eager shoppers looking to make their next purchase. With market-leading engagement metrics and explosive 925% YoY growth, the incremental opportunity is huge!
Back to The Top or
---
Is it worth selling on Onbuy?
OnBuy has swiftly positioned itself as a viable and profitable marketplace for sellers due to its robust and transparent operational model. It offers a competitive fee structure, an easy-to-use platform, and a growing customer base.
Sellers also benefit from the marketplace's dedication to ensuring fair competition, as OnBuy itself does not sell products, thereby reducing direct competition between the marketplace and its sellers. They offer various subscription plans tailored to sellers' individual needs and growth projections, catering to businesses of different sizes.
OnBuy also provides comprehensive seller support and allows seamless integration with existing eCommerce systems, making the transition to their platform smooth. The potential for growth, the supportive environment, and a commitment to maintaining a secure, efficient, and customer-centric marketplace make selling on OnBuy a worthwhile consideration for businesses.
Summary
OnBuy's status as the fastest-growing marketplace in the world hasn't happened accidentally. This is a viable, dependable platform that has evolved fast to meet the needs of an eCommerce community that was eager for a differentiated marketplace model.
By sustaining high levels of customer service - while ensuring businesses that sell on OnBuy do so with support and resources that help them to grow - OnBuy presents a new frontier for many businesses looking to increase their revenue streams and global presence.
In just over four years, OnBuy has gone from an eCommerce challenger brand to a major player in the industry. Anyone looking to sell on OnBuy is advised to act fast - getting ahead of the curve as the marketplace goes global means that smart sellers will be well-established worldwide as OnBuy continues to expand.
Setting up at speed and scale is made that much easier with DataFeedWatch - feel free to explore the solutions open to you when looking to sell on OnBuy, helping you find the best advantages to get up to speed fast on this exciting eCommerce platform.
Ready to get started with selling on OnBuy.com? Get started here.