Book an expert feed consultation [FREE]
---
About Boatflex
Boatflex is a peer-to-peer platform where boat-owner can put up their boats and people can go rent it through their platform.
It is now going into its third year as a service and is currently operating in the northern side of Europe such as in Denmark, Sweden, Norway and are also expanding into the UK. One of the main issues when it comes to advertising is that it can be somewhat difficult to make dynamic targeting on platforms such as Facebook and Google, for which strict rules apply as to how it should be structured.
Hotels and like-minded rental services have usually been the use-case for advertisers such as hotels.com so it was quite new to get the boat-rental service onto Google and had to be customized.
---
Facebook Campaigns
Over several years we have worked with Facebook campaigns, we found that there are 3 crucial factors to consider when building a successful campaign:


1. Dynamic features:
When building scalable marketing strategies for clients you need to think about how you can make it feel like a tailored ad to each person browsing Google or Facebook - the more tailored you can make it by making use of dynamic content based on their historical data the better.


2. Rules for up- and downscaling:
One of the most underappreciated features on Facebook (and Google as well) is to make use of rules. By applying rules to your campaigns/ad sets and ads you can automatically scale up great performing ad sets and down-scale the bad performing ones.
Here are two of our most used rules:
If an ad set meets your CPA goal then increase the budget by 20%
If an ad set exceeds your CPA goal then decrease the budget by 15%
By applying those 2 rules you can automatically scale up/down on all your ad sets and find the sweet spot for every target audience.


3. Customer Journey:
People usually don't buy right off of seeing your ad for the first time - you have to take them on a journey to create awareness and trust. We usually recommend mapping out a customer journey like this:
Early-stage: At an early stage, your main objective should be maximizing engagement and building awareness.
Mid-stage: At the mid-stage, you should focus on building trust and get as much information as possible this could be blog-posts, social selling such as reviews and customer testimonials and whitepapers.
Late-stage: Here is where intelligent shopping and dynamic ads come in-handy. Now we can start serving dynamically created content so each potential customer feels that the ads are tailored to their needs.
Back to top or Book an expert feed consultation [FREE]
---
The Problem
Doing intelligent shopping ads on Facebook and creating smart dynamic copy and images to increase ROAS.
---
The Solution
The first step we took was to upload the data into DataFeedWatch and started mapping out all the required fields and make sure they were correctly set up.
The original feed file contained the entire selection of boats, regardless of availability for a given period, which led to wasting advertising budget on displaying ads for boats that were not always possible to rent and even frustrated boat-renters.

We leveraged DataFeedWatch functionalities to label the unavailable boats and only display boats that are available at the exact time, using the "availability" field to determine which boats to include in our ads.
We even translated the boat-types into each country Boatflex is available in such as Denmark, Sweden, Norway, and the UK. As seen in the screenshot below, we added in a custom label for each country, and then translated the boat types. By serving hyper-relevant and local ads we ensured the customer gets the best results possible.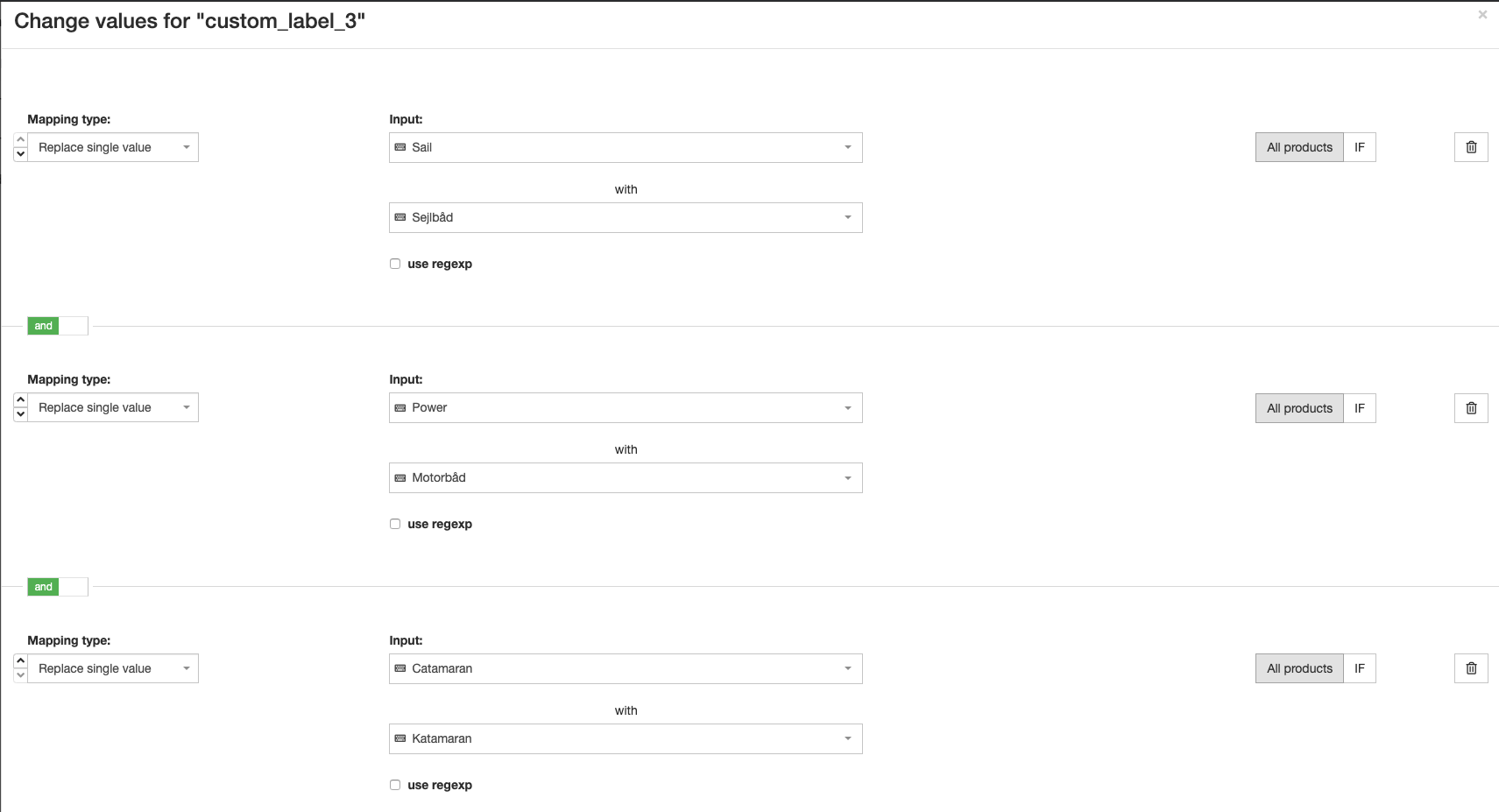 Now that the feed is created and all ready to go, we simply went onto creating a Facebook Product Catalog and added in the DataFeedWatch feed we just created (Tip: do a daily fetch of the feed if you have "in stock" / "out of stock" features). Next up is to create the actual dynamic ads and this is the result: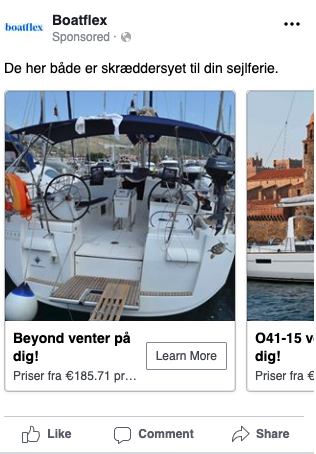 Back to top or Download the Complete Guide to Data Feed Optimization
---
The Result

By being able to tailor the ads increased Boatflex' ROAS by 500% on the paid advertising channels (Facebook Ads). We even lowered the spend drastically and increased the conversion value as well.

With DataFeedWatch we can manage our customers' feeds with very little to no help at all from our development team, which gives them the space to work on other exciting projects that create value for our clients. We can recommend DataFeedWatch for anyone who wants to optimize their campaigns on Facebook and Google.