That adds up to 3.5 million online shoppers in the country. In addition, eCommerce sales in Denmark were worth €15.5 billion in 2017. This is up from €13.5 billion in 2016, an increase of 15 percent.
Consumer Behaviour in Denmark
Fashion is the most popular eCommerce purchase in Denmark with "Clothing, footwear & jewellery" being the number one category. This applies to both sales revenues and volume of purchases. Other popular categories include "IT, telecom & camera's" and "home & garden, flowers/plants".
You can see the popularity of online fashion retailers in Denmark when you look at the most popular websites – top of the list is the German fashion retailer Zalando.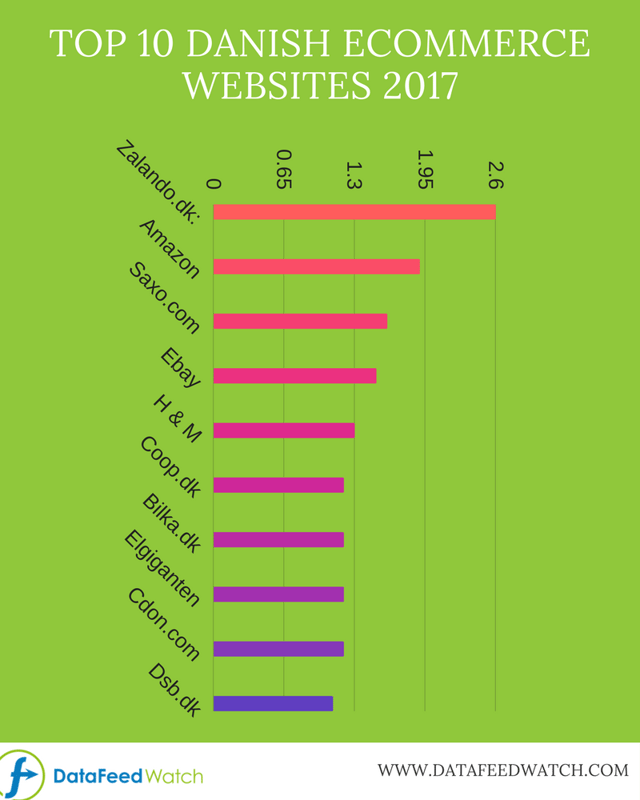 Another important factor to understand eCommerce in Denmark is the importance of mobile phones. In fact, Denmark has the highest penetration of smartphones in the world – 77 percent of the population use a smartphone.
It is not surprising, therefore, that 99 percent of the country's main online retailers have either an app or a mobile optimised website – 80 percent have both.
When it comes to paying for online purchases, Danes prefer using debit cards, particularly the Dankort debit card which is the national debit card of Denmark.
Danes don't just purchase from websites with Danish operations, however. In 2017, 32 percent of people in Denmark who shop online bought from foreign websites. The most popular foreign countries for online shopping in Denmark are the UK, Germany, the US, China, and Sweden.
Price is the most commonly cited reason for online shoppers making purchases abroad, although availability and choice are also factors.
Ecommerce Trends
Experts predict that key eCommerce metrics in Denmark will continue on their upward curve, even though the country starts from a very high point. For example, the number of online shoppers is expected to grow from 3.5 million in 2017 to 3.85 million in 2021, an increase of 350,000.
Crucially, the spend per online shopper per year is also expected to grow. Given that almost all Danes already buy online, this is an important figure. The growth is expected to go from US$1,524 per online shopper per year in 2018 to US$1,819 in 2021. That is an increase of almost 20 percent.
So, from a strong starting point, the future of eCommerce in Denmark is positive.
Recommended Shopping Channels in Denmark
You're a savvy merchant and you are probably already advertising your products on Google Shopping and Facebook Ads. But there is much more market potential to tap into.
Are you wondering what are some of the best shopping channels for online retailers in Denmark?
Pricerunner

PriceRunner
is a leading shopping comparison site in Sweden, Denmark, France, Germany and Austria.
Products can be listed on Pricerunner under two types of categories: price comparison categories and shopping categories. Each category has its own characteristics.
Price Comparison categories:
Merchant's products are matched to Pricerunner's product database using the data provided in the feed;
The merchant doesn't have control over which product specifications or images are shown, because they are picked from from Pricerunner's database;
The lowest price is always listed first.
Shopping categories:
Merchant's category names are mapped to one of Pricerunner's categories;

The retailer has more control over the listing since he can decide what information and images will be shown for the products;

The listing order is based on popularity and what CPC the retailer is paying.
Requirements for Merchants:
Merchants need to have at least 200 products in their inventory;

The products listed must all be in new condition;

It is recommended that you advertise more than 80% of your inventory on Pricerunner;

All the product feeds on our site are updated on Pricerunner between midnight and 4am each night.
You can check their product feed specifications plus all the recommendations here.
Partner Ads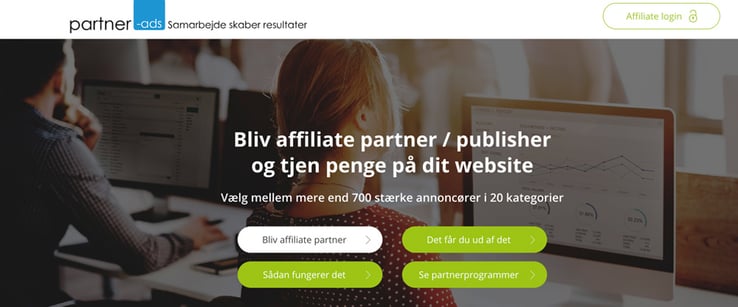 Partner ads is a Danish affiliate network active since 2002. They have over 2000 affiliate partners in their focus markets: Denmark, Sweden and Norway.

You may also find interesting:
Merchants can start adversting on Partner ads by uploading their product feeds to Partner-ads in a XML format and it must contain the following fields:
Product: <produkt>
Category name: <kategorinavn>
Brand:
<brand>
Product id:
<produktid>
Ean:
<ean>
Product name:
<produktnavn>
Product description: <
produktbeskrivelse>
Price:
<pris>
Old price:
<gammelpris>
Image url:
<billedurl>
Item url:
<vareurl>
Inventory number:
<lagerantal>
Delivery:
<leveringstid>
Shipping:
<fragtomk>
Size:
<size>
Color:
<color>
Gender:
<gender>

For more information on their requirements check their feed specifications.
Pricerunner and Partner Ads are our top recommendations for channels to advertise your products on in Denmark. If you'd like us to cover other channels or markets just leave us a comment down below.
Also, if you want to see the complete list of channels we support in Denmark, visit our channels page.
If you are an online merchant trying to tap into Denmark's full potential and you have found this post useful, then you'll probably find our article on how to best leverage omnichannel for retail useful Download it and diversify your presence online.
You may also find interesting: