Shopify
is one of the most popular website building platforms for eCommerce. From small eCommerce businesses to large brick and mortar retailers looking to go online or scale, it offers a powerful, all-in-one solution to successfully launch, operate and grow your digital store.
Online shopping has become especially relevant during current times as COVID-19 lockdowns forced retailers to shut doors globally.
eCommerce was experiencing high growth already prior to the COVID-19 crisis, but this was accelerated even further by the pandemic. Online sales saw growth rates of 27% YoY overall for 2020.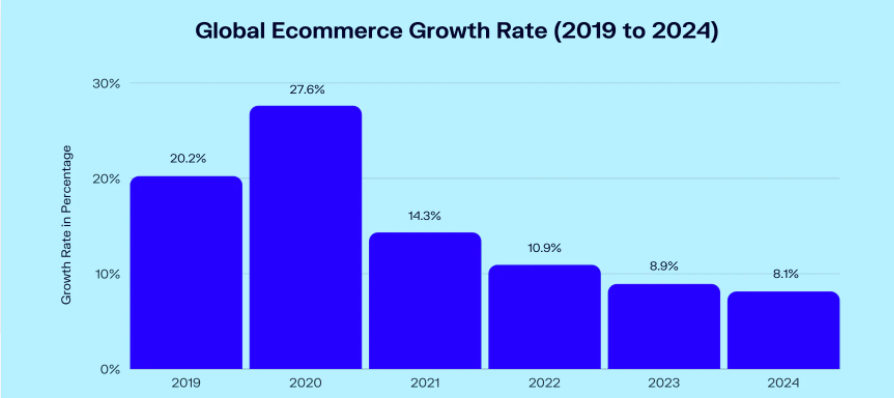 Even after the pandemic, retailers are expecting thousands of store closures as shoppers are reluctant to return to stores and will continue to shop online.
This is where Shopify comes into play for many retailers - to help with their online businesses. Shopify also offers a more extensive version for larger businesses with Shopify Plus. This plan was helpful for large enterprises with physical store networks that were suddenly forced to launch online operations.
For example, with Shopify Plus, Heinz U.K. was able to launch their Direct-to-Consumer online store with no prior eCommerce presence in just one week, making their products available also to vulnerable customers who couldn't visit physical stores.
In this article, we will discuss the differences between Shopify and Shopify Plus, their pricing structures, and the main advantages of Shopify Plus.
Back to The Top or
---
What is Shopify and Shopify Plus?
Shopify is known worldwide as one of the easiest ways to set-up and manage your eCommerce shop. It can be for both growing businesses that are already online or businesses that are still completely new to eCommerce.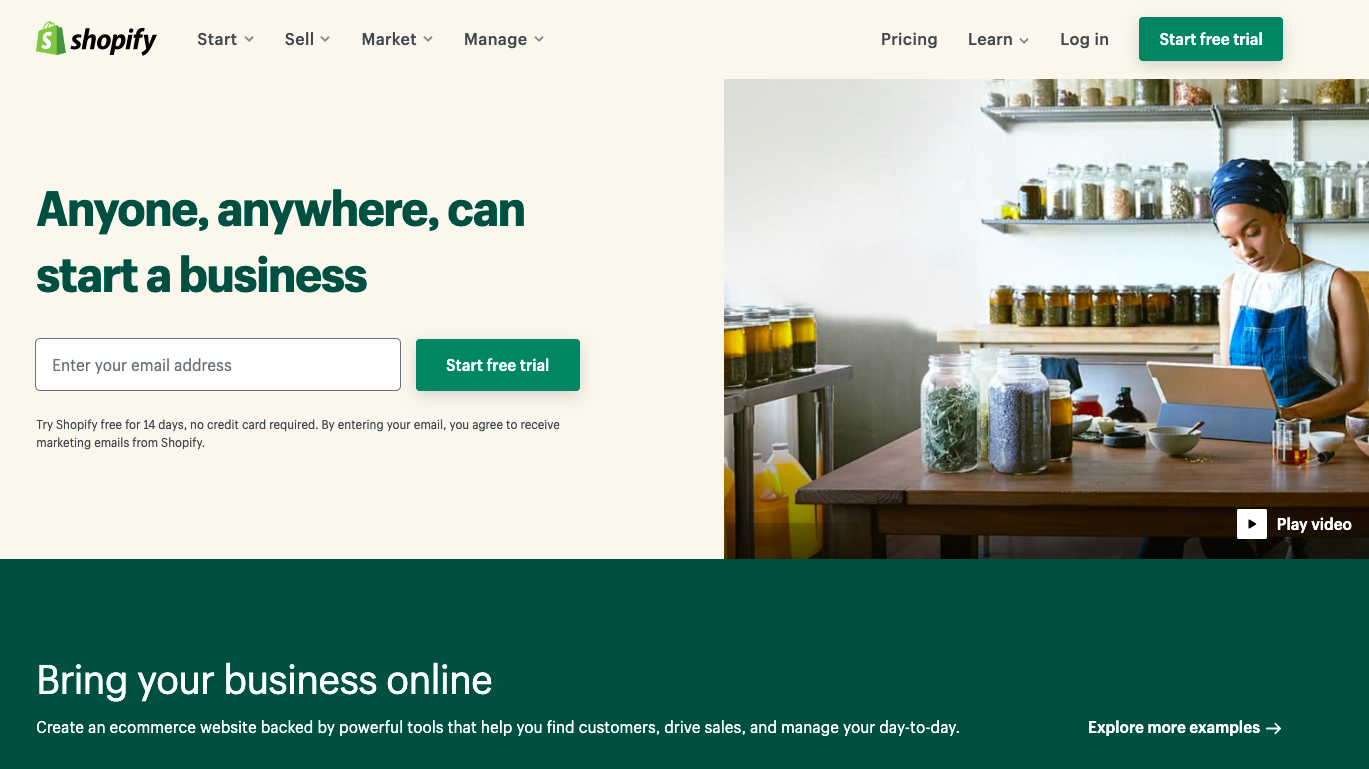 Shopify offers a range of excellent tools as well as direct support to set up your product pages, payment processing and domains without the knowledge of coding.
Shopify supports over 1 million businesses worldwide who use Shopify as their go-to back-end platform to manage their online store. Shopify Plus is currently used by over 10.000 brands in over 175 countries and in 20 different languages.
All plans have the same functions, but the differences are the level of detail, how much you can customize, and the level of support you get. Shopify Plus also costs a lot more.
Programming. As a new business, you can easily set up your own site, without needing to have knowledge of coding.
Analytics and Dashboarding. For every online retail business there is a need for data-driven decisions to achieve desired growth.
International sales. Shopify offers their own payments system you can use to easily sell in many currencies all over the world. This allows you to offer your whole assortment to a global audience.
Multi-channel and marketplace integration. Selling on several online channels, through social media or marketplaces, can double revenue. Shopify has over 20 channels available for integration that can help you boost your sales.

A vibrant ecosystem of apps to support a wide range of purposes. A community of app developers has contributed to extending the functionality of Shopify, and users leave detailed ratings with feedback to help them make the right choices. Whether you're looking to secure your data with

backups for

Shopify

or automate other tedious processes, these tools are worth checking out.
Help & Support. Shopify can provide excellent customer support.
Shopify is for small and medium-sized businesses that are either launching or growing. A great option for individuals or small businesses that need between 2-15 employee accounts.
With these packages you get the same functionalities, however less customizable versions compared to "Plus".
Shopify Plus "Enterprise" option is of course more expensive. But it's also highly customizable if you are a high-volume business approaching 1 million in revenue, or already making over 1 million.
Shopify Plus offers a highly customizable experience, with access to more features, integrations, apps and dedicated 24/7 support.
Back to The Top or
---
Pricing Breakdown of Shopify Plans
Shopify offers five different plans:
Lite - ideal for selling on social media for small businesses - $9 a month.
Basic - ideal for new businesses or pure players - $29 a month.
Shopify - ideal for growing businesses with one physical store - $79 a month.
Advanced - ideal for growing businesses looking to scale, with two or more stores - $299 a month.
Shopify Plus - for enterprises and big companies that make over $1 million in revenue - pricing depends on how many sales the business makes.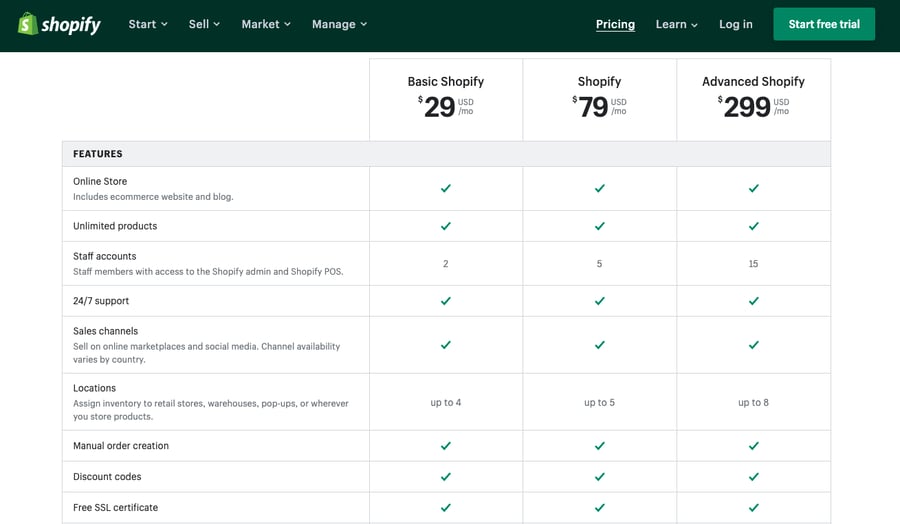 With Shopify Plus, the rates are not that straightforward and depend on sale volumes.
There is a monthly fee of around $2000 a month, however it depends on how much you make in revenue. You'll need to pay 0.25% of the sales as a fee for anything after $40.000 a month.
Back to The Top or
---
Who uses Shopify Plus?
Now that we've briefly defined the main differences between Shopify and Shopify Plus, it's clear that Shopify Plus is a larger investment. However, it may be essential to guarantee the added support and functionalities to achieve growth and scale operations.
Shopify users include internationally well-known and already established companies like Nestlé, Tesla and Heinz, as well as younger and high-growth businesses like GymShark, Kylie Jenners' Kylie cosmetics and also sustainable footwear companies Giesswein and Allbirds. They all use Shopify's scalable solution, Shopify Plus.
Back to The Top or
---
Key differences: Shopify vs Shopify Plus by Function
Shopify supports its clients in the best way they can - with simple handling and an extensive partner network with many third-party apps to integrate. If you are a merchant selling high volumes then you can get access to exclusive functions.
Based on the below, we'll provide analysis by function available for Plus users. This should make it easier to determine whether it would make sense to upgrade to unlock further growth and scale.
Analytics & Dashboarding
For any business selling online, it is crucially important to determine how much traffic your site receives, click rates, and conversion rates. By knowing your data, you gain valuable insights in order to optimize your SEO, as well as customize your product assortment.
Shopify Plus Exclusives:
With Shopify Plus, you get additional permission settings for more control, including a separate report export option for analysis.
Shopify Plus partners with well-known analytics companies such as Glew, that both offer in-depth and up-to-date insights and data, so you could make informed and data-driven decisions.
Glew allows you to easily track KPIs and daily reports, measure marketing results across all sales channels from Instagram to Amazon to influencers. It also allows you to analyze shopping behavior and product performance.
Marketing & Design
The more your business grows, the more personalized you want your shop to be. For any business selling online, it is important to determine your visitors' demographics and interests to maximize sales.
Digital marketing and design - from social media ads, SEO, SEM, content marketing to email marketing services - is extremely important to get your product in front of your customer.
With countless products online and fierce competition, there's a need to differentiate yourself.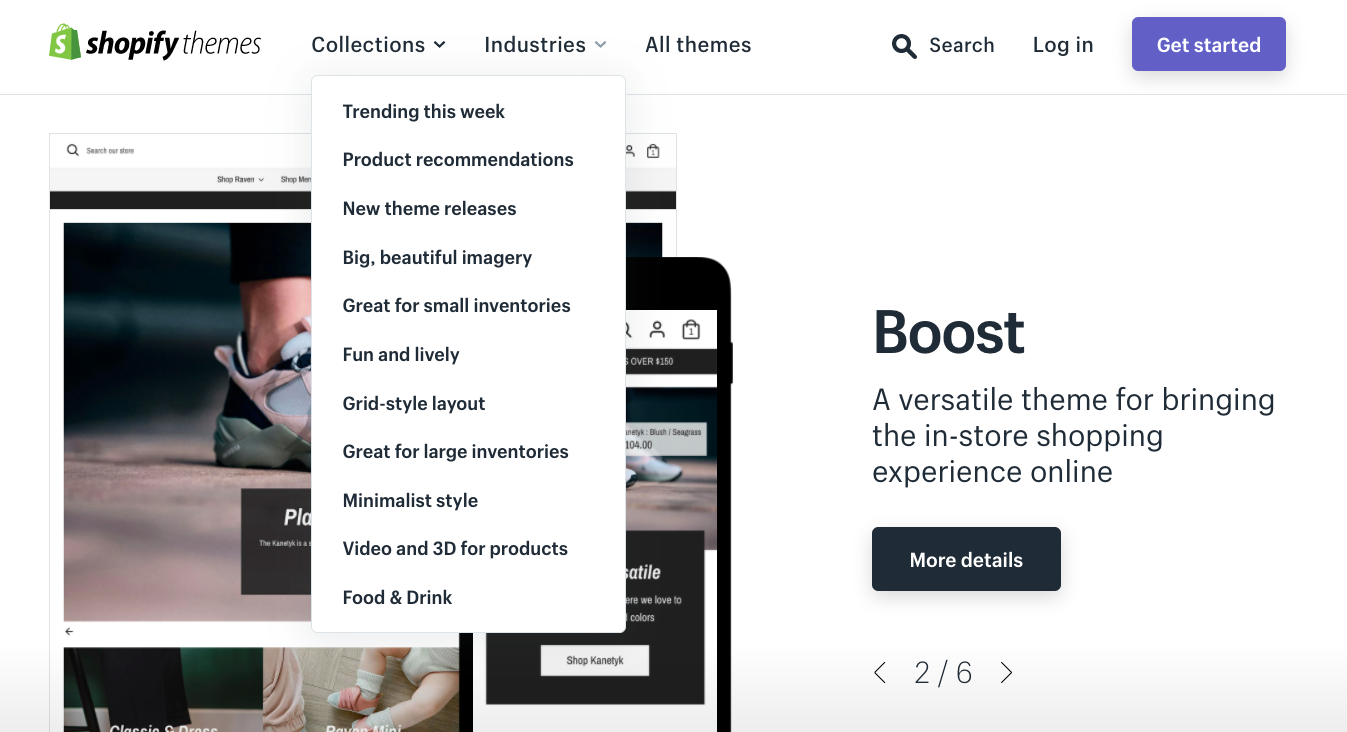 Both Shopify and Shopify Plus offer over 70 website themes to choose from, for small or large product selections, minimalist style, food & drink and many more. Ten are free and rest are for an extra fee, if you are not a Shopify Plus customer.
Shopify Plus Exclusives:
Customizable themes allow you to add up to 100 themes on your account without extra fees. The key difference is that with other Shopify plans, you can't make changes to the existing themes. With Plus, you can edit the underlying code and change themes to your liking.
For example, a luxury fashion retailer Ledbury used their existing theme "Debut" to customize and personalize it to appeal to their target audience.
Furthermore, they come with different languages - with the Advanced plan you have 5 included, and for Plus customers you can choose between 20 languages included in the price.
Shopify Launchpad is exclusively available for Shopify Plus users, and helps to automate marketing campaigns. You can schedule, coordinate sales events for new product launches, product drops and stock refills. On top of this, real-time performance tracking is provided on an analytics dashboard.
Shopify Flow. Similarly to Launchpad, it helps you automate time-consuming tasks with workflows, for example, for risk management, order management, inventory and merchandising, promotions or product tagging.
Shopify Plus Academy unlocks many self-guided training on topics related to marketing and growing your business.
Customization & Automation
Can you imagine opening your Amazon account and seeing ten different products that you have already bought, of which five of them you already returned and two weren't happy with?
What you probably prefer to see is a selection of product recommendations customized to your previous purchases and interests instead.
With a catalog of over 350 million products across books and homeware to clothing and services, Amazon has got a wide product selection and target audience. Therefore they have to offer a highly customized experience that fits their preferences.
Product customization is therefore a key to serving the customer base successfully. What makes Shopify Plus stand out so much from its other plans, is that it offers a great level of customization needed for large scale operations.
Shopify Plus Exclusives:
Shopify checkout.liquid allows you to customize your checkout experience, allowing a change of the shipping method, payment method or order review.
Furthermore, it helps to convert customers. Digital eyewear retailer Peepers increased their conversions by 30% and grew their order values by 20% with a custom checkout page with Shopify Plus.


Shopify Plus Partner Program allows access to technology and solutions partners who specialize in high-growth companies. Service partners such as HubSpot or Microsoft integrations provide technical expertise and Certified App Partner services help with returns processes, shipping solutions or multi-channel strategy.
Help & Support
One of the key factors of a successful retail business is excellent customer service and customer service automation. With bad customer service or without any, customers are left frustrated and less likely to return to your shop.
Same goes with help and support for customers of Shopify - a great and responsive support system helps you to run your shop better, in turn helping your customer to get the best experience. If you don't get the proper support needed to solve issues with your shop, it can also affect your buying customers.
With Shopify Plus you get 24/7 support from a dedicated support agent, so that none of the issues go unnoticed. When you have already reached higher sales and are experiencing large amounts of orders then it's a very important thing to consider.
Shopify Plus Exclusives:
Shopify

organization admin

lets you manage multiple sales channels from one single location, providing user management, store management and flow management.
Shopify Plus Consultant will guide you through the Shopify Plus platform and helps you assess your business needs.
A solutions engineer will make sure to seamlessly integrate all of your 3rd party systems and connect all tools.
Launch engineer will help you with migration, in case this is needed from your current platform - and help for example with ERP or CRM system migration.
A Merchant Success Manager can help plan your growth strategy to unlock potential, from acquisition and conversion to brand strategy.
Shopify Plus Community on Facebook enables you to share experiences and strategies with other businesses using Shopify.
Operations: order processes, shipping & payments
When sales grow, it is important to scale operations accordingly. That means you will be able to take on the increased workload without your profitability and customer experience suffering.
This means handling increased transactions, payments processing, shipments and customer service interactions, especially when expanding cross-border.


Shopify Plus can provide the support you need in order to scale your business.
Shopify Plus Exclusives:
Unlimited staff numbers to grow your personnel without additional cost, and make sure your operations keep running smoothly. The advanced package gets 15 accounts, so price-wise it makes sense to opt for Plus.
Languages - access to up to 20 different language options, which is great when going international with your operations.
A specialized wholesale store with password-protected login, for all your B2B sales needs, making it easier to separate wholesale business from your B2C sales.
Process over 10,000 transactions per minute. Useful for any busy periods such as Christmas or Black Friday and any promotional sales events to deal with extra traffic without having an effect on customer experience.
Shopify POS Pro allows you to have POS in every location of your organization without any additional charges for each store. Great when you still have a large store network.
With a script editor you can access a script for shipping, to configure detailed rates and change your shipping options based on the contents of the cart or order value.
Tax Services with Avalara AvaTax is useful when shipping to and operating in several countries and locations. It is a tax software that allows to automate tax calculations and filing processes, providing real-time tax rates.
Back to The Top
or
---
When does it make sense to switch from Shopify to Shopify Plus?
To sum up, both Shopify and Shopify Plus options are excellent and have the same functionalities and capabilities. With Shopify Plus, the main difference is that you get more of each of this functionality. For example, more customization, additional staff members and additional support and help.
Choosing the right platform depends on your business size, where it makes sense operationally to focus and if it adds value to your customer. If you are running a small to medium sized business under 800.000 in revenue then you may want to still opt for Shopify Advanced or the other more affordable options.
If you are an enterprise level business making more than 1 million in revenue, you are better off choosing Shopify Plus with added functionalities. This will make sure you'll scale accordingly and enable growth.
While the price for Plus can get pretty high, it is well worth it if you are a larger scale company and need the extra support this enterprise plan can provide.
You May Also Find Interesting: Shopify Plus vs. Magento Commerce 2: Which Is Better in 2021?