Shopify Plus vs. Magento 2 Commerce
Shopify Plus vs. Magento Commerce 2
Choosing a platform is one of the most important decisions eCommerce business owners make. If you start with the wrong one, you will end up wasting time and resources on migrating your shop to a different platform.
Shopify Plus and Magento Commerce 2 are both platforms that are designed to handle large-scale eCommerce retail, however, the crucial differences between the two can make or break your business's chance at success.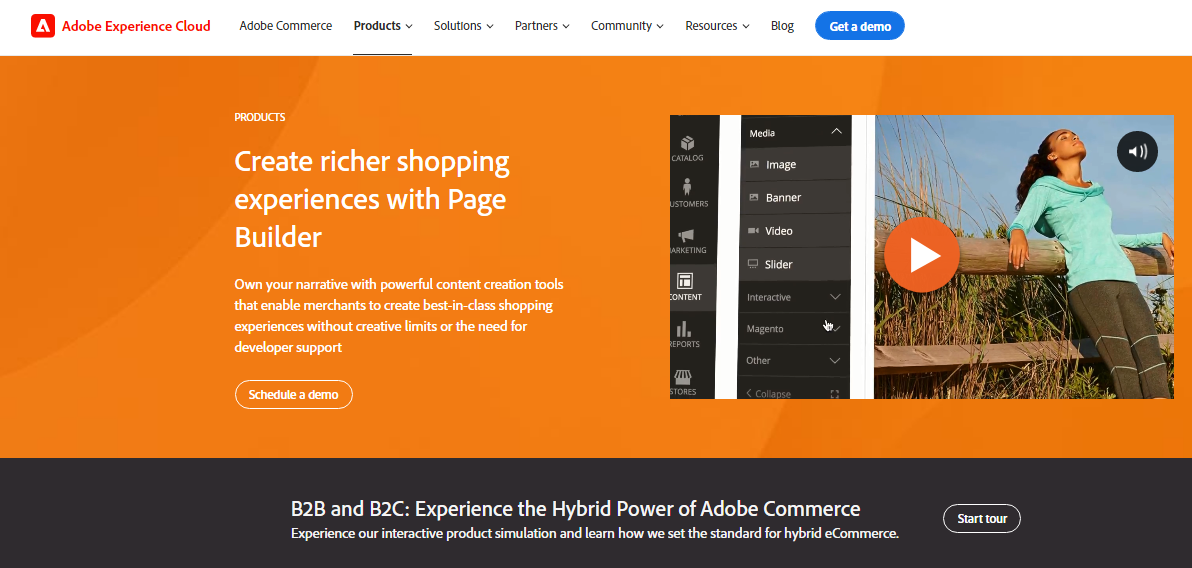 Magento Commerce 2 is the latest version of the company's enterprise-level platform, which has been a go-to option for big businesses ever since its original version was introduced in 2016. The main reason why businesses opt for Magento Commerce 2 is its customizability and support for multiple stores.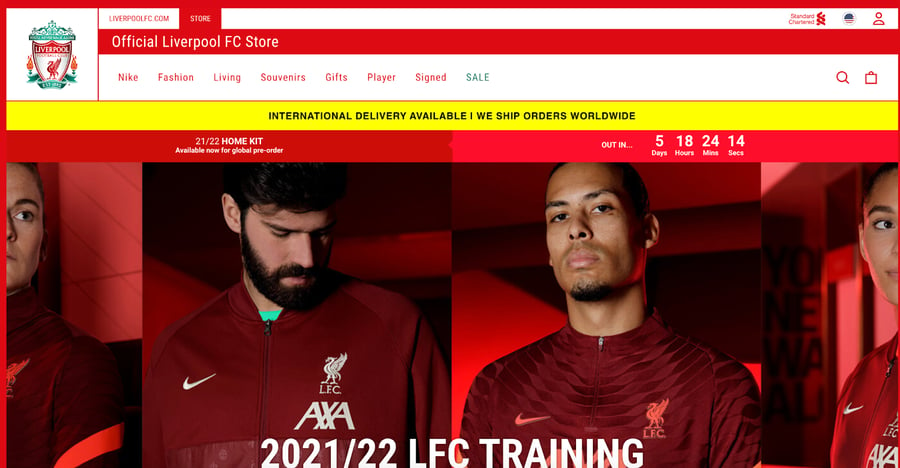 Magento 2 Commerce used by professional sports team Liverpool FC for merchandise sales
Shopify Plus was launched in 2014 and has been growing in popularity amongst enterprise businesses, and mid-level businesses looking to scale up, ever since.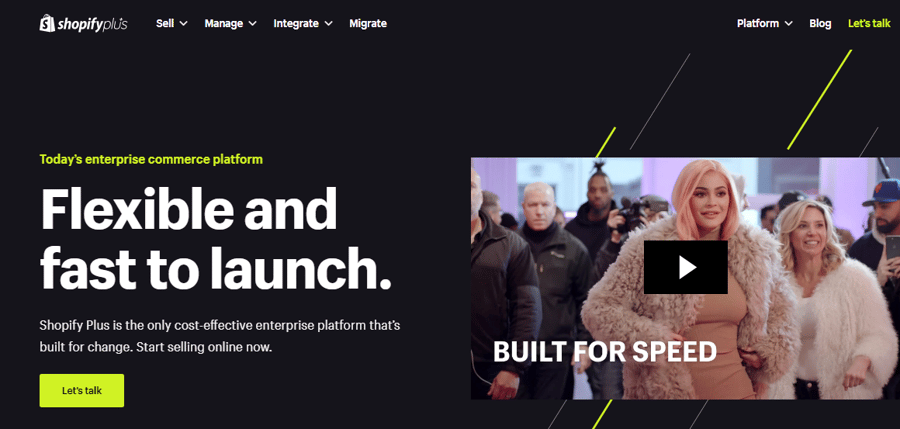 The platform is known for its ease-of-use and quick launch time, as well as the Shopify API which allows for custom app integration.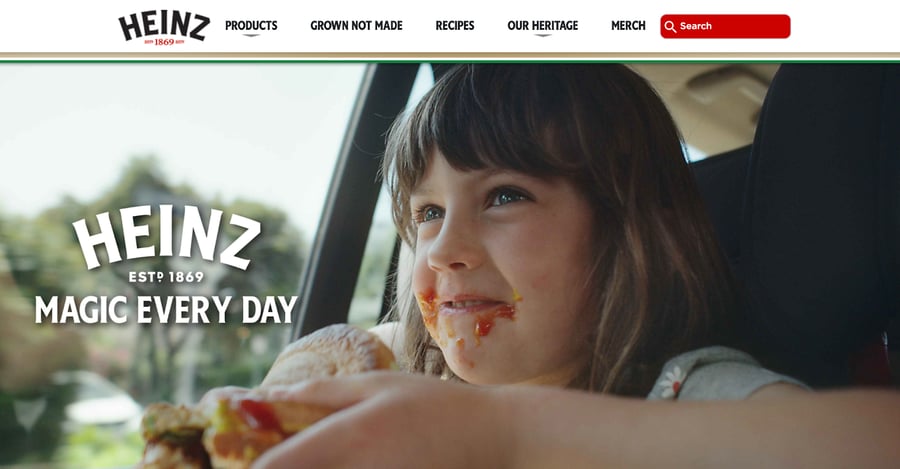 Shopify Plus used by condiment brand Heinz for B2C sales
So, which platform is best for your business? There's a lot to consider before you can know for sure. Read on to find out how Shopify Plus and Magento Commerce 2 match up based on the following factors:
Related read: Shopify vs. Shopify Plus: How to Choose the Right Plan for Your Business
---
Shopify Plus vs. Magento Commerce 2: General Overview
Both Shopify Plus and Magento Commerce 2 have their pros and cons, however, current trends show that Magento Commerce 2 is losing customers to Shopify Plus.
According to data from Built With, in 2021, 2,553 enterprise businesses run their eCommerce websites with Shopify Plus, making up 0.26% of the market share. Comparatively, 1,746 use Magento — just 0.17% of the market.
As Shopify Plus continues to improve its software and services, less tech-savvy business owners who want to save some money are more inclined to make the switch from Magento.
For example, when Shopify Plus introduced different languages and global currencies, along with the Shopify POS and Backoffice merchant portal in 2019, it may have attracted new business owners who were previously using Magento for its international currency capabilities but were more interested in the enhanced user experience Shopify was offering.
New 2020 improvements built upon 2019 updates with better international sales capabilities and user experience, as well as financing for businesses and new payment options like free gift card and tipping capabilities.
So, you can see why some enterprise businesses decided to migrate their content from Magento to Shopify. However, that's not to say that your business would be better off that way.
Let's compare some of the pros and cons of Shopify Plus and Magento Commerce 2 before diving into more detail on each software.
Magento Commerce 2 Pros & Cons
In general, here are some of the main pros and cons you should know if you're considering using Magento 2 Commerce as your eCommerce platform.
Magento Commerce 2 Pros:
More customizable - Magento Commerce 2 users have more control over the look and function of their shops with the ability to change their websites' base code.
Better for multiple shops and B2B - You can use the same inventory catalog across multiple shops, which is especially useful for B2B businesses who need to offer different prices for wholesale.
No transaction fee - No matter which payment processor you use, you won't have to pay a fee using this software.
Magento Commerce 2 Cons:
More hidden costs - The price of Magento Commerce 2 software only includes the software itself. Users need to find their own server to host their website, and IT/developers to create and maintain it.
Requires more upkeep - With each update to the software, you will need a skilled developer to ensure that your store is still compatible.
Fewer app integrations - The options for app integrations are not as robust as they are for Shopify Plus users, especially when it comes to custom apps.
Shopify Plus Pros & Cons
Shopify Plus comes with its own set of pros and cons as well. Below are some of the most relevant considerations for your business.
Shopify Plus Pros:
More affordable - While the baseline price of Shopify Plus is comparable to Magento 2 Commerce, there are fewer extra costs of running a shop on the platform.
Web hosting is included - Shopify's server is included in the price, so you don't need to pay to host your website on your own server, or Ark Server, or worry about maintaining it during a surge.
Easy launch and updates - The process of launching a Shopify Plus eCommerce shop is smooth and swift, and "future-proof" software means that new features and updates are compatible with your shop without the need to alter any code.
Shopify Plus Cons:
Less customization - You cannot alter the base code and any custom features must be integrated using apps.
One catalog per shop - Shopify Plus allows you up to 10 different eCommerce web shops (and more with a fee), however, it does not allow you to use the same catalog for different domains.
Third-party payment fee - If you want to use a payment processor other than Shopify Payments, you can easily integrate it but will need to pay a 0.15% fee per transaction.
Back to The Top or
---
Shopify Plus vs. Magento Commerce 2: Pricing
Both Shopify Plus and Magento Commerce 2 cost around the same baseline price of ($22,000 vs. $24,000, respectively) per year.
The price for both platforms goes up based on the size of your business. While the platforms have this in common, Shopify Plus users get more bang for their buck with more features included and fewer outside costs. Below, we'll go into detail on the platforms' pricing models.
Magento Commerce 2 Pricing
The price of Magento Commerce 2 starts at $22,000 per year for businesses with gross annual revenue of $1,000,000 and under. The price goes up from there based on how much revenue your business is bringing in, and the gross market value of your merchandise.
Magento is considered a PaaS ( platform as a service), meaning that it is solely a platform and does not include hosting or upkeep in the price. Magento Commerce 2 users must factor in the cost of a server to host their eCommerce store, and also budget for IT costs, and any paid app integrations or themes they may want to use.
Mid-size businesses can expect to pay $100 or more each month for hosting — the price of a server goes up based on the size of your business — large-scale businesses will pay significantly more to host their website and have it run smoothly, even during a surge in traffic when running a flash sale or Black Friday promotion.
If you opt to use Magento's cloud-based software, Magento Commerce Cloud, the cloud server is included in the price at an additional $500 per month.
IT cost should also be considered, especially because you may need to update your website's code along with updates to the Magento Commerce 2 software. Typically, the cost of upkeep for a Magento Commerce 2 Store, whether you use in-house IT support or outsource the work, will cost at least $5,000 per month.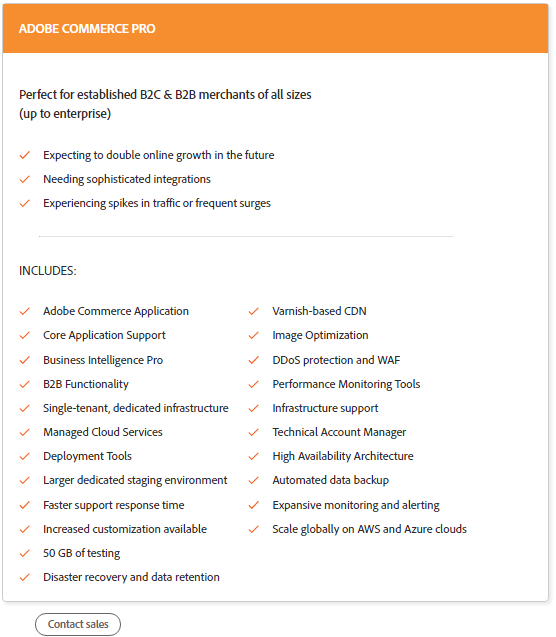 Magento pricing excludes more hidden costs in general, however, unlike Shopify Plus there is no transaction fee for payment processing, regardless of which service you use. That being said, the total cost of ownership for a Magento shop is almost always higher than Shopify Plus, but you are paying for flexibility and customization capabilities.
Shopify Plus Pricing
The Shopify Plus monthly fee is $2,000, or $24,000 yearly, with high-volume businesses paying an added fee each month. Web hosting is included in Shopify Plus pricing, along with any upkeep involved with the server.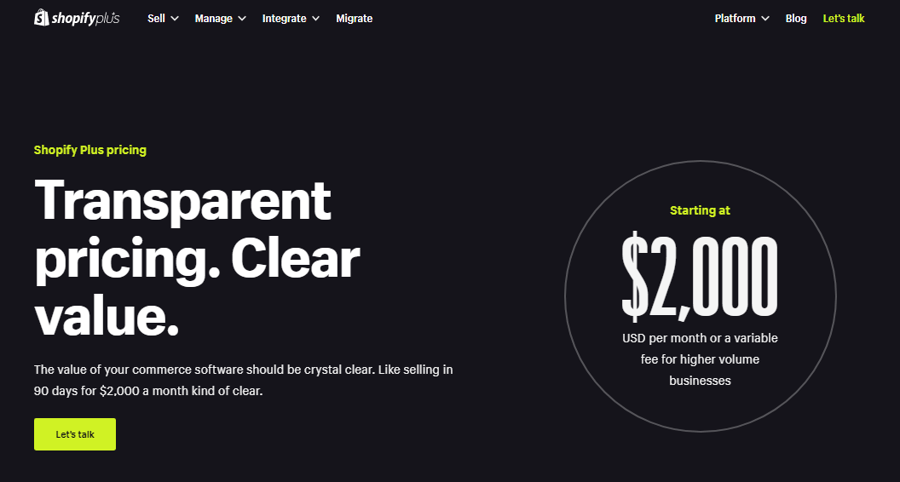 Shopify Plus is considered SaaS, or software as a service, meaning it includes hosting and takes care of IT support for its users as well. While you can't alter the Shopify Plus base code to customize it like you can with Magento, you can avoid the need to update it whenever Shopify updates the software, saving your time and money.
If you want to integrate a custom app into your Shopify Plus eCommerce store, you may need to pay a developer to create it for you.
The cost to develop a custom app could be as low as $100 or could be $1000 or higher.
Make sure to check the available app integrations to see if you can purchase one for cheaper (or integrate it for free) and consider hiring a developer using the Shopify Plus Partner network of Shopify-approved developers. The same goes for Shopify Themes.
Additional costs include a 0.15% per transaction fee to cover security costs should you decide to use a third-party payment processor instead of Shopify Payments.
Also, Shopify Plus pricing includes up to nine expansion stores but charges a $250 monthly fee for each additional store.
Even considering these fees, the total cost of ownership of a Shopify Plus eCommerce store is generally lower than a Magento store because using Shopify allows you to avoid hosting and IT costs, which can add up quickly.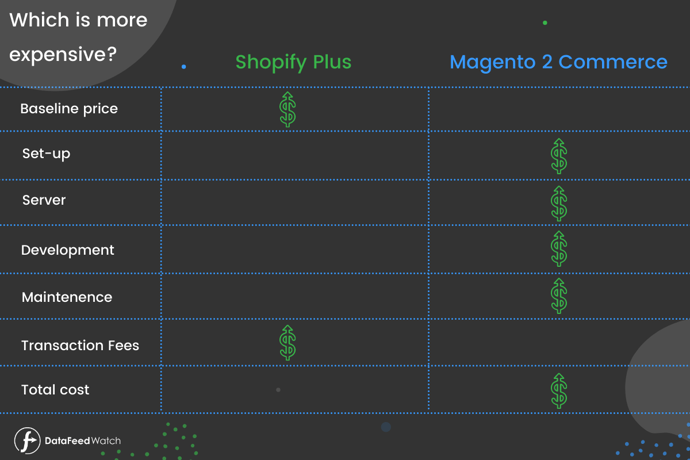 Back to The Top or
---
Shopify Plus vs. Magento Commerce 2: Features and capabilities
It's safe to say that Shopify Plus features and capabilities are similar to Magento Commerce 2 — both offer everything you need to create an eCommerce store for enterprise business.
However, each platform excels in different areas.
In a nutshell, Magento has more native features that you can customize, whereas Shopify has more app and script integrations. See below for a breakdown of Shopify Plus and Magento 2 Commerce features and capabilities.
Shopify Plus features
The main benefit of using Shopify Plus is its ease of use. Technical support and hosting is included in the price of your subscription, meaning that the process of launching your store is quick and easy, and you'll save money on maintenance as well.
Shopify Plus advertises itself as "future-proof," which means that updates and new features are incorporated smoothly and users can rest assured they won't encounter any major technical hiccups or costly upkeep.
While Shopify Plus features do not include the ability to customize your shop's base code, users still get a powerful and efficient platform, and the lack of upkeep allows you to focus more time and money on other aspects of your business.
Just because a Shopify Plus shop's code cannot be altered doesn't mean it's not customizable.
Users can choose from thousands of third-party apps in the Shopify App store that can be integrated with their website and enhance all elements of their business, from payment and security to marketing and shipping.
If you can't find the perfect third-party app, you can add custom features with your own app using Shopify API. Non-coders can outsource development using the Shopify Partners program or an independent developer.
Another Shopify Plus feature worth noting is the platform's interface for data reports, which makes running analytics reports a user-friendly process. Shopify Plus users have access to every type of report that Shopify offers, which allows for deeper insight into your business.
All in all, Shopify Plus features make the SaaS platform ideal for smaller enterprise businesses that would like to save money by cutting out hosting and IT costs or mid-sized businesses that want to avoid the tech side of things to focus on growing their website into an enterprise-level eCommerce shop.
Magento Commerce 2 features
The Magento Commerce 2 features that set it apart are its multi-shop and multi-source inventory capabilities.
The platform supports businesses that need to manage multiple warehouses across the country, or even across the globe.
Magento caters to B2B businesses with the ability to use the same catalog for multiple shops, group customers, and sell at different pricing tiers, like wholesale and retail pricing, for example.
International currencies, security, analytics reports, app integrations, and other basic features are built into Magento Commerce 2, however, users can also take advantage of full customizability. The base code of your Magento shop can be altered to suit your business's unique needs.
The customizability of Magento Commerce 2 shops does mean that setting up and maintaining your eCommerce store will be more expensive and time-consuming than Shopify setup. As a PaaS, the platform also requires your own web hosting as well, which also adds to the cost (unless you're using Magento Commerce Cloud).
However, business owners in need of IT support should have no trouble finding developers that are familiar with Magento.
You can find a developer using the Adobe partner community (formerly Magento Solution Partner Program), or hire an independent developer with access to robust documentation available online regarding how to code Magento websites.
These features make Magento Commerce 2 the most scalable option for enterprise businesses.
The full customization capabilities and the ability to choose a web host are ideal for the biggest of the big eCommerce shops.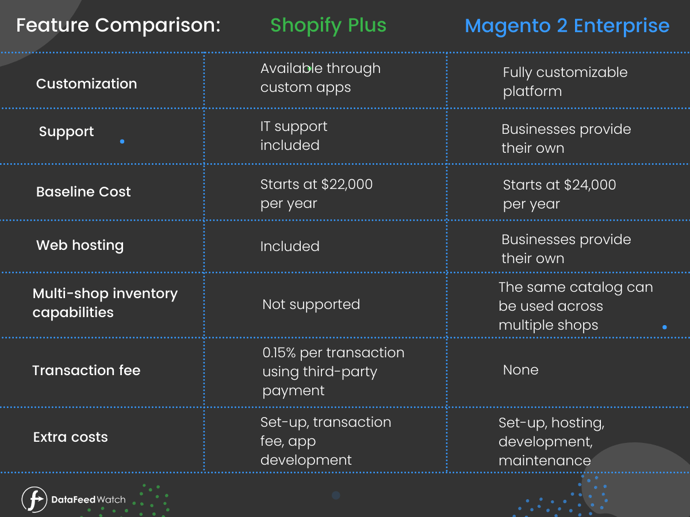 Switching from one cart to another (high-level)
Cart-to-cart migration is the process of transferring your eCommerce shop and all of its products and data to a new platform. Shopify Plus boasts the ability to migrate in 90 days or fewer.
Shopify's network of experts is available to assist, or you can do it manually using Ruby programming language or through Shopify's free app. Third-party apps are also an option for migrating to Shopify Plus.
Migrating to Magento Commerce 2 is a little bit more complicated because you need to set up your own server. You will need a developer to assist with Magento's migration tool, which can be used to migrate content from Magento 1 to Magento 2, or with migrating from another platform using PHP programming language.
If you want to keep costs low, your best bet for cart-to-cart migration from an outside platform is through a third-party migration app.
Back to The Top or
---
Shopify Plus vs. Magento Commerce 2: Add-ons, extensions, integrations, and apps
Both Shopify Plus and Magento Commerce 2 offer a variety of add-ons, extensions, and app integrations, including every major payment processor, security system, marketing software, product feed optimization app, and more.
These are some of the apps available to use with either platform.
Shopify Plus integrations:
Magento 2 Commerce integrations:
Shopify Plus users rely more heavily on app integrations due to the inability to alter the platform's source code, and there are more vetted third-party apps and themes available to them in the Shopify App Store vs. the Magento Marketplace.
Shopify Plus users can also develop custom apps via API and integrate them into their websites, either independently or using the Shopify Partners Program.
Magento Commerce 2 doesn't have this capability, but keep in mind that users can alter the base code of their websites using Magento, so they can achieve the same ends.
Overall, Shopify Plus is the better option if you want a wide selection and easy integration of third-party apps, add-ons, and extensions, including the ability to create custom apps. However, Magento Commerce 2 has plenty of integrations available as well.
Back to The Top or
---
Conclusion
When it comes to choosing an eCommerce platform, Magento Commerce 2 is a great PaaS, especially for large enterprise businesses who have a big budget and want unlimited customization abilities.
Shopify Plus is a SaaS solution for smaller enterprise businesses that want to save money and utilize Shopify's support and app integrations. Now that you know how the platforms match up, you can choose the best one to help your business scale and prosper in the future.