Magento Multi Store Views
Let's say that you would like to sell your products on Google, in the US and Germany.
Google requires a different feed for each country, each in the local language and with the appropriate currency; you can solve the currency-issue with Google's currency converter, but you still want/need to offer the products in the local language.
So you add a German store view and you start building your Google feed from there:
---
Adding different store views in DataFeedWatch
You add each store view as a separate shop in DataFeedWatch. This is how you do that: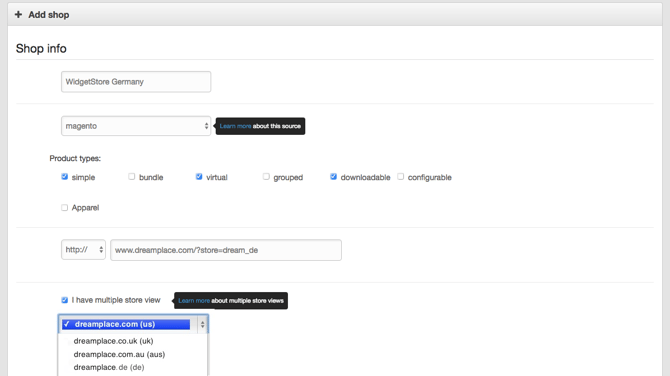 To see the entire process, check out our Help page for Magento multi store views.
---
Create Data Feeds for each Store View
DataFeedWatch downloads a source feed for each store view, with all data in the local language and currency.
Each store view shows in your DataFeedWatch account as a separate shop and you can create feeds, for Google or any other channel, just like you would for any other store.
---
Consecutive downloads
We found that downloading product data for all or several store views at the same time, can be too big a strain on the server.
That is why we never download more than 1 store view at the same time: All store views are downloaded consecutively, even if you set the same download time for each store view.