So, to be able to optimize your Twitter strategy best, you have to equip yourself with the most vital Twitter stats.
As per recent studies:
Twitter has 192 million daily active users.
63% of Twitter users internationally are between 35 and 65 years old.
66% of Twitter users internationally are male compared to 34% females.
People spend 3.39 minutes per session on average on Twitter.
67% of all B2B businesses use Twitter as a digital marketing tool.
On average, a Twitter user follows five brands.

40% of Twitter users buy something after they see it on Twitter.
---
1. Optimize your profile
When someone is searching for you, they will use your handle to discover your page. Thus, your Twitter handle has to be easily identifiable, easy-to-remember, and short enough so that they can tag you.
Ensure that your name is consistent across all social media profiles. Your followers may get confused if you use a name that's different from your brand.
H&M's profile is a great example. Since they can't add the "&" character in their Twitter profile, they shortened their username to "@hm."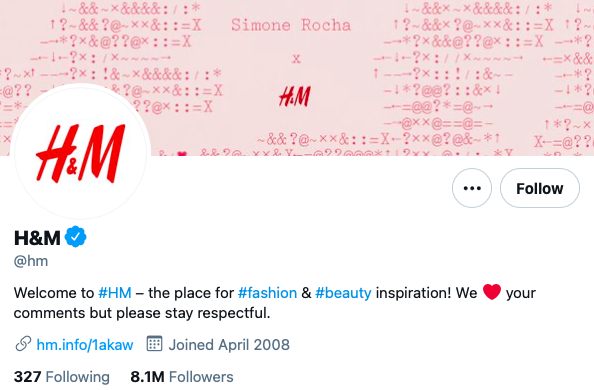 The business name is catchy, short, and easy-to-remember, and their handle is simple. They use this consistently across every social media channel.
If you are new, pick a Twitter handle that is close to your brand's name. Don't use irrelevant numbers or punctuation marks. Moreover, remember that keeping it short and sweet will increase the chances of getting @mentions. Due to the character limit in Twitter, users are less likely to mention you if you have a long handle.
In case your brand is personal, consider using a professional headshot as your profile image. Otherwise, stick with the logo. You can also use the header space of your profile to promote brand awareness.
You also want to opt for as many spheres as are relevant to your interests and expertise. And while crafting your Twitter bio, add words and phrases from the spheres. Also, adding a touch of personality is recommended. Have a look at the bio from @bethharte with multiple spheres.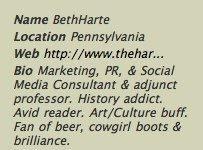 Source
Back to The Top or
---
2. Execute a solid content strategy
After you set up your profile, the next step is to tweet good content. Your tweets should be varied, engaging, and related to your industry.
Your Twitter content could include:
Discounts or promotions
Polls
Quick video training
Asking questions to your audience
Fun fact
The highlight about a new product or service
A day in the life post
Answer a customer question
Industry article and more
When it comes to the e-commerce industry, product videos, showy images related to your products, contests or giveaways, and customers' reviews content types work the best.
You will have to tweet regularly and frequently to make your followers remember your business. Also, your content should resonate with your audience in order to engage them. To do that, focus on their interests and needs.
When you study your buyer personas and target audience, you will come to know about the type of content they're expecting from you. You can also tweet questions, conduct surveys, ask for feedback, or use Twitter Chat to gain better insights about the type of content you should share.
Moreover, Twitter Chat is excellent for discussing a hot topic and asking for followers' opinions. You can choose a topic, set a date and time, and create a hashtag for the chat.
Everyone who takes part in the Twitter chat can then see the responses, questions, and comments by researching your hashtag. They can also share their comments and thoughts by adding the hashtag.
Twitter Chats boost interaction and engagement. It gets people to talk about your brand and creates a more personal experience between your audience members and your business.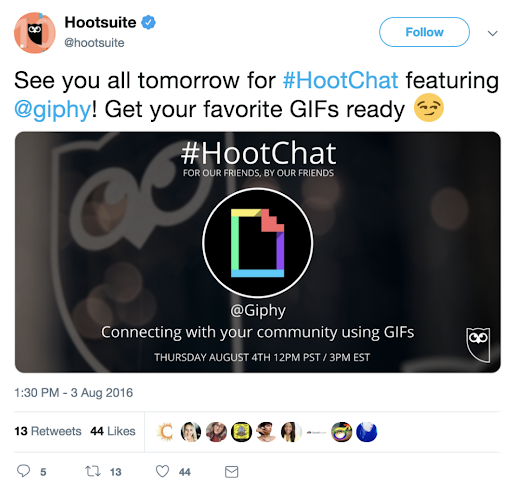 Don't forget to incorporate SEO into your content marketing strategy.
If you are looking for an SEO-friendly e-commerce platform, Magento is a popular choice. You can go through this free guide to Magento 2 SEO.
Back to The Top or
---
3. Discover trending hashtags, competitors, and influencers
Social media is all about hashtags and influencers. The goal is to leverage relevant and popular hashtags, collaborate with influencers in your niche, and analyze your competitors' strategy.
Once you determine what's working for your competitors, you can emulate the same strategies after modifying them to fit your brand.
Tools like RiteTag can help you discover trending hashtags relevant to your industry. It also comes with a Twitter built-in search functionality that can help you find out your competitors' profiles.
Likewise, use a third-party tool like BuzzSumo to search for influencers. You can also Google and take note of their Twitter handles.
You will have to use hashtags and mentions diplomatically in all your posts. You can settle for two hashtags in every post as recommended by Twitter.
Be careful with the excessive number of hashtags- it is recommendable to use one to two relevant hashtags per Tweet.
Also, you can mention influencers in relevant posts as in the example below: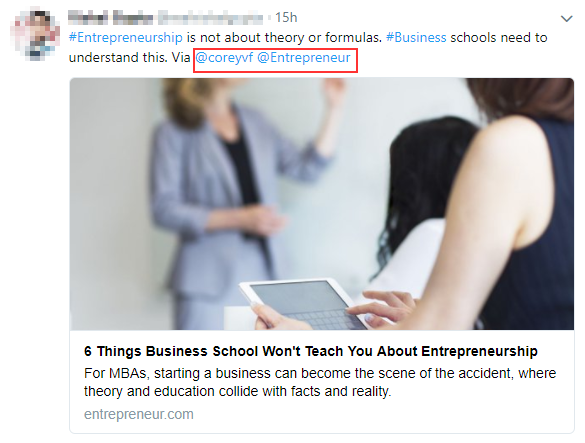 When influencers like and retweet your post, you will reach their followers too.
Back to The Top or
---
4. Create engagement
You may have several thousands of followers, but that alone won't achieve your objectives. You will have to engage with your audience. After all, Twitter is all about connecting and engaging with your audience on a personal level.
You can follow these strategies to be engaging:
Follow back your followers and check out their tweets. You can learn a lot about their interests and needs that will benefit your business.
Follow your industry and network with the top people. Chances are, they might follow you back. It is also a great way to keep updated with the latest trends in your industry.
Respond to your followers quickly as they expect businesses to do.
People feel happy when their messages are retweeted or liked. Having a business follow them and reacting to their tweets will give them that extra kick.
People will also feel happy when they receive @mention. You can mention your influencers and other businesses apart from your customers and prospects.
Be interactive by using a user poll or tweet a question and ask followers to answer.
Back to The Top or
---
5. Schedule your posts
According to studies tweets have higher CTR when you post them on Friday, Saturday, and Sunday as compared to other days of the week. Other studies reveal that tweets posted between 12 PM and 6 PM work the best.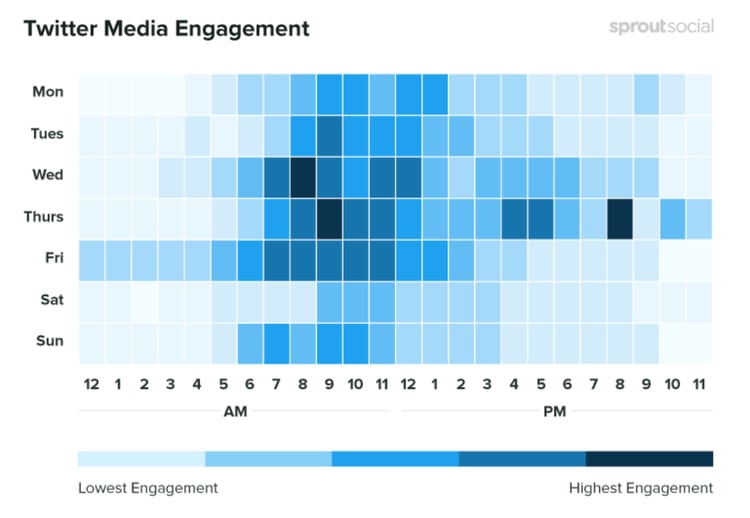 Source
At the same time, some say that posting tweets between 12 PM and 3 PM on Monday to Friday yields excellent results.
Nevertheless, your peak timing should depend on your target audience. It is recommended that you test how the content fares during different times of the day to determine the right time. You can then use Twitter marketing tools like Hootsuite to schedule your posts.
Back to The Top or
---
6. Advertise on Twitter
Advertising via Twitter is a great way to reach your audience and increase your influence and following. You can either use promoted tweets or Twitter Ads.
If you use promoted tweets, the specific user will see your tweets in the Twitter streams or Twitter search results. You can opt for this if you are looking to get more people on a specific webpage. You will be charged a monthly fee. All Twitter users can interact and engage with Twitter Ads.
Twitter Ads can be your choice if you are using different types of tweets to achieve one business goal. It is excellent for growing your base of followers and creating brand awareness.
You will have to decide between different objectives such as app installs, video views, website conversions, and target audience while choosing your Twitter ads.
Back to The Top or
---
7. Keep track of your analytics
To determine your Twitter marketing success, you will have to analyze your work. Since all businesses are not the same and have different goals, you don't have to track all the Twitter metrics.
However, you can consider this list of possible metrics when you get started:
Engagement: You will want to look at the number of retweets, replies, follows, favorites, and click-throughs your tweets get.
Impressions: Track the number of times your tweets appeared on your followers' timelines.
Hashtags: Find out which of your hashtags are most popularly used.
Top tweets: Find out which of your tweets get the most engagement.
Contributors: Keep track of how successful your contributors are with their tweets.

You can use different social media management tools, including Sprout Social, HubSpot, and Hootsuite, to keep track of your analytics.
Back to The Top or
---
8. Don't use Twitter only for sale
Don't make your posts entirely about selling. Instead, you should be targeting new audiences, engaging and connecting with them.
By engaging with your audience, you can increase sales and revenue. However, you will see results only through engagement and not constant sales pitches.
When you put effort into helping, engaging, and connecting with people, they will naturally want to dig deeper into your products and services.
Take this tweet by Tesla, for instance: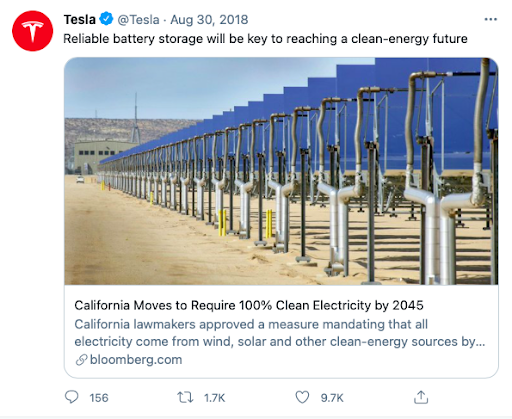 Instead of merely promoting their products, they are engaging their audience with non-commercial content about sustainable and renewable technology, which their audience is interested in.
Back to The Top or
---
Wrapping-Up
Twitter is a powerful marketing tool that can increase the traffic to your website, boost your brand's awareness, engage your target audience and improve your personal relationship with your followers.
It can even multiply sales and conversion rates. Follow the Twitter marketing tips and tricks in this article to scale your e-commerce business.